Domaine Dominique Mugneret
Vosne-Romanée | Côte de Nuits | Burgundy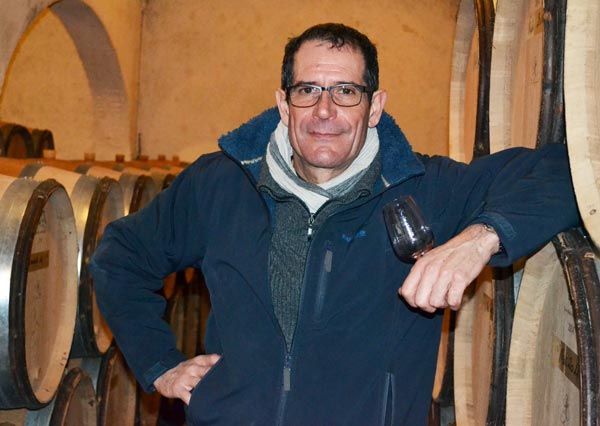 A French historian once said, "There are no common wines in Vosne." Many of Burgundy's most legendary vineyards are found in Vosne; a short list of Vosne winemakers reads like a  "who's who" of Burgundy's greatest: Leroy. Domaine Georges Mugneret. Meo-Camuzet. Anne Gros.
To this list we add Dominique Mugneret, an impressive artisan and as-yet undiscovered source of expressive, affordable wines from this historic village—truly an "insider" secret.
Dominique Mugneret tends vines in some of the finest plots in Vosne-Romanée, a legacy of being part of the extended Mugneret clan and son of famous winemaker Denis Mugneret. Dominique took over his father's estate in 1999, and today is crafting wines that are breathtakingly silky and supple, capturing faithfully that Burgundian soul that makes Vosne wines so sought-after.
It was indeed the understated elegance of Dominique's wines that seduced us when we first visited this micro-estate, discovering refined Burgundy marked by delicate floral aromas and smooth tannins. These are wines, unlike those of many other Vosne producers, that are immediately approachable and importantly, always impressive.
FARMING & WINEMAKING
Dominique Mugneret cares for his many vineyards according to organic principles, yet he is not officially certified. He uses only natural compost, avoids the use of herbicides and pesticides, and ferments on indigenous yeasts.
Harvest is performed by hand, and grapes are sorted on a sorting table at the cellar. Grapes are completely destemmed and fermented naturally in temperature-controlled, stainless-steel tanks. Wine is moved to barrel by gravity and is aged from 13 to 18 months in French oak barrels. In general, villages wines see 25 to 30 percent new wood, premier cru wines 30 to 50 percent and grand cru wines 75 percent. Wines for North Berkeley are bottled unfined and unfiltered
Nuits-Saint-Georges Vieilles Vignes
A special selection of older vines from two villages-level plots in Nuits: 'Les Fleurières' and 'Aux Herbues.'
Download fact sheet (PDF)
Vosne-Romanée 'Alliance des Terroirs'
A love note to the supple beauty of Vosne Pinot Noir. Winemaker Dominique Mugneret selects only older-vine fruit for this wine; licorice, lavender, blueberries. Suave and velvety.
Download fact sheet (PDF)
Nuits-Saint-Georges 1er Cru 'Aux Boudots'
'Aux Boudots' is a special vineyard, located on Nuits-Saint-Georges' border with Vosne. It touches premier cru Vosne-Romanée 'Malconsorts,' itself an extension of grand cru monopole, 'La Tache.'
Download fact sheet (PDF)
Echezeaux Grand Cru 'En Orveaux'
'En Orveaux' is a lieu-dit found on the Chambolle side of this legendary grand cru vineyard. Here soils have a greater concentration of limestone and thinner soils, resulting in a more precise, refined Echezeaux.
Download fact sheet (PDF)