Domaine Vigot
Vosne-Romanée | Côte de Nuits | Burgundy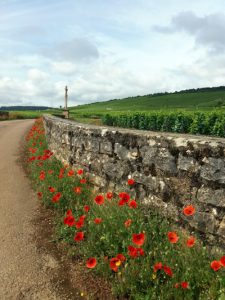 One of the best-kept secrets in the historic Burgundy village of Vosne-Romanée is the husband and wife team of Fabrice and Christine Vigot. Their humble demeanor and low profile belie their outsized talent and influence on some of Vosne's most famous Pinot Noir wines – and it is past time that their wines received the attention they've for so long deserved.
Most Burgundy collectors should know the name Mugneret-Gibourg. In the 1960s, Dr. Georges Mugneret hired Fabrice Vigot's father to tend a number of his prized vineyards in a crop-sharing agreement, including grand cru Echezeaux and plots in Nuits-Saint-Georges and Vosne-Romanée. The contract was passed down to Fabrice, who with his wife, Christine, continued his father's exacting work.
Every great Burgundy wine begins in the vineyard. That Mugneret-Gibourg Burgundy wines are legend is news to no one; but that the foundation upon which this legend stands was actually built by a modest grower couple down the road is the sort of insider knowledge that should make a wine collector very excited.
Because now, the Burgundy wines of that very couple are finally available in the United States. Fabrice and Christine started their own domaine in 1990, combining some of Fabrice's family's land in Vosne and Nuits-Saint-Georges with vineyards that Christine inherited from her family in Gevrey-Chambertin – plus, of course, the metayage land from the Mugnerets.
What's important to note is that this hard-working, generations-deep Burgundian family – particularly among the rarified air of Vosne-Romanée – are hands-in-the-soil growers, first and foremost. Caring for their few acres according to organic principles (with a more recent focus on biodynamics), Fabrice and Christine craft Burgundy wines that are earthy and soulful and utterly transparent to their underlying terroir. Crucially, each of their older-vine plots – all villages-level vineyards – perform far above their station; each approach grand cru levels of quality year in and year out.
As of the 2016 vintage, however, the Vigots had to rescind their crop-sharing agreement with the Mugneret family, as a series of low-yielding vintages capped with the frost of 2016 pushed them to make a painful, yet necessary, financial choice. Today the family farms only their own vineyards, some six acres across Vosne, Nuits-Saint-Georges and Gevrey-Chambertin.
FARMING & WINEMAKING
The family tends vineyards in Vosne-Romanée, Gevrey-Chambertin and Nuits-Saint-Georges, plus smaller parcels classified either Bourgogne or Coteaux Bourguignons (all 100% Pinot Noir) near Vosne-Romanée and Vougeot. The estate follows organic principles, yet is not certified. 
Grapes are harvested by hand, and are mostly destemmed with around 30% whole clusters, depending on the vintage. The estate ferments on indigenous yeasts in stainless steel tanks, with temperature controls. Wines are aged in 228L French oak tonneaux for 14 to 18 months, depending on the wine, using approximately 20% to 30% new wood. Wines are bottled unfined and unfiltered.
Coteaux Bourguignons
Bourgogne Rouge 'Les Maladières'
Vosne-Romanée
Vosne-Romanée 'La Colombière'
Vosne-Romanée 'Les Chalandins'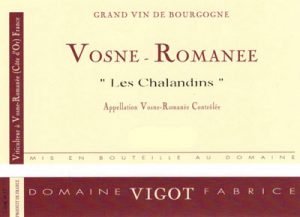 Vosne-Romanée 'Les Damaudes'
Gevrey-Chambertin Vieilles Vignes
Nuits-Saint-Georges Vieilles Vignes
Echezeaux Grand Cru
Established: 1990
Winemaker: Fabrice Vigot
Region: France • Côte de Nuits • Vosne-Romanée
Vineyard size: 6 acres
PRACTICING ORGANIC
This domaine produces honest wines, balanced with an eco-responsible approach oriented towards biodynamics, without seeking certification. We really like the digestibility of the wines here, a quality that is not so common even in Burgundy.