Paul et Jean-Marc Pastou
Sury-en-Vaux | Loire Valley
The petite village of Sury-en-Vaux, northwest of Sancerre, is the secret source of this extraordinarily character-rich Sauvignon Blanc. It is without question the sort of white wine you'll find you always need at hand: light in alcohol, pure in flavor and a faithful companion at the table.
Winemaker Jean-Marc Pastou for some 30 years has followed a singular calling to make the most honest and terroir-true Sancerre his few acres will give. His vineyards sit at the highest point in the village, and his older vines (that he planted himself) grow on perfect terroir: the classic chalky stones and flinty soils which give Sancerre its characteristic zip.
We choose from the family's few tanks the most expressive older-vine Sancerre to bottle unfined and unfiltered as 'La Côte de Sury,' a special wine that captures the essence of what great Sancerre should be—enlivening and satisfying, and a great value.
FARMING & WINEMAKING
The family's vineyards sit high up on the slope in the village of Sury, northwest of Sancerre. Soils are a mix of sand, "caillottes" (small chalky stones) and flint. Vines are on average 35 years old. Grapes are harvested by hand, and fermented on indigenous yeasts in temperature-controlled, stainless-steel tanks; wines are aged in tank on fine lees, and bottled unfined and unfiltered.
Sancerre Blanc 'La Côte de Sury' Vieilles Vignes
From the highest, older-vine vineyards in Sury, northwest of Sancerre. This is Sauvignon Blanc in its purest form: aromas of chalk and lemon blossoms, a mouthful of freshly squeezed citrus and a sea-salty, tangy finish.
Download fact sheet (PDF)
Pouilly-Fumé
The estate's mineral-rich vineyard soils are what puts the fumé, or "smoke," in this peerless bottle of Sauvignon Blanc. Indeed, wines from the Pouilly-Fumé appellation share an added dose of mineral energy and aromatic incense than do bottles from across the river in Sancerre.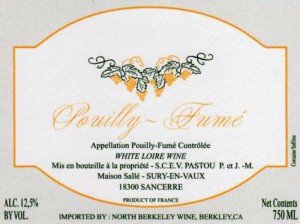 Download fact sheet (PDF)