Domaine Marius Delarche
Pernand-Vergelesses | Côte de Beaune | Burgundy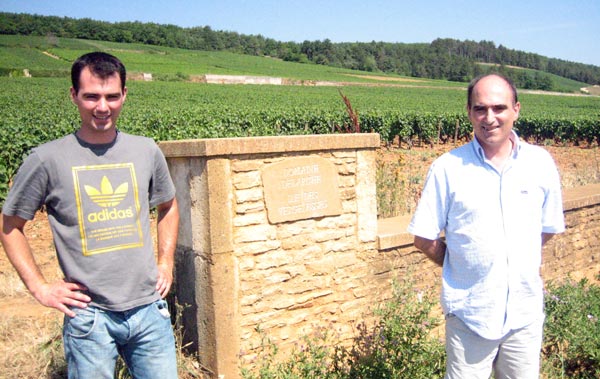 Burgundy from Domaine Marius Delarche stands as an example of what great wine can and should be: both memorable and affordable. We first came across the family's tiny cellars in Pernand-Vergelesses in the early 1990s, and honestly couldn't believe what we saw, or tasted. Hidden away in this peaceful valley in the shadow of the noble hill of Corton was certainly the Côte de Beaune's best-kept secret—gorgeous wines made by an honest winemaker for prices that reminded of decades past.
Delarche Burgundy offers a clarity and purity of flavor that is captivating. Whites are creamy and concentrated, taking a cue from grand cru Corton-Charlemagne; reds are spicy and refined, delicious from the moment they're bottled to years later, when you pop the cork on a perfectly cellared grand cru.
And while the mantle at Delarche has passed from father to son, the charm and authenticity we found way back then still exists today. The family sadly lost Philippe Delarche, winemaker Etienne Delarche's father, to cancer in 2007. Etienne had returned home in 2003, after finishing his enology degree in Beaune and completing a series of stages at international wineries, to ease the transition.
FARMING & WINEMAKING
The Delarche family harvests its grapes by hand. For their red wines, Pinot Noir grapes are destemmed completely and fermented on indigenous yeasts in temperature-controlled, stainless steel tanks. Wines are aged in a mix of new and older French oak barrels for 12 to 15 months.
For their white wines, Chardonnay grapes are destemmed and pressed delicately in a horizontal, pneumatic press. The Pernand whites are fermented in tank then aged in French oak barrels for one year; Corton-Charlemagne is fermented directly in barrel. All wines are bottled unfined and unfiltered.
Pernand-Vergelesses Blanc 'Les Combottes'
The vineyard's higher altitude and eastern exposure combines to deliver a chiseled, dazzling white Burgundy full of tension and mineral energy.
Download fact sheet (PDF)
Pernand-Vergelesses Blanc 1er Cru 'Sous Fretille'
A complex, full-bodied premier cru with chalky terroir similar to grand cru Corton-Charlemagne.
Pernand-Vergelesses Blanc 1er Cru 'En Caradeux'
A cooler vineyard — facing grand cru Corton-Charlemagne across the valley — with fine, sandy soils that delivers a more peppery, poised and structured white Burgundy wine.
Download fact sheet (PDF)
Corton-Charlemagne Grand Cru
The family's few older vines sit at the top of the slope, delivering fruit that is balanced and complex, with a stony, high-altitude edge.
Download fact sheet (PDF)
Pernand-Vergelesses Rouge 'Les Boutières' Vieilles Vignes
Winemaker Etienne Delarche selects only older-vine fruit (70 years or older) for this over-performing villages Pinot Noir, which is surrounded by premier cru vineyards on all sides.
Pernand-Vergelesses Rouge 1er Cru 'Vergelesses'
Stony, clay-rich soils produce a supple, rich red Burgundy with classic notes of roses and violets with red plum and cherry flavors.
Pernand-Vergelesses Rouge 1er Cru 'Ile de Vergelesses'
Perfectly exposed, this walled vineyard sits high up on the slope, and with its chalkier soils, delivers a more refined, layered and complex red Burgundy.
Le Corton Grand Cru Vieilles Vignes
The family's few vines here too at the summit of the vineyard are also half a century old; Corton's iron-rich soils are present in the wine's structure and tangy finish.
Corton-Renardes Grand Cru Vieilles Vignes
Etienne's father planted these 50-year old vines alongside his own father near the summit of the noble hill of Corton. Brooding and layered, with notes of licorice and peppery spice.