Domaine des Grands Rouvres
Le Bois d'Oignt | Beaujolais
You can't ignore the seashell fossils that crunch underfoot as you walk through the Durdilly family vineyards, as if the ocean were just over the next gentle hill. It's this unique terroir, with its mineral complexity, that sets the family's wines apart from other more rustic bottles from the region.
While our history with the Durdilly family goes back at least two decades, it's exciting to see a new generation come into its own. Guillaume Durdilly is the son of Pierre Durdilly of Domaine les Gryphées.
His passion? Seeking out older-vine vineyards that have been abandoned, and then bringing them back to the greatness of which they are capable.
FARMING & WINEMAKING
Winemaker Guillaume Durdilly cares for his mostly very-old vines as naturally as possible, avoiding chemical treatments and plowing between vine rows to keep soils aerated and healthy.
Grapes are harvested by hand. Wines are fermented on indigenous yeasts in cement tanks, and aged in older foudre and in tank. All wines are bottled unfined and unfiltered.
Juliénas Vieilles Vignes
A suave, purple-flowered and lightly spiced Gamay wine, showing all the finesse and poise this cru Beaujolais village is known for. It should be no surprise that this young talent shows so much promise, as Guillaume was essentially raised alongside Gamay vines!
Download fact sheet (PDF)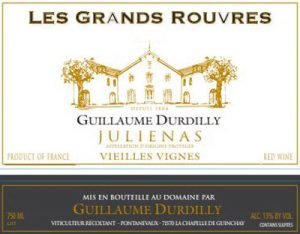 Chénas Vieilles Vignes
Chénas is one of Beaujolais' rarer crus, located between Julienas and Moulin-à-Vent, and is the smallest Beaujolais cru appellation in terms of land. A gorgeous Gamay chock-full of red fruit and light spice.
Download fact sheet (PDF)