Domaine de L'Oratoire Saint-Martin
Cairanne | Rhône Valley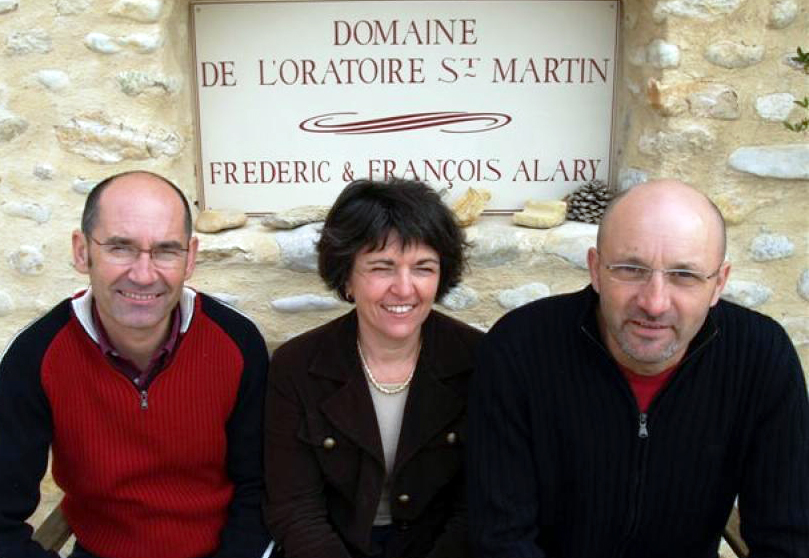 The finest leaders lead by example, and that is exactly what Frédéric and François Alary of Domaine de L'Oratoire Saint-Martin have done for decades. Their personal modesty belies their unparalleled talent in crafting organically raised wines that sing of southern landscapes and summer-ripe flavors, bottles that are not only best in their class but also set an example for elegant, site-specific reds the world over.
The family's roots run deep in the region, with the brothers representing the family's tenth generation of winemakers in Cairanne. In terms of natural winemaking, the Alary family has always been ahead of the curve. They adopted organic agriculture long before it was fashionable; they pioneered a return to cement tanks for vinification when everyone else was spending absurd amounts on the latest technology. The region's finest talents today all had their start in this family's cellars.
The best wines of Cairanne are marked above all by an effortless finesse in both perfume and flavor. While other lower-land southern Rhônes struggle with heat and higher alcohol, Cairanne's top wines are poised and pure, hailing from the village's chalky hills. This natural cooler character is preserved faithfully at L'Oratoire Saint-Martin; here the soul of the wine comes directly from the soil and the vine.
FARMING & WINEMAKING
The estate is located in the northeastern part of Cairanne, on a series of hills locally referred to as the "mountain." The area's key vine-growing regions are 'Les Douyes' and 'Saint-Martin,' found on the steepest slopes. 'Les Douyes' faces east/northeast and is the coolest part of the mountain; here are the estate's oldest Grenache vines, and most of its white grapes. 'Saint-Martin' faces south/southwest; grapes grown here are often riper and more aromatic. The lieu-dit 'Haut Coustias' gets the most sun, and is where Grenache and Mourvèdre reach perfect ripeness.
All vines are cared for according to organic as well as biodynamic principles; the estate is certified in both. Vines are on average 40 years old, with some even more than 100 years. Grapes are harvested by hand, and fermented on indigenous yeasts in open-top cement fermenters for Cairanne wines, and in temperature-controlled, stainless steel tanks for Côtes du Rhône wines. Depending on the cru, wines are aged in a combination of tank, demi-muid and foudre. All wine are bottled unfined and unfiltered, with little added sulfur.
Cairanne Blanc 'Haut Coustias' (Marsanne, Roussanne, Clairette, Grenache Blanc)
Very old vines (70-90 years old) grown organically in the coolest hillside corner of Cairanne translates to a tangy yet savory white wine with fresh, citrus-inspired fruit and staying power. A 'baby' Châteauneuf-du-Pape blanc!
Download fact sheet (PDF)
Côtes du Rhône Rouge
A selection of fruit from younger vines translates to a ripe, juicy red that promises immediate pleasure at backyard barbecues or impromptu picnics. Lavender, thyme, black pepper; raspberries and blackberries.
Download fact sheet (PDF)
Cairanne Rouge 'Réserve des Seigneurs' (Grenache, Mourvèdre, Syrah)
The brothers select fruit from the estate's two lieu-dits for this spicy, peppery red blend: Grenache and Mourvèdre from 'Les Douyes,' a limestone-rich plot facing northeast; and Syrah from 'Saint-Martin,' which faces south. Fermented and aged in cement tank, so what you get is pure, ruddy and powerful fruit wrapped in a silky robe.
Download fact sheet (PDF) 
Cairanne Rouge 'Les Douyes' (Grenache, Mourvèdre)
A special selection of fruit from a portion of estate lieu-dit 'Les Douyes,' planted in 1905 and rich in limestone. Aged for 18 months in foudre. The ultimate expression of Cairanne's high-altitude terroir, and a unique look at the elegance of Mourvèdre from ancient vines.
Download fact sheet (PDF) 
Cairanne Rouge 'Haut Coustias' (Mourvèdre, Grenache, Syrah)
The lieu-dit 'Haut Coustias' gets the most sun, and is where Grenache and Mourvèdre reach perfect ripeness. This single-vineyard selection of 70-year-old Mourvèdre plus Grenache combines the power of Bandol with the spice of the southern Rhône.
Download fact sheet (PDF)