Cantina Filippo Filippi
Castelcerino | Soave | Veneto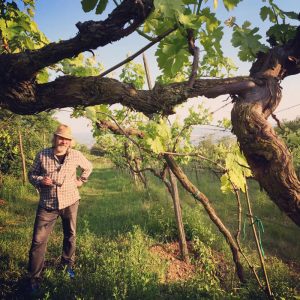 Everything about winemaker Filippo Filippi seeks to push limits. His vineyards are planted at Soave's highest summits, more than 1,200 feet above sea level. His vines soar overhead in pergola, a traditional training system that hangs fruit under a canopy of vine leaves.
He was the first in Soave to be certified organic in 2007, and followed then with biodynamic certification – but nothing about this modest, gentle artisan suggests that being first matters in any way, shape or form. What truly comes first are his wines, and they tell the story of native Garganega like no other.
Filippi wines capture in bottle an unadulterated expression of his family's land, each vineyard a treasure with its ancient Garganega vines. His home and cantina in Castelcerino, surrounded by vines and wild forest, sits at the summit of Monte Calprea, an ancient volcano, one of many that make up Soave's highest peaks and its most treasured vineyard soils.
If any soul could stake a claim at being Soave's first son, however, it is Filippi. His family first laid claim to these high-altitude lands in the 1300s. Winemaking in earnest began in the early 1900s, and many of Filippi's oldest Garganega vines were planted by his grandfather in the 1930s.
Simply put, Filippi "wants the features of the soil" to be felt in his wines, thus he crafts three separate wines to do so, guided by the character of the land. 'Castelcerino' showcases the power of Soave's natural volcanic soils; 'Vigna della Bra' combines clay and limestone with black basalt, as in Castelcerino; and 'Monteseroni,' like fine Burgundy, is mostly chalk-rich limestone.
FARMING & WINEMAKING
The Filippi farm sits at the highest point in Soave, on the Monte Calprea at some 1,200 feet in altitude. It is a secluded spot, with some 40 acres of vineyards surrounded by an equal surface of wild forest, rich in its biodiversity—a cornerstone of Filippi's biodynamic philosophy.
Technically, Filippi's holdings sit just outside the delimitations of the Soave Classico zone, and are part of the Soave Colli Scaligeri DOC.
Most of Filippi's vineyards are made up of very old Garganega vines, trained in traditional pergola and planted as early as the 1930s. Vineyards are divided into distinct areas, defined by soil type. 'Castelcerino' is mostly basalt, a black volcanic stone. 'Vigna della Bra' has more clay, with basalt and limestone. 'Monteseroni' stands apart for its chalk-rich, limestone soils.
Separately, 'Turbiana' is found within 'Vigna della Bra,' and is a few rows of vines planted to Trebbiano in pergola, now over 70 years old.
Filippi was the first grower in the larger Soave zone to be certified organic, in 2007. He also holds biodynamic certification from Demeter, a European standards body.
The estate's winemaking practice is based on simplicity, with a holistic, natural focus guided by vintage conditions. Grapes are harvested by hand in small crates, and pressed gently. Fermentation happens by means of indigenous yeasts (pied de cuve) and in 100L stainless steel tanks. Malolactic conversion is allowed. Wines spend an extended time in tank on fine lees, with infrequent lees stirring.
The estate's cellars are perfectly insulated by centuries-old stone walls, and natural temperature fluctuations are the norm during aging. Wines are generally unfiltered (Filippi uses cold settling to clarify his wines naturally); sulfur additions at any point in the winemaking process are minimal.
Soave Colli Scaligeri 'Castelcerino'
A typical sight at the Filippi farm, the highest point of the Soave area, is winemaker Filippo Filippi walking through his pergola-trained vineyards in the company of Billy, his loyal German Shepard. 'Castelcerino' is both the name of Filippi's home village and a vineyard that surrounds his estate and cantina. Characterized by soils of basalt, a black volcanic stone, 'Castelcerino' is deeply mineral, with notes of almonds and anise. A pure, 100% Garganega wine.
Download fact sheet (PDF)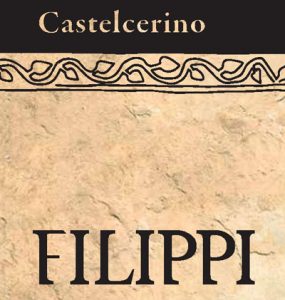 Soave Colli Scaligeri 'Vigne della Brà'
Practically as high in altitude as the estate's Castelcerino vineyard is a small region called Brà, where winemaker Filippo Filippi tends older Garganega vines in pergola on clay- and limestone-rich soils. A lovely and lithe, very mineral Soave, ideal with fresh seafood (shellfish is ideal) and richly aromatic. 
Download fact sheet (PDF)
Soave Colli Scaligeri 'Monteseroni'
Here on the "mountain of wild roosters" winemaker Filippo Filippi tends very old Garganega vines in pergola that face full south, making this plot the warmest terroir of the estate. Sauteed quince, fresh apricots, brown spices; a mouth-filling, bold Garganega wine with great length and persistence. 
Download fact sheet (PDF)
Established: 2003 (family winemaking in early 1900s)
Winemaker: Filippo Filippi
Region: Italy • Veneto • Soave • Castelcerino
Vineyard size: 40 acres
CERTIFIED ORGANIC | CERTIFIED BIODYNAMIC
Organically farmed old vines of Garganega … are just part of the secret to Filippi's enduring success. The relatively high altitude of the Castelcerino zone also plays a role in helping to fashion fresh, penetrating Soave wines of real interest that are among the most mineral of the whole denominazione.