Domaine Bouard-Bonnefoy
Chassagne-Montrachet | Côte de Beaune | Burgundy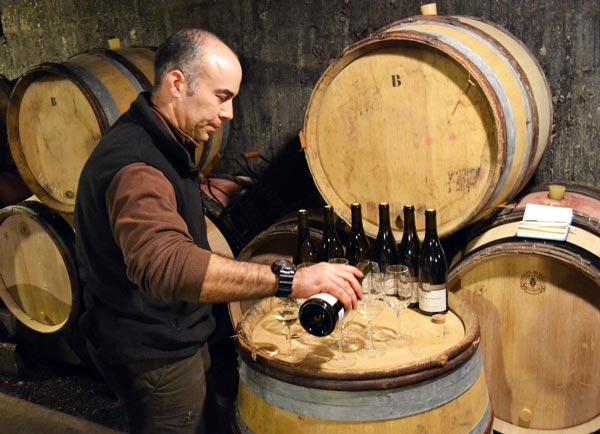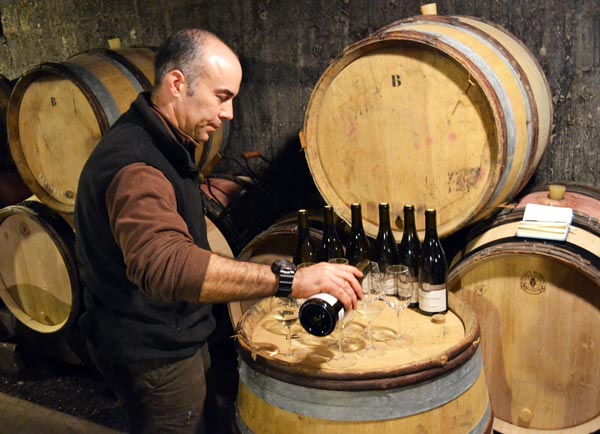 Domaine Bouard-Bonnefoy
sets the standard for naturally made, profoundly flavorful white Burgundy. Consider the family's hand-cranked wooden press, the mini-family cellar and the bottling "line," where each bottle is corked and labeled by hand—when someone says they are searching for an authentic wine far removed from today's hyper-technology and trends, they're looking for Bouard-Bonnefoy wines.
This winemaking family represents a Burgundy we thought long gone, but really the Bouard-Bonnefoy clan embodies the sort of artisanal spirit to which we've always been drawn in our three decades of visiting the Côte d'Or.
What Chassagne's many beautiful vineyards offer, the Bouard-Bonnefoys capture faithfully—these are wines that astound with their pure aromas, their deep flavors and their ability to seduce from the very first sip.
Nothing rattles winemaker Fabrice Bouard, who in his 40s is already on his second career—his first being a bodyguard for French dignitaries. His wife, Carine Bonnefoy, represents the fourth generation of a Chassagne winemaking family. Their estate has always been small, a labor of love with wines mostly sold to locals and friends. In 2006, Fabrice and Carine took over the family production, with Carine's father (well-known in the village for being one of the more diligent grape growers around) assisting in the fields.
FARMING & WINEMAKING
The Bouard-Bonnefoy family farms sustainably, avoiding pesticides and herbicides (instead, plowing between rows) and using indigenous yeasts for fermentation. Harvest is always by hand. Grapes are lightly crushed then pressed in the family's upright wooden press (inherited from the Bonnefoy grandparents). Juice is placed in older French oak barrels to ferment naturally (for both alcoholic fermentation and malolactic conversion). The estate uses few, if any, new oak barrels. Wines are bottled by hand, have little added sulfur and are unfined and unfiltered.
Bourgogne Rouge Pinot Noir
A rare, wonderfully refined and summer-ripe Pinot Noir from sandy soils within the Chassagne-Montrachet appellation boundaries. Gorgeous red berry and cherry notes and delicately aromatic; certainly one of the best Bourgogne Rouge wines we've had in some time.
Download fact sheet (PDF)
Chassagne-Montrachet Rouge
A jewel of a wine, selected from various estate parcels in the appellation that represent a perfect cross-section of Chassagne's noble terroir. Ripe summer raspberries, poached cherries, baking spices; rubied fruit, suave tannins.
Download fact sheet (PDF) 
Chassagne-Montrachet Rouge 'Maltroie'
A rare wine and a stunning example of the purity and intensity of Pinot Noir from Chassagne's chalky, mineral soils. The Bonnefoy's have just a few rows of vines in this very impressive premier cru.
Download fact sheet (PDF)
Bourgogne Blanc
Supple, tangy and fresh. Pure Chardonnay grown in southeast-facing estate vineyard (lieu-dit) 'Plantelonge,' just east of villages-level vineyard 'Les Pierres' in Chassagne-Montrachet.
Download fact sheet (PDF)
Chassagne-Montrachet Blanc
A lively Burgundian Chardonnay selected from younger vines grown in four separate parcels in Chassagne-Montrachet. Classic flavors of yellow plums, mountain spring water, with a touch of red berry fruit.
Download fact sheet (PDF)
Puligny-Montrachet 'Les Aubues'
A charmed villages-level Puligny, located within the larger 'Les Enseignères' vineyard and a stone's throw from grand cru Bâtard-Montrachet. Yellow fruits, light herbs, juicy and refined.
Download fact sheet (PDF)
Saint-Aubin Blanc 1er Cru 'Le Charmois'
'Le Charmois' is essentially a continuation of Chassagne's top premier cru vineyards, climbing up the valley (and within a stone's throw of Montrachet and Co.) With a little more altitude, winds are a bit cooler, so 'Charmois' is a reliable source of nervous, vibrant and tantalizing white Burgundy — still with all the flavorful depth and elegance one expects from the best of Chassagne.
Download fact sheet (PDF)
Chassagne Montrachet Blanc 1er Cru 'Chenevottes'
A smooth, fruity Burgundian Chardonnay. The vineyard 'Chenevottes' has deeper, more fertile soils, which results in a wine with a more honeyed concentration and silky texture.
Download fact sheet (PDF)
Chassagne Montrachet Blanc 1er Cru 'Macherelles'
A refined Chassagne, one that combines a lacy delicacy with layered, concentrated flavors. 'Macherelles' is a wonderful example of Chassagne white Burgundy, poetic and profound.
Download fact sheet (PDF)
Chassagne Montrachet Blanc 1er Cru 'Maltroie'
Located in the heart of the village, 'Maltroie' offers a perfect snapshot of Chassagne's savory, delicate character: candied lemons, roasted almonds, herbs.
Download fact sheet (PDF)
Chassagne Montrachet 1er Cru Blanc 'En Remilly'
'En Remilly' is the true insider's white Burgundy! At the summit of the Mont Rachet, 'En Remilly' sits at the border between Chassagne and Puligny. From this high-altitude perch, 'En Remilly' looks like a springboard from which you can dive into nearly every legendary grand cru vineyard: Montrachet, Chevalier-Montrachet, Bâtard-Montrachet.
Download fact sheet (PDF)
Chassagne Montrachet Blanc 1er Cru 'Vergers'
Higher up the slope from vineyard 'Chenevottes,' 'Vergers,' with its younger vines, delivers an energetic yet profound white Burgundy with notes of crushed stones and yellow fruits.
Download fact sheet (PDF)
Chassagne Montrachet 1er Cru Blanc 'Morgeot - Le Petit Clos'
'Petit Clos' is a small, walled plot within the larger 'Morgeot' vineyard, and one of its finer terroirs. An unusual vein of blue clay here gives fruit from 60-year-old Chardonnay vines a plush, savory texture. The signature of 'Morgeot'—as much of the vineyard is planted to Pinot Noir in addition to Chardonnay—is a hint of red berries in aroma and flavor.
Download fact sheet (PDF)