Domaine Boyer-Martenot
Meursault | Côte de Beaune | Burgundy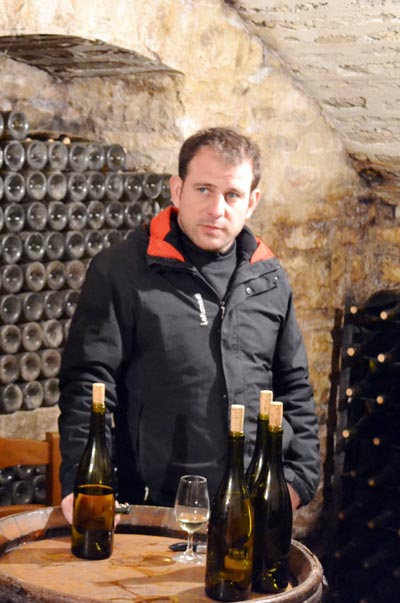 Vincent Boyer is an anomaly—a hard-working, hands-in-the soil grower focused on quality in an appellation where many wineries have hired enologists and coasted on Meursault's reputation. Domaine Boyer-Martenot is a family winery where the wine in the bottle unquestionably lives up to its noble appellation.
While most Meursault winemakers blend, Vincent Boyer bottles many of his wines from his villages vineyards separately. Through the efforts of this estate, these single-vineyard Meursault wines have found their voice—showing just how varied and captivating great Meursault can be, even at its most "basic."
It was this dedication to the true voice of Meursault that drew us to Boyer-Martenot wines so many years ago. While our partnership first started with Vincent's parents, the transition to the estate's fourth-generation has also been its crowning moment.
Meursault from Boyer-Martenot today is more expressive than ever. Vincent's philosophy of less-is-more in the cellar means what you experience in each bottle is exactly what each unique vineyard and each perfect grape has to give.
FARMING & WINEMAKING
The estate practices lutte raisonée (reasoned agriculture), avoiding pesticides and herbicides, and using indigenous yeasts for fermentation. Harvest is exclusively by hand. Grapes are pressed then fermented naturally in temperature-controlled, stainless steel tanks and aged in a mix of older and new French oak barrels (no more than 30 percent new wood) for one year. All wines bottled for North Berkeley Imports are unfined and unfiltered.
Bourgogne Blanc
The quality of a winery's most "basic" wine tells you volumes about the estate as a whole. This exemplary Burgundian Chardonnay, from older-vine vineyards within Meursault proper, is one of the finest blancs you can find for the money, hands down.
Meursault
A pitch-perfect Meursault from older vines grown in villages vineyard, 'Les Chaumes des Perrieres,' located just above premier cru plot 'Perrieres,' at the tree line. Pink roses, fresh apricots and wildflowers combine for a knock-out, engaging perfume.
Download fact sheet (PDF)
Meursault 'Cuvée Fernand Boyer'
A special bottling of fruit from four villages-level vineyards, as a tribute to Vincent's grandfather and the founder of the family estate, Fernand Boyer. 'Les Pellans' and 'Le Pré de Manche' border premier cru plots; 'Les Pelles' and 'Au Moulin Landin' are located in the heart of the village.
Download fact sheet (PDF)
Meursault 'En L'Ormeau'
Vines were planted by winemaker Vincent Boyer's great-grandmother in 1924—making them some of the oldest vines in the village. The vineyard's clay soils contribute to the wine's velvety weight and suppleness on the tongue, similar to premier cru 'Charmes.'
Meursault 'Les Narvaux'
'Narvaux' is Meursault's highest-altitude vineyard, sitting next to premier cru 'Perrières.' It certainly shares the poise and refinement of the village's most sought-after premier cru!
Meursault 'Les Tillets'
The intense minerality of this vineyard's soils (more chalk than clay) results in a Meursault of subtle aromas, suggesting wildflowers, fresh nuts and oyster shells.
Download fact sheet (PDF)
Puligny-Montrachet 'Les Reuchaux'
A more voluptuous, yellow-fruited Puligny-Montrachet, with notes of fresh peaches and herbs, underscored by a lifting chalky energy from stem to stern.
Meursault 1er Cru 'Charmes'
Unquestionably the village's most supple premier cru, 'Charmes' overwhelms the palate with pear butter, candied lemons and a finish sprinkled with white pepper.
Download fact sheet (PDF)
Meursault 1er Cru 'Genevrières'
Located in the heart of Meursault's band of premier cru vineyards, 'Genevrieres' piles a buttery, savory core of white fruits on a chalky backbone, thanks to the vineyard's mineral-rich soils.
Download fact sheet (PDF)
Meursault 1er Cru 'Perrières'
The highest vineyard in Meursault as well as the plot with the chalkiest terroir, 'Perrières' is the leanest, most mineral of Boyer's premier crus. Lime blossoms, crushed stones, white pepper, white fruits.
Download fact sheet (PDF)
Puligny-Montrachet 1er Cru 'Le Cailleret'
Puligny's 'grand cru' vineyard and every vintage an eternal wine, one that begs to be cellared so it can reveal its limitless complexity with time. Depth, grace, persistence—it's all here.
Download fact sheet (PDF)