Domaine Daniel et Julien Barraud
Vergisson | Mâconnais | Burgundy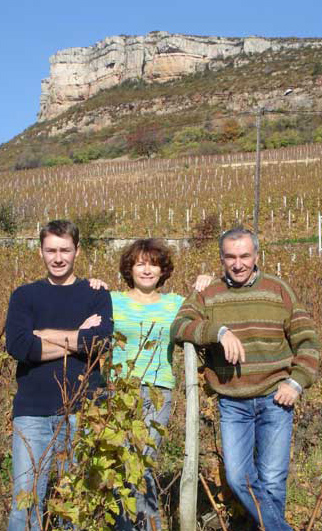 Domaine Daniel et Julien Barraud
is not only the source of Vergisson's finest organic wines but also sets the standard for world-class white Burgundy from the Mâconnais.
The petit hamlet of Vergisson, with its limestone soils and high-altitude vineyards, is where the region's finest wines are made. Here, families like the Barrauds have for generations preserved their craft in its most honest form, making wine by hand from well-tended organic vineyards and aging their wines in small, old-fashioned cellars. Theirs are wines that without fail can stand tall next to comparable bottles from the Côte d'Or, yet still offer extraordinary value.
In the Barraud family cellars, you'll find collected a pile of seashells and other fossils that Daniel and his son, Julien, have found in their vineyards. (The enormous twin cliffs, the Roche de Vergisson and the Roche du Solutré, are basically ancient coral reefs.) Barraud wines still retain the pristine, mineral influence of this prehistoric ocean, expressed as a touch of sea salt on the finish.
FARMING & WINEMAKING
Surrounded by the imposing cliffs of Solutré and Vergisson, the family estate is located in the limestone-rich valley of Vergisson. Soils here are a mix of limestone scree, fossilized limestone and colored clays, each terroir offering a particular character to each wine; the Barrauds take particular care to ensure each separate terroir is expressed clearly in each wine. Vines are cared for according to organic principles; the estate will achieve organic certification as of the 2022 vintage. 
Harvest is done by hand in multiple passes to ensure grapes are perfectly ripe. Fruit is delicately pressed in cluster via pneumatic press. Juice is placed in temperature-controlled tanks to settle overnight, and is then transferred via gravity to either barrel or tank where both alcoholic and malolactic fermentation takes place naturally. After at least a year, depending on the cuvée, the wines are racked and placed in tank before being bottled unfined and unfiltered.
Mâcon-Villages 'Harmonie'
A special blend of terroirs in 2021, the Mâcon-Villages 'Harmonie' is a delightful Burgundian Chardonnay with pep and energy for miles. Extreme conditions during the growing season (cold temperatures, hail and frost) nearly wiped out the majority of the family's crop; what they were able to save from vineyards in Mâcon-Fuisse and Mâcon-Vergisson 'La Roche,' was used for this wine. An overachiever in the eye of the storm? Only the family Barraud can make miracles taste so delicious.
Download fact sheet (PDF)
Mâcon-Fuissé
A lovely supple and fruity Burgundian Chardonnay, from mineral-rich soils in the town of Fuissé, one of the top villages for quality in the Mâconnais. Tons of citrus and summer stone fruit.
Download fact sheet (PDF)  
Mâcon-Chaintré 'Les Pierre Polies'
From the village of Chaintré, this delightfully bold and savory white Burgundy benefits from sandstone and flint soils, mineral-rich and lively. 
Download fact sheet (PDF)
Mâcon-Vergisson 'La Roche'
The classic and the pride of every winemaker in Vergisson, 'La Roche' sits right next to its namesake in Pouilly-Fuissé and as such, shares much of that vineyard's intense concentration and stony backbone. In the hands of a master such as Barraud, it always delivers.
Download fact sheet (PDF)
Saint-Véran 'En Arpège'
A stunningly pure example of the mineral energy of the Mâconnais, 'Arpège' combines fruit from two vineyards with impressive terroir for a wine that's suave and citrus-rich with a fantastic mineral finish. 
Download fact sheet (PDF)
Saint-Véran 'En Crèches'
Nestled in a protected warm pocket not far from Pouilly-Fuissé 'La Roche,' 'En Crèches' is rich in floral aroma and silky texture, with lots of mineral energy from start to finish. 
Download fact sheet (PDF)
Saint-Véran 'Les Pommards'
This high-altitude vineyard borders Pouilly-Fuissé and sits above an ancient quarry. Pure limestone soils give the wine its precision; the style is rich and long.
Download fact sheet (PDF)
Pouilly-Fuissé 'Alliance' Vieilles Vignes
A blend of fruit from parcels in the village of Vergisson, this "alliance" of the best terroirs (and older vines) delivers a wine that's a serious overachiever. Spice and mineral, floral energy galore; a lovely young Burgundian Chardonnay that has plenty of potential for the cellar, too. 
Download fact sheet (PDF)
Pouilly-Fuissé 'En Buland' Vieilles Vignes
Facing northeast on the flanks of the "rock" of Solutré, 'En Buland' is one of winemaker Daniel Barraud's more subtle yet stupendous wines, a heady and complex (and very concentrated) offering that unwinds graciously as it expands in the glass. A great wine for the cellar, and certainly a killer value in great white Burgundy. 
Download fact sheet (PDF)
Pouilly-Fuissé 1er Cru
A new offering as of the 2020 vintage, this recently minted premier cru hails from two parcels within the 'Marechaude' vineyard, a cooler site with pure limestone soils. A picture-perfect example of the poise and energy of great Burgundian Chardonnay from Vergisson. 
Download fact sheet (PDF)
Pouilly-Fuissé 1er Cru 'En France'
A great vineyard in the heart of Vergisson, that benefits from a combination of limestone and colored clay soils — for a wine that's smooth and silky and electric at once. Quince and Meyer lemon, crushed oyster shells and spice. 
Download fact sheet (PDF)
Pouilly-Fuissé 1er Cru 'La Marechaude - Clos La Verchère'
'La Verchère' is a partially walled plot within the larger and cooler 'Marechaude' vineyard, not far from the Barraud family home. Older-vine fruit results in a wine with wonderful depth and persistence. 
Download fact sheet (PDF)
Pouilly-Fuissé 1er Cru 'La Roche'
One of the highest elevation vineyards in the village, 'La Roche' truly delivers on its name: tons of stony, sea-salty energy, bracing citrus flavors, depth and persistence for miles. Certainly a top Mâconnais' vineyard, if not the very tip-top — and a wine we stash in our personal cellars, each and every vintage. You should too!
Download fact sheet (PDF)
Pouilly-Fuissé 1er Cru 'Les Crays'
'Les Crays' faces full south and as such is usually one of Barraud's broader, more textured and certainly most seductive white Burgundy wines, balanced perfectly by a stony energy and very long finish.
Download fact sheet (PDF)
Established: 1905
Winemaker: Daniel, Martine and Julien (son) Barraud
Region: France • Burgundy • Mâconnais  • Vergisson
Vineyard size: 27 acres
PRACTICING ORGANIC
Daniel Barraud is without question one of the finest growers in all of the Mâconnais and there is a credible argument to be made that his remarkable consistency vaults him right to the very top of the list…this man almost never misses.