Domaine Vincent Dureuil-Janthial
Rully | Côte Chalonnaise | Burgundy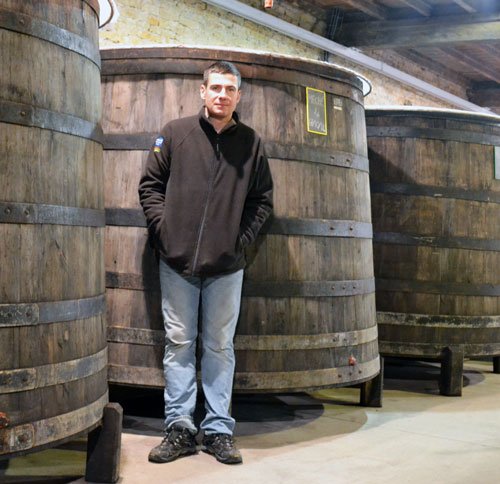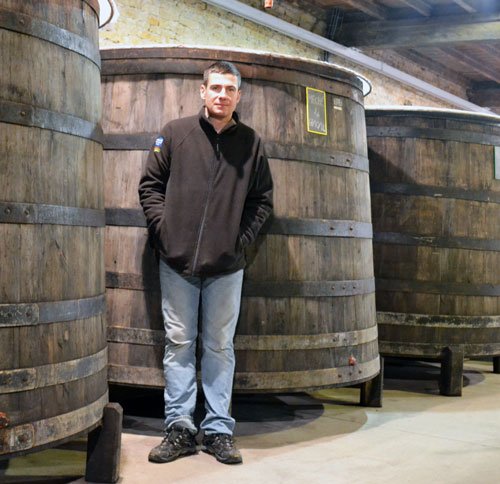 The talents of winemaker Vincent Dureuil in Rully are such that it's easy to forget that there are others making wine in the Côte Chalonnaise. But there just is no other artist in the region that faithfully crafts Burgundy with as much purity, elegance or character as does Dureuil.
Not only is Dureuil a gifted winemaker, but also he is blessed with some exemplary older-vine vineyards that for years have been cared for organically—a higher level of attention that sets Dureuil qualitatively apart from the pack. His delicate touch translates each individual terroir into a perfect liquid picture of what the best of Rully—and the best of Burgundy, for that matter—can be.
We first encountered the Dureuil family back in the 1980s when Raymond Dureuil ran his own estate. During a visit in 1995, he offered us a taste of premier cru 'Meix Cadot' white Burgundy, vinified by his 20-year-old son, Vincent, who bottled the wine unfined and unfiltered (an idea the father frowned on).
If we hadn't known the source, we would have thought we were drinking grand cru Montrachet. Even in those early years, Vincent displayed an uncanny talent; and in the decades since, his skills and expertise have only grown, to the point where we can say without hesitation that Vincent Dureuil ranks among the finest artisans in all of Burgundy.
FARMING & WINEMAKING
Vincent Dureuil has cared for all his vineyards organically since the mid-2000s (yet does not include an organic stamp on his labels). Vineyard rows are regularly plowed to control weed growth. Very little sulfur is added during fermentation or at bottling.
For the reds, bunches are destemmed and fermented on indigenous yeasts in temperature-controlled, stainless steel tanks or upright wooden fermenters. Wines are aged in French oak barrels for one year (with up to one-third new oak, depending on the cru) and are bottled unfined and unfiltered.
For the whites, whole clusters are pressed directly and fermented on indigenous yeasts. Wines are aged in French oak barrels, with no more than 25 percent new oak, depending on the cru. Wines are racked according to the cycles of the moon, and are bottled unfined and unfiltered.
Bourgogne Aligoté
A peerless Aligoté raised like a premier cru on ideal limestone-clay soils in the appellation of Rully. Citrus zest, fresh almonds, white pepper.
Download fact sheet (PDF)
Bourgogne Blanc
A fresh and floral, yet full-flavored white from 30-year-old vines grown in a small plot located in the village of Puligny-Montrachet.
Download fact sheet (PDF)
Rully Blanc
A blend of four different vineyards for the ultimate example of the plush beauty of white Burgundy from Rully.
Download fact sheet (PDF)
Rully Blanc 'Maizières'
With a lemon-inspired tension at its core, 'Maizières' combines the herbal essence of Puligny-Montrachet with the savory fruit of Meursault.
Rully Blanc 1er Cru 'Les Margotés' Vieilles Vignes
Rully Blanc 1er Cru 'Le Meix Cadot' Vieilles Vignes
Puligny-Montrachet 'Corvée de Vignes'
'Corvée de Vignes' sits on the border between Puligny and Meursault, not far from Meursault's premier cru row. Plush fruit with warm, nutty aromas and a tangy finish.
Puligny-Montrachet 1er Cru 'Champs Gains'
Bourgogne Rouge
A juicy, spicy red from older vines grown in the communes of Prémeaux-Prissey (Nuits-Saint-Georges) and Puligny-Montrachet.
Rully Rouge
For fans of Côte de Beaune reds, this Rully will impress (and spare your pocketbook, too). Savory red fruits, delicate spice, deliciously long.
Download fact sheet (PDF)
Mercurey Rouge
A lively Pinot Noir that combines the mineral tang of Pommard with Dureuil's signature ruby-red, summer-ripe fruit.
Rully Rouge 1er Cru 'Clos du Chapitre'
An older-vine, walled vineyard in the heart of the village, 'Chapitre' is structured and rich, with a succulent core of red berry fruit.
Nuits-Saint-Georges 1er Cru 'Clos des Argillières'
More producers from Côte Chalonnaise…