Grande Maison
Monbazillac | Southwest France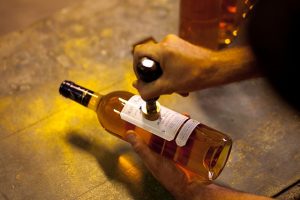 For most of the nineteenth century, sweet wines from this region on the Dordogne River east of Bordeaux were highly sought after—even more so than wines from Sauternes or Barsac. Yet if you take a look at Sauternes en primeur pricing, you can understand why we say it's high time to rediscover the lost gold of Monbazillac.
Raised biodynamically, with yields that often dip lower than the lowest at Yquem, Grande Maison for us is the ultimate expression of Monbazillac botrytized wines.
All of the estate's vineyards surround the "grande maison," a fortified manor house originally built in the thirteenth century. Destroyed and reconstructed over the centuries, today this stone house stands as a historic sentinel in a sea of vines and wild forest.
Facing south, these organically raised Semillion, Sauvignon Blanc and Muscadelle vines run down a gentle slope to the heart of the estate, a modest lake that helps encourage the development of botrytis, the "noble rot" necessary for the finest Monbazillac wines.
FARMING & WINEMAKING
Grande Maison was an organic pioneer in Monbazillac, farming according to organic and biodynamic principles in the early 1990s. The estate's 35 acres of vineyards mostly face full south; a small lake (created by an earlier owner) helps to protect against spring frosts, moderate summer temperatures and encourage the development of botrytis, or noble rot, once grapes are ripe. Soils combine limestone and clay, with some flint—unique in the region.
Grapes are harvested by hand in multiple passes, and taken to the cellar in small batches no heavier than 10 kilograms to prevent oxidation. Fruit is pressed gently in a horizontal pneumatic press, and placed under gas immediately. Juice clarifies naturally and is fermented on indigenous yeasts in new French oak barrels. Wine is aged also in new oak, from two to three years.
Monbazillac 'Cuvée des Anges'
A blend of 80% Semillion, 10% Sauvignon Blanc and 10% Muscadelle. A selection of fruit from younger vines that have been "lightly" touched by noble rot; all tank made. Wonderfully balanced, exuberantly aromatic. Enjoy it young for its fresh fruit and vibrant character.
Monbazillac 'Cuvée du Château'
A blend of 60% Semillion, 20% Sauvignon Blanc and 20% Muscadelle. A selection of fruit from younger vines that have completely been affected by noble rot. Fermented and aged in new French oak barrels for 30 months. The estate's benchmark Monbazillac, a wine that will age and evolve gracefully for decades. Gorgeous with fois gras, scallops, blue cheese.
Monbazillac 'Cuvée des Monstres'
A blend of 60% Semillion, 30% Muscadelle and 10% Sauvignon Blanc, crafted only in the finest years. A special selection of the estate's oldest vines, many more than 100 years old. The estate performs a "tri au grain," or single-berry selection, to ensure only the ripest, healthiest botrytized grapes are used. Fermented on indigenous yeasts and aged in new French oak barrels for three years. Less than 1,000 bottles made.