Azienda Agricola Vadiaperti
Montefredane (Avellino) | Campania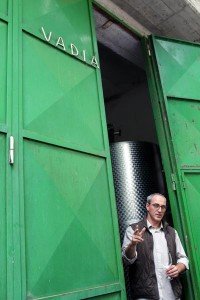 Since the end of the nineteenth century, the Troisi family of Azienda Agricola Vadiaperti has championed the wines of Irpinia, a historic vine-growing region in southern Italy.
Winemaker Raffaele Troisi is a vine grower from a generations-long line of passionate family members who dedicated their lives to the fruit of the vine. Raffaele's great-grandfather Antonio was its vanguard, moving to the United States in the early 1900s to establish a wine importing company focused on sourcing pure wines from Irpinia to sell in New York.
Back home in Montefredane, his son Raffaele was the first Troisi to plant vines, with an eye to local varieties such as Fiano and Coda di Volpe. While Raffaele died young, his wife Elisa kept his vision alive, and over the decades, became one of the region's most knowledgeable vine growers, a natural talent who could determine the health of her vines or the right time to harvest by sight and touch.
It was Elisa's son Antonio who took the family farm into the commercial realm, bottling in 1984 the very first single-variety Fiano wine. And Antonio's son Raffaele—who today runs the family estate in Montefredane—worked side by side with his father in the cantina and the fields for years, before he took the reins himself in 1998.
Since then, his focus as a Troisi has remained true: honor Irpinia's native grapes, its exceptional soils, and the traditions and knowledge of those before him. And exceptional certainly describes this estate: vineyards are located from 1,200 to 2,100 feet above sea level in the hills of Montefredane, on volcanic "tufo" soils. The mild Mediterranean climate, the cooler temperatures at altitude, and the mineral-rich soils combine for white wines of impeccable balance and finesse.
FARMING & WINEMAKING
Estate vineyards are located in and around the town of Montefredane, from 1,200 to 2,100 feet above sea level. Soils combine clay, volcanic rock and well-draining tufo, which are all mineral-rich soils. Vines range from 25 to 70 years old. At these higher altitudes, harvest typically runs into mid-October.
The family historically has only made single-variety wines; in fact, winemaker Raffaele Troisi's father was the first to bottle a commercial single-variety Fiano wine.
Grapes are harvested by hand and pressed full cluster, fermenting on indigenous yeasts in temperature-controlled, stainless steel tanks. Wines are aged on fine lees in tank from between a few months to two years, depending on the wine.
Coda di Volpe
Coda di Volpe is a white grape native to Campania, and its name means "tail of the fox."  All tank made. Aromas of honey, wet stone and herbs. Lively and juicy, with a resinous, honeyed finish.
Download fact sheet (PDF)
Coda di Volpe 'Torama'
A special selection of Coda di Volpe grapes from extremely high-altitude vineyards, 'Torama' showcases the true potential of this native Campanian grape. Fleshy yet precise, chock-full of stone fruits and vibrant citrus, 'Torama' will age in step with the finest white Burgundy. One to discover!
Download fact sheet (PDF)
Greco di Tufo
With its fleshy, ripe citrus and stone fruit flavors, married with a touch of honey and sea salt, Greco di Tufo is an irresistible pair with rich seafood or creamy burrata, a southern specialty.
Download fact sheet (PDF)
Greco di Tufo 'Tornante'
The pinnacle of Greco; a riveting white that brings together savory mint and heady citrus in a plush and endlessly pleasing package. Here above the clouds, at 2,100 feet in altitude, winemaker Raffaele Troisi tends older vines for a Campanian white of serious potential.
Download fact sheet (PDF)
Fiano di Avellino
Fiano is one of southern Italia's oldest white grape varieties, and was widely enjoyed in Roman times. Campania is its native land. All tank made. Aromas of apple, pear and hazelnut. Pure and creamy, with lifting acidity and a peppery finish.
Download fact sheet (PDF)
Fiano di Avellino 'Aipierti'
This is a special selection of older Fiano vines from high-altitude estate vineyards is a wonder. Smoke, pears, flowers; weighty and concentrated with a finish that goes on forever. Incredible cellar potential! 
Download fact sheet (PDF)