Domaine Daniel et Julien Barraud
Vergisson | Mâconnais | Burgundy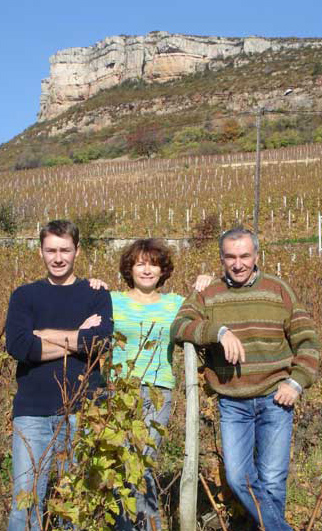 Domaine Daniel et Julien Barraud is not only the source of Vergisson's finest organic wines but also sets the standard for world-class white Burgundy from the Mâconnais.
The petit hamlet of Vergisson, with its limestone soils and high-altitude vineyards, is where the region's finest wines are made. Here, families like the Barrauds have for generations preserved their craft in its most honest form, making wine by hand from well-tended organic vineyards and aging their wines in small, old-fashioned cellars. Theirs are wines that without fail can stand tall next to comparable bottles from the Côte d'Or, yet still offer extraordinary value.
In the Barraud family cellars, you'll find collected a pile of seashells and other fossils that Daniel and his son, Julien, have found in their vineyards. (The enormous twin cliffs, the Roche de Vergisson and the Roche du Solutré, are basically ancient coral reefs.) Barraud wines still retain the pristine, mineral influence of this prehistoric ocean, expressed as a touch of sea salt on the finish.
FARMING & WINEMAKING
Surrounded by the imposing cliffs of Solutré and Vergisson, the family estate is located in the limestone-rich valley of Vergisson. Soils here are a mix of limestone scree, fossilized limestone and colored clays, each terroir offering a particular character to each wine; the Barrauds take particular care to ensure each separate terroir is expressed clearly in each wine. Vines are cared for according to organic principles, and the estate is certified.
Harvest is done by hand in multiple passes to ensure grapes are perfectly ripe. Fruit is delicately pressed in cluster via pneumatic press. Juice is placed in temperature-controlled tanks to settle overnight, and is then transferred via gravity to barrels where both alcoholic and malolactic fermentation takes place naturally. After 11 to 14 months, depending on the cuvée, the wines are racked and placed in tank before being bottled unfined and unfiltered.
Mâcon-Villages
A fantastic "entry-level" white Burgundy from the family that has defined Vergisson greatness for generations. Basically there's nothing basic about this wine, chock-full of powerful lemony energy and lots of mineral edge. A gorgeous wine for summer!
Mâcon-Fuissé
Fossil-rich soils and plenty of sun produce a supple wine with ripe fruit and a bracing, chalky edge.
Download fact sheet (PDF)

Mâcon-Vergisson 'La Roche'
The classic and the pride of every winemaker in Vergisson, 'La Roche' sits right next to its namesake in Pouilly-Fuissé and as such, shares much of that vineyard's intense concentration and stony backbone. In the hands of a master such as Barraud, it always delivers.
Download fact sheet (PDF)
Saint-Véran 'Les Pommards'
This high-altitude vineyard borders Pouilly-Fuissé and sits above an ancient quarry. Pure limestone soils give the wine its precision; the style is rich and long.
Download fact sheet (PDF)

Pouilly-Fuissé 'Alliance V.'
The "V" stands for Vergisson, the 'alliance' a combination of regional vineyards with representative terroirs: limestone scree, fossilized limestone and clay.
Download fact sheet (PDF)

Pouilly-Fuissé 'Clos Reyssier'
A new offering from this family domaine, 'Clos Reyssier' is a special selection of older vines from a semi-walled plot in the village of Chaintré, one of the four villages that make up the Pouilly-Fuissé appellation. Broad lemony fruit; stony persistence and lots of silk.
Download fact sheet (PDF)
Pouilly-Fuissé 'La Verchère' Vieilles Vignes
A walled vineyard not far from the Barraud family cellars, 'Verchère' boasts very old vines and a classic profile of ripe, almost creamy white fruits with a pronounced mineral core.
Download fact sheet (PDF)

Pouilly-Fuissé 'Les Crays'
Bigger, bolder, more beautiful, even? 'Les Crays' faces full south and as such is usually a broader, more plush and seductive white Burgundy, balanced perfectly by a stony energy and very long finish.
Download fact sheet (PDF)
Pouilly-Fuissé 'La Roche'
The Mâconnais' 'grand cru,' its highest vineyard and most noble terroir; plush, racy and savory at once.
Download fact sheet (PDF)
Pouilly-Fuissé 'En Buland' Vieilles Vignes
Impeccable balance and poise. Like 'Verchère,' very old vines offer a wine of extraordinary depth and complexity.
Download fact sheet (PDF)

Established: 1905
Winemaker: Daniel, Martine and Julien (son) Barraud
Region: France • Burgundy • Mâconnais  • Vergisson
Vineyard size: 27 acres
CERTIFIED ORGANIC
Daniel Barraud is without question one of the finest growers in all of the Mâconnais and there is a credible argument to be made that his remarkable consistency vaults him right to the very top of the list…this man almost never misses.