Domaine Marc Portaz
Chapareillan | Savoie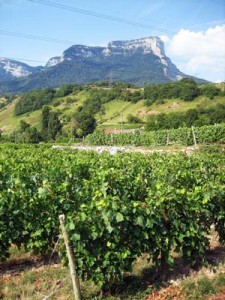 On November 24, 1248, in the middle of the night while residents slept, an enormous avalanche started from the slopes of Mount Granier and swept down to the valley below, burying small towns entirely with limestone rubble and changing the face of Savoie forever.
Centuries later, these fields at the foot of the mountain were turned into vineyards, as locals planted Jacquère vines, Savoie's native white grape variety. It is these stony fields that represent Savoie's finest terroirs, producing refreshing, high-altitude white wines with tangy flavors and lively aromas.
The Portaz family since the early 1980s have cared for Jacquère vines in their native Chapareillan, just south of Chambery, the capital of the ancient Duchy of Savoy and not far from the Italian border. (The regional flag/symbol of Savoie, a white cross on a red field, can be found on the family's wine label. This crest was used by the House of Savoy, one of the oldest royal families in the world, who ruled these lands from 1416 to 1860.)
The family's "tête de cuvée" or top selection is 'Apremont.' Translated from French as "rough mountain," this wine is a tribute to the raw power of nature that dominates this breathtakingly beautiful corner of France. The combination of cheese fondue and white wine from Jacquère grapes is a Savoyard specialty.
FARMING & WINEMAKING
Winemaker Jean-Marc Portaz studied winemaking in Dijon, traveling to California and New Zealand to further his education in and understanding of white wines. He practices sustainable farming, caring for his older Jacquère vines, between 30 and 50 years old, as naturally as possible, avoiding the use of pesticides.
Grapes are harvested by hand, and fermented on indigenous yeasts in temperature controlled, stainless steel tanks. Wine is aged on fine lees in tank.
Vin de Savoie 'Apremont' Tête de Cuvée
Pure Jacquère, a native white grape to the mountainous Savoie region in France. This refreshing wine is naturally low alcohol (usually 11.5%), making it a great pick-me-up after a long day. Aromas suggest honeysuckle, crushed stones, white pepper; it is bone dry, tangy and palate-cleansing.
Download fact sheet (PDF) 
Established: 1980s
Winemaker: Jean-Marc Portaz
Region: France • Savoie • Chapareillan
PRACTICING SUSTAINABLE FARMING (PDF)