Domaine Michel Sarrazin et Fils
Jamblès | Côte Chalonnaise | Burgundy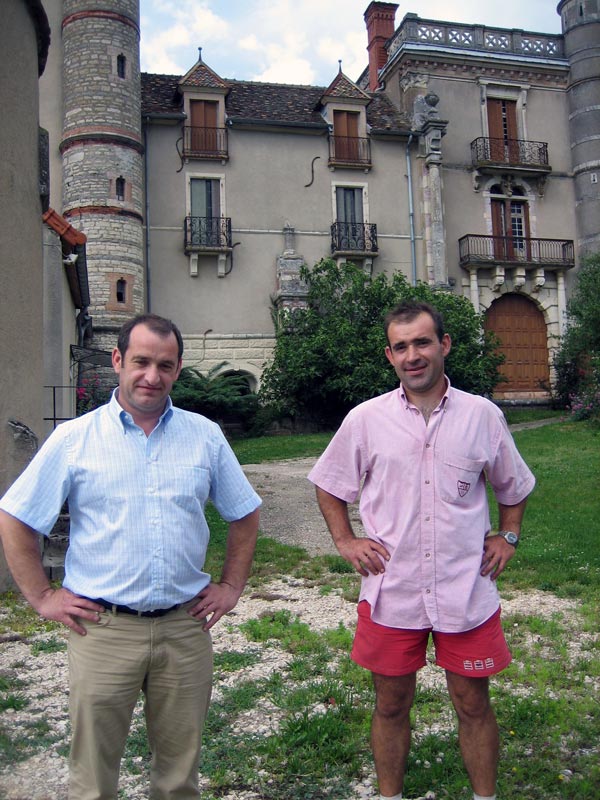 The finest wines from the Côte Chalonnaise are known for their effortless beauty, with delicate aromas, fruit-driven flavors and light, silky textures. Burgundy from Domaine Michel Sarrazin et Fils both exemplifies this elegant style and sets an even higher standard for the region—each cru is unquestionably the finest in its class, yet still offers exceptional value.
Visiting the family's ancient estate in Jamblès, perched on a hill in this hamlet of some 50 residents, is a bit like going back in time.  A cool fog wanders through narrow valley vineyards and between rustic houses, clearly built by family hands. The family's winemaking roots run deep here, as there's been a Sarrazin growing grapes and making wine in this peaceful valley as far back as the seventeenth century.
Our history with the Sarrazins, however, starts in the mid-1990s when brothers Guy and Jean-Yves were handed the family winemaking torch from their father, Michel. Not satisfied to sit around the farm and do things "just like dad," the brothers reached out to other young winemakers (talents like Frederic Magnien in Morey-Saint-Denis and Vincent Dureuil in Rully, for example) and tasted as much as they could.
This is what sets their wines apart; quality here isn't just judged against the best of Givry but is instead compared with the best of the Côte d'Or. Each cru, whether their spicy Bourgogne Rouge, rare Maranges or older-vine Givry, effortlessly outperforms its station. Sarrazin Burgundy is a revelation when you experience it, and once you have, you wonder how you ever did without it!
FARMING & WINEMAKING
The family's holdings include a number of vineyards across regional appellations such as Givry, Maranges and Mercurey, and are cared for sustainably, avoiding the use of herbicides and pesticides.
Harvest is usually by hand, and grapes are fermented on indigenous yeasts in temperature-controlled cement tanks (or stainless steel for white wines). Wines are aged in a combination of the highest-quality (both new and older) Francois Frères oak barrels, and bottled unfined and unfiltered.
Crémant de Bourgogne Brut
This sparkling wine, a blend of 90% Pinot Noir and 10% Aligoté, offers a pronounced salinity and a savory, red-wine weight that allows it to be easily enjoyed throughout a meal. Secondary fermentation in bottle (méthode Champenoise) and aged for 16 months, much longer than many other Crémant wines. Very low dosage, 3 grams/L.
Download fact sheet (PDF)
Crémant de Bourgogne Rosé
A perfect, 100% Pinot Noir bubbly from Givry terroir, a rosé de pressurage (color extracted during pressing) that undergoes secondary fermentation in bottle (méthode Champenoise). Aged for 16 months, twice as long as is required by law, giving the wine its silky texture and weight. Very low dosage, just 3 grams/L.
Download fact sheet (PDF)
Bourgogne Aligoté
A racy and fresh Aligoté, grown on a hillside vineyard not far both from the family home and the towering, fifteenth-century Château de Charnailles.
Download fact sheet (PDF)
Givry Blanc 'Les Grognots'
Legend has it that good king Henry IV loved Givry wines so much he made them his preferred tipple at court. Medium-bodied and silky, this pure Burgundian Chardonnay hails from the highest-altitude vineyard in Givry.
Download fact sheet (PDF)
Rully Blanc 'Sans Nom'
A special selection of younger-vine Chardonnay from two vineyards, 'Varot' and 'Chaponnieres.' This "no-name" Rully (as a blend, the family couldn't name it after the vineyards themselves) is anything but anonymous, with its bold hazelnut aromas, fleshy yellow fruits and mineral core.
Download fact sheet (PDF)
Bourgogne Rouge Vieilles Vignes
From an exceptional hillside vineyard on pure limestone soils, terroir that would make many a Côte d'Or cru jealous. Concentrated and spicy, this is an overachieving wine and a stellar value, too.
Download fact sheet (PDF)
Givry Rouge 'Sous La Roche'
One of Givry's highest-altitude vineyards, this rocky, iron-rich plot ('Sous La Roche' means 'under the rock') delivers a wine of structure and substance, ruddy red fruit and lots of spice.
Download fact sheet (PDF)
Givry Rouge 'Les Dracy'
A succulent and spiced red Burgundy that delivers far above its station (like all of the stupendous Burgundy wines from the Sarrazin brothers), 'Les Dracy' sits just downslope from 'Champs Lalot' in the village of Dracy-le-Fort. Tons of black and red cherries, brown spice galore and waves of summer intensity. A gorgeous Givry red. 
Download fact sheet (PDF)
Givry Rouge 'Clos de la Putin'
"The word putin," winemaker Guy Sarrazin told us, "means in the old patois, beautiful." (Say poo-TEEN.) 'Clos de la Putin' is just that, with its pretty red plum and cherry flavors.
Download fact sheet (PDF)
Maranges
South of Santenay, on the very tip of the Cote d'Or, the Burgundy village of Maranges is often overlooked, but the estate's plot of older vines here is a serious insider's find. Sexy, silky red fruits and a light peppery spice make this a must-have.
Download fact sheet (PDF)
Mercurey 'La Perrière'
Fresh red fruits, a hint of autumn leaves and a long, juicy finish: 'La Perrière' is a particular prize in that it's surrounded by premier cru vineyards, particularly the village's top cru, 'Clos l'Évêque.'
Download fact sheet (PDF)
Mercurey 1er Cru 'Les Croichots'
A perfectly placed premier cru, facing east and mid-slope, with a unique vein of iron-rich clay soil that contributes more heft and structure to this summer berry-ripe Pinot Noir. Another wine that punches far above its weight from the brothers Sarrazin.
Download fact sheet (PDF)
Givry Rouge 1er Cru Vieilles Vignes
A wine that proves just how profound Givry can be with the right terroir and talent behind it. A selection of older-vine fruit from vineyards 'La Plante,' facing full south at altitude, 'Le Paradis' and 'La Grand Berge,' facing southeast. Smoke, licorice and black cherry fruit, tons of complexity and concentration.
Download fact sheet (PDF)
Givry Rouge 1er Cru 'Champs Lalot' Vieilles Vignes
An extraordinary wine, one for the cellar! Recently upgraded to premier cru status, 'Champs Lalot' enjoys chalky soils, giving the wine its fine tannins and pure, mineral character.
Download fact sheet (PDF)
More producers from the Côte Chalonnaise…