Azienda Agricola Chiara Condello
Predappio | Romagna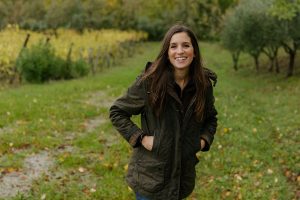 There is something truly exciting happening in what may seem the unlikeliest of wine regions: Romagna. Sandwiched between the Apennine mountains and the Adriatic Sea, the region of Romagna has been revitalized by a new generation of grower, taking cues from the past with the ultimate goal of better expressing the viticultural potential of Romagna.
Leading this reawakening is Chiara Condello, who cares for 10 acres of Sangiovese grapes organically in Predappio, a small village nestled among the fog-covered Apennine foothills.
Born in Forlí, Chiara comes from a winemaking family. Her father Francesco grew up among Zibibbo vines in Calabria, tended by his father. Chiara remembers summers spent with her grandfather in the vineyards, an experience that she believes helped plant a seed for her winemaking passion years later.
In the early 2000s and after a successful business career, Chiara's father Francesco founded his winemaking estate called Condé. Chiara too couldn't resist the siren call of wine; in 2012, after earning her master's in economics, she worked at Condé during the summer. When harvest came around, she realized she couldn't leave, acknowledging that the vineyard and cantina were truly her "natural habitat."
Chiara Condello wines are a special project distinctly separate from the Condé estate; her first vintage was 2015.
Many viticultural experts are coming around to the idea that Romagna may be the original home of the Sangiovese grape, here called Sangioveto dal Cannello Piccolo Predappio. Bunches are smaller, berries are smaller and the grape's skin thicker than Sangiovese Grosso, found most often in Chianti Classico and Montalcino. Crucially, Predappio's unique spungone soils are rich in marine fossils, giving Sangiovese grown here a luminous, suave and spiced character, redolent of cherry blossom and smoky incense.
FARMING & WINEMAKING
The Predappio region for centuries has been linked to the production of Sangiovese wines. As far back as 1383, regional laws set quality-minded parameters for harvest and vinification.
Today the same holds true. The Predappio appellation for Sangiovese, in particular, sets itself apart from the greater Romagna region in its stricter quality requirements—including lower yields, longer aging and ensuring wines are made exclusively from Sangiovese.
The Sangiovese grape that is native to the region is called Sangioveto dal Cannello Piccolo Predappio (or just Sangiovese di Predappio), which has smaller berries and bunches than does Sangiovese Grosso (grown typically in Montalcino in Tuscany, as just one example).
Vineyards range in altitude from 450 to 1,050 feet above sea level on rolling hills. Set between the Apennine mountains and the Adriatic Sea, Predappio is characterized by cool breezes and broad diurnal swings, which helps preserve both acidity and aroma in grapes.
Soils mix limestone and colored clays with spungone, a special type of rock made up of marine fossils from the Pliocene era. (A legacy of the Adriatic that during this era, reached this far inland.)
The vineyards are certified organic by Italian standards body Suolo et Salute. 
Grapes are hand-harvested, and fermented on indigenous yeasts (either destemmed or partially destemmed) in either stainless steel tanks, open-top tronconic wood fermenters or larger tonneaux. Wines are aged in Slavonian oak "botti" or large cask.
Romagna Sangiovese Predappio
Download fact sheet (PDF)
Romagna Sangiovese Predappio Riserva 'Le Lucciole'
Download fact sheet (PDF)