Azienda Viticola Rocca di Montegrossi
Gaiole in Chianti | Tuscany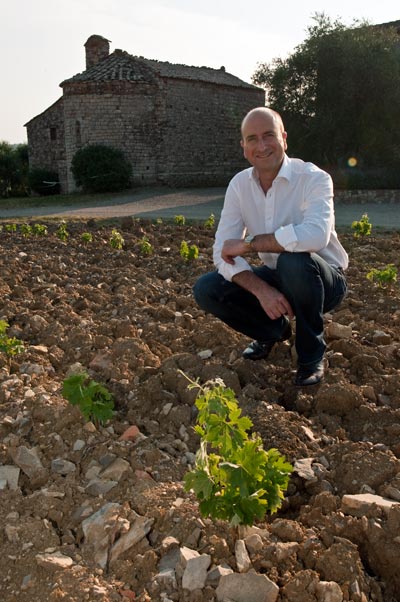 The history of the Ricasoli-Firidolfi family in Tuscany is a rich tapestry of kings and statesmen, its fabric woven together with the vine. For more than 37 generations, this ancient family has cultivated grapes and crafted wines in Monti in Chianti, the "very best area" of Chianti Classico, according to Antonio Galloni.
The family's roots in Tuscany began with a man named Geremia back in the 10th century, when the name "Chianti" had yet to be spoken and Tuscany was the scene of many a battle between warring families. The "rocca" of Montegrossi was a strategic post, high up on a crest, providing shelter for traveling dignitaries.
For centuries the family guarded the "rocca" and cultivated vines on the sunny slopes of Monti in Chianti. Yet it was in the nineteenth century when Baron Bettino Ricasoli—the "Iron Baron" and future prime minister of a united Italy—created the original "formula" for Chianti Classico's blend of grapes.
The "Iron Baron" was winemaker Marco Ricasoli-Firidolfi's great-great-great grandfather. Today on the very same land where his forefathers grew grapes, Marco crafts peerless Chianti Classico wines according to the traditions and wisdom of countless generations.
FARMING & WINEMAKING
Winemaker Marco Ricasoli-Firidolfi's 50 acres of vines are surrounded by 50 acres of olive trees and 250 acres of natural woodland. Estate vineyards are located in Monti in Chianti, a "micro-area" of Gaiole in Chianti. This area, between 1,050 and 1,500 feet in altitude, offers the ideal range for ripening Sangiovese perfectly. The estate has farmed organically since 2006, and was organically certified in 2010. All the winery's energy needs are provided by renewables; the estate also recycles rain water for farming.
Marco is assisted by enologist Attilio Pagli. Harvest is performed by hand, with grapes collected in small cases. Fermentation takes place in temperature-controlled, upright wooden fermentation tanks, with indigenous yeasts. All wines are bottled unfiltered.
Toscana Rosato
This medium-bodied, full-flavored rosato is a hand-harvested selection of Sangiovese from the estate's top vineyard, San Marcellino. Winemaker Marco Ricasoli-Firidolfi presses grapes gently after a short maceration and ages the wine on fine lees for more body.
Download fact sheet (PDF)

Chianti Classico
Suave and balanced; tart cherries, light pepper, baking spices. A traditional, flavorful and outstanding blend of Sangiovese, Canaiolo and Colorino. One of the finest organically raised Chianti Classicos in the region, vintage after vintage.
Chianti Classico Gran Selezione Vigneto San Marcellino
A selection of fruit from a 17-acre plot near the Pieve di San Marcellino, an eleventh-century Romanesque church. Deeply nuanced and elegant; plum, dark cherries, smoke, tobacco. A blend of Sangiovese and Pugnitello; vines range between 20-50 years old.
Toscana Rosso 'Geremia'
A supple and lush red blend; cassis, herbs, black/purple fruit. A blend of Merlot and Cabernet Sauvignon. The wine is named after the founder of the family, Geremia Ricasoli, who lived in the 10th century.
Toscana Rosso 'Ridolfo' Magnum
The history of the Ricasoli-Firidolfi family in Tuscany stretches back to the seventh century, and one of its founding fathers was a man named Ridolfo. The son of Geremia (honored with his own blend of Cabernet Sauvignon and Merlot), Ridolfo's children and grandchildren dominated the lands of Chianti, living in its many castles, including the now-fabled Rocca di Montegrossi, a fortress in Gaiole in Chianti.
This extended clan called itself (in Latin) di filiis Rodulphi—the children of Ridolfo—which morphed over time into Firidolfi. Thus winemaker Marco Ricasoli-Firidolfi marks his position as the thirty-seventh generation after Ridolfo!
This noble blend of 50% Cabernet Sauvignon and 50% Pugnitello, a native Tuscan red grape, is bottled exclusively in magnum (1.5L) and hand-numbered. It was aged 24 months in French oak barrel and tonneaux; then 36 months in bottle.
Vin Santo del Chianti Classico
100% Malvasia Bianca del Chianti. Ripe grapes are harvested, then individual bunches are hung to dry on a series of nets in the estate's cellars to acquire "noble rot" (botrytis; 'muffa nobile')
"…one of the richest Vin Santos in Chianti Classico."—Antonio Galloni
Olio Extra Virgine di Oliva del Chianti Classico 500ml
A classic, fruity and "amaro" Tuscan oil crafted according to organic principles. Correggiolo is an ancient Tuscan olive variety, contributing fresh almond and artichoke flavors. Moraiolo is a common central Italian variety, with fruity, herbal notes. Acidity less than 0.2%.
Download fact sheet (PDF)
Established:
1981
Winemaker:
Marco Ricasoli-Firidolfi
Region:
Italy • Tuscany • Gaiole in Chianti
Vineyard size:
50 acres
CERTIFIED ORGANIC
I was completely blown away by the wines I tasted at Rocca di Montegrossi … Proprietor Marco Ricasoli Firidolfi turned out some of the most brilliant wines of his illustrious career. Readers will want to be on the lookout for Ridolfo, a new Cabernet Sauvignon/Pugnitello blend … As for the other wines, they are all stellar. I would be thrilled to own them.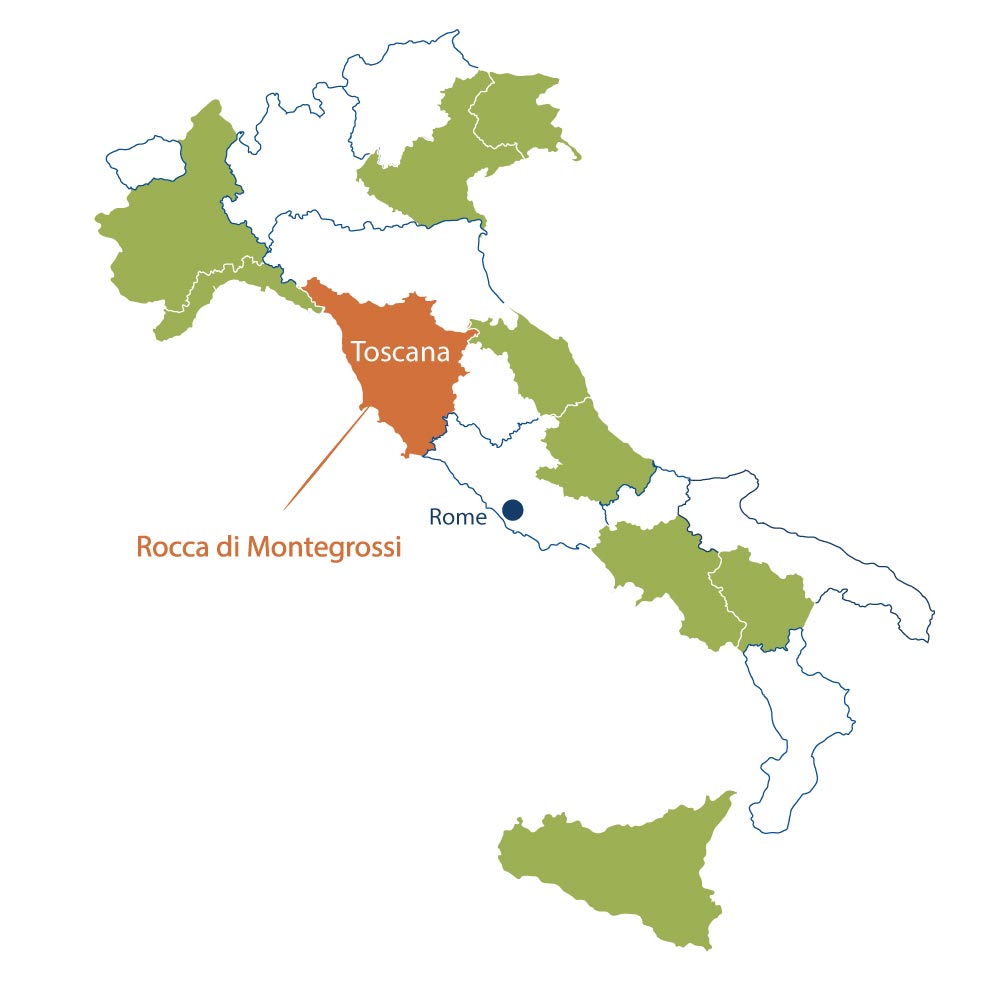 Despite being located in one of the very best areas within Chianti Classico and boasting a superb track record, Rocca di Montegrossi remains one of the most under the radar estates in Chianti Classico, and Italy, for that matter. Marco Ricasoli-Firidolfi crafts deep, powerful wines…The estate's Chianti Classico is often one of the best wines in its class, while the flagship San Marcellino and Geremia are reliably outstanding.