Anne Gros & Jean-Paul Tollot
Cazelles (Minervois) | Languedoc-Roussillon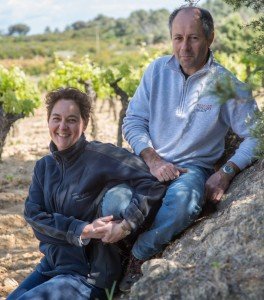 Southern French spirit, Burgundian soul. The partnership of Burgundian winemakers Anne Gros and Jean-Paul Tollot in the Minervois sets a new standard for quality and character in the Languedoc.
Finesse and precision are the two main characteristics of these Minervois wines—words more often used to describe Gros' Burgundian crus rather than the concentrated reds of the south.
Gros has for decades headed her own estate Vosne-Romanée; her partner, Jean-Paul, hails from the family estate of Tollot-Beaut in Chorey-lès-Beaune. The pair wanted to make wine together, but the question was where—and the search, over a few years, brought them to the high-altitude hills of Minervois.
The region's varied terroir, cooler heights (the same altitude as Vosne-Romanée, curiously enough) and very old vines offered just the combination they wanted, for wines that speak of both the sun and of silk in every sip.
FARMING & WINEMAKING
Vineyards are located in Cazelles, just north of Carcassonne and in the shadow of the Montagne Noir, in the hills where temperatures are cooler and terroir varied. The higher elevation—interestingly, the exact same elevation as in Vosne-Romanée—allows for grapes to ripen slowly, preserving their natural acidity and keeping alcohol in the finished wines moderate. One particular highlight of the estate is a walled plot of 100-year-old Carignan vines.
Vines are cared for according to "lutte raisonée" principles, following organic practices and avoiding chemical treatments as much as possible. Grapes are harvested by hand and fermented on indigenous yeasts in temperature-controlled, stainless steel tanks. Wines are aged, depending on the cru, in a combination of tank and older French oak barrique.
Vin de France 'L'O de la Vie' (Syrah)
'L'O de la Vie' is a play on 'eau de vie,' or water of life — in the dry hills of Minervois, water is certainly treasured. Violet aromas with a touch of licorice; fresh boysenberries and black plums.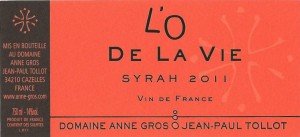 Download fact sheet (PDF)
Côtes du Brian 'La CinsO' (Cinsault)
A rare, unique single-varietal wine from one of the Languedoc's core red grapes, more often blended than allowed to shine alone. Older-vine concentration; silky and supple.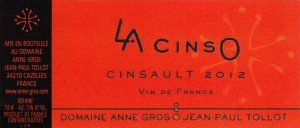 Download fact sheet (PDF)
Minervois 'Les Fontanilles' (Syrah, Carignan, Cinsault, Grenache)
The vineyard is surrounded by a stone wall (similar to many Burgundy plots) yet the sultry notes of thyme and rosemary are what bring you back to the south. Blackberry, cherry and plum flavors.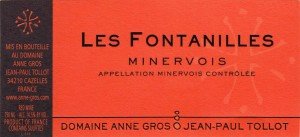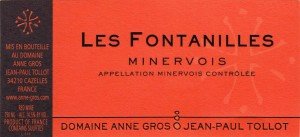 Download fact sheet (PDF)
Minervois 'La Ciaude' (Grenache, Syrah, Carignan)
This is Anne's 'great terroir' wine, one that benefits from a unique vein of limestone, à la Burgundy. 'Ciaude' in the local dialect means sun; every sip is saturated with rich red /black summer fruits.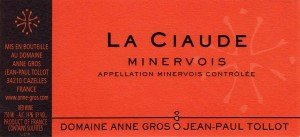 Download fact sheet (PDF)
Minervois 'Les Carrétals' (Carignan, Grenache)
A blend of Carignan and Grenache from one acre of vines planted in 1909. The "Richebourg of the south," Anne says. Soils are pure limestone.
Download fact sheet (PDF) 
More producers from Languedoc-Roussillon…