Domaine Guy Robin et Fils
Chablis | Burgundy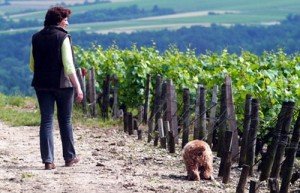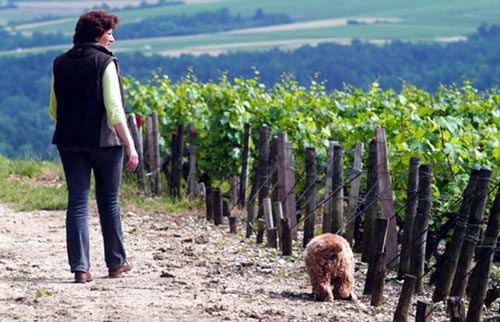 In the early 2000s, Marie-Ange Robin had a choice. Stay in Paris and pursue a successful career as a fine art dealer, or return home to Chablis and take the reins of the family winery. Her decision would not only change her family's fortunes but also preserve a critical piece of Chablis history.
Domaine Guy Robin today is a winery reborn. Marie-Ange represents the fourth generation of vine growers in the family. It was her father Guy who slowly, parcel by parcel, purchased vineyards in the 1960s; yet it is Marie-Ange who has brought the winery to a level of greatness for which it was always destined.
Simply put, there are few other Chablis estates with such a rich collection of original rootstock, and as a result, few other estates that deliver Chablis wines of such character and complexity.
Because Guy refused to tear up vines for high-yielding clones as was the practice decades ago in Chablis, some 80% of the family's vines across five grand cru vineyards and four premier cru vineyards are older vines – these low-yielding, pre-phylloxera vines deliver Chardonnay that is richly aromatic, reflecting Chablis' historic terroir like a mirror.
North Berkeley in the 1990s brought Robin Chablis to the United States, but as time passed, it was clear that Guy was losing his passion for his craft. After a brief pause in our partnership, however, we are thrilled to be back – and have been inspired by the sea change that Marie-Ange has affected in both the fields and the cellar.
FARMING & WINEMAKING
Marie-Ange Robin cares for the family's vines according to "lutte raisonee" principles, avoiding chemical treatments and following organic practices as much as the vintage and conditions allow. Some 80% of the estate is older vines; in fact, the estate's vines in grand cru Blanchot are some of Chablis' oldest, at 80 years old. Importantly, almost all estate vines are pre-phylloxera rootstock.
Grapes are harvested by hand, then pressed and fermented on indigenous yeasts in temperature-controlled stainless steel tanks. Wines are aged in mostly older French oak barrels for one year, with approximately 10% new barrels per vintage.
Chablis 1er Cru 'Montmains' Vieilles Vignes
This vineyard across the river from Chablis' grand cru row is perhaps the most faithful example of premier cru Chablis – mineral and fresh, with penetrating aromas and a full mouthful of sunny citrus fruit.
Download fact sheet (PDF)
Chablis 1er Cru 'Vaillons' Vieilles Vignes
The family's older vines in the southwestern end of premier cru 'Vaillons' deliver a broader, more fruity but no less refined Chablis wine.
Download fact sheet (PDF) 
Chablis 1er Cru 'Montée de Tonnerre' Vieilles Vignes
The family owns some seven acres in this excellent premier cru vineyard that borders Chablis' grand cru row. Soils are known as "millefeuille," or many-layered, with white clay and fossilized oyster shells – very mineral.
Download fact sheet (PDF)
Chablis Grand Cru 'Les Clos' Vieilles Vignes
If there is a starting point of Chablis, 'Les Clos' is it – this is the hallowed spot where savvy growers first planted grape vines in Chablis. Full-bodied, sultry, expressive: 'Les Clos' is the reigning queen of Chablis. The family's older vines sit right in the middle of this legendary grand cru.
Download fact sheet (PDF)
Chablis Grand Cru 'Valmur' Vieilles Vignes
A little more altitude, a little less soil, a whole lot more chalky energy and nervous energy. The family cleared land near the forest line to plant their vines here in the 1950s and 1960s. A gorgeous wine to watch evolve over the years.
Download fact sheet (PDF)
More producers from Chablis…