Fine Wines the World Over
For more than 25 years, North Berkeley Imports has discovered and imported authentic, expressive wines from France and Italia destined for leading restaurants and wine shops as well as for private cellars across the country.  With a retail store in Berkeley, California and offices in Europe, our team is dedicated to providing customers with the finest wine selections the world over.  Here's our story.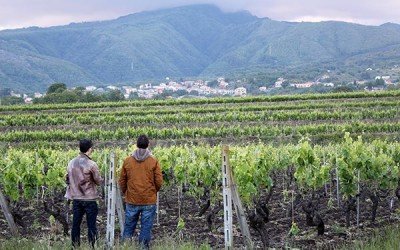 Steel clearly runs in the blood of the Murgo clan. But for good reason, as they've cultivated vines and olives under the fiery gaze of Etna for more than a century. Many times the volcano has destroyed their vineyards and property, and regularly covers the family home in layers of ash. Yet as the brothers told us, this is the price one pays for the privilege of growing vines on Etna's slopes.
read more
Wines from Italia
From the rolling, romantic hills of Piemonte to Sicilia's fiery volcanic slopes, Italy is a sensualist's dream and a wine lover's heaven. Nowhere else in the world will you experience such a rich selection of native grapes, each with its own character and flavor, than in Italia. Our partners from the bel paese are small family farms, many of which have roots that reach back centuries. Discover our Italian wines.
Wines from France
Our partners in France are true artisans, looking toward the future while respecting the traditions of the past. We've worked with not only mothers and fathers but also sons and daughters—who, after traveling the world, have come home with new ideas. Many of the regions in which we were first pioneers, are today household names—yet we're still scouring the gorgeous French countryside for the next must-have wine. Discover our French wines.