Information on store hours and service amid Covid-19 shutdown
To protect the health and well-being of our staff as well as our customers, our physical retail store at 1601 Martin Luther King Jr. Way in Berkeley will remain closed as long as the state-wide Shelter In Place order is in effect.
We are still open for business. Staff are working from the safety of their homes and can take orders; click here for contact info. We are shipping wine orders during this time. Customers can also order wine online at our Banquet online store.
Fine Wines The World Over
Since its founding in 1979, North Berkeley Imports has sourced authentic, expressive wines from France and Italy, destined for leading restaurants and wine shops as well as private cellars across the country.  With a retail store in Berkeley, California and offices in Europe, our team is dedicated to providing customers with the finest wine selections the world over.
And in 2019, we were named "Importer of the Year" by Wine & Spirits Magazine.  Here's our story.
It's our birthday!
We're marking 40 years in the world of fine wine — four whole decades of sharing with you the bottles we love best. To celebrate, we're showcasing our producers and our favorite bottles on social media throughout the year; if you haven't already subscribed, check out our Facebook page or our Instagram account.
Enjoy a bottle and want to share your thoughts with us? Tag us @northberkeleyimports and use hashtag #NBI40yrs. And thank you for all your support, all these years!
Check out the latest events here.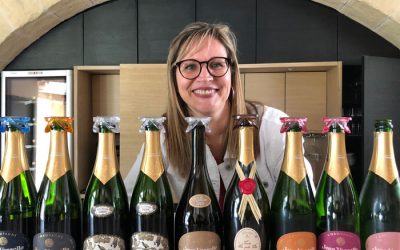 Join us this Tuesday, June 9 for a webinar with the talented Delphine Vesselle of Domaine Jean Vesselle in Bouzy, as she chats with Forbes' Tom Hyland about climate change and Champagne as well as explores her fantastic portfolio of Pinot Noir-based Champagnes.
read more
Wines from Italy
From the rolling, romantic hills of Piedmont to Sicily's fiery volcanic slopes, Italy is a sensualist's dream and a wine lover's heaven. Nowhere else in the world will you experience such a rich selection of native grapes, each with its own character and flavor, than in Italy. Our partners from the bel paese are small family farms, many of which have roots that reach back centuries. Discover our Italian wines.
Wines from France
Our partners in France are true artisans, looking toward the future while respecting the traditions of the past. We've worked with not only mothers and fathers but also sons and daughters—who, after traveling the world, have come home with new ideas. Many of the regions in which we were first pioneers, are today household names—yet we're still scouring the gorgeous French countryside for the next must-have wine. Discover our French wines.