Azienda Agricola Pietroso
Montalcino | Tuscany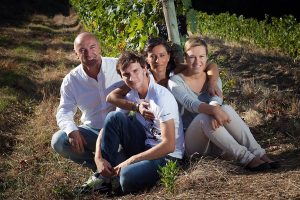 In the early 1970s, Domenico Berni had a dream: to craft a soulful Sangiovese just a stone's throw from the center of Montalcino. "Delfo" had quite a nose for terroir, deciding after much deliberation to purchase barely an acre of land not far from Montalcino's city walls.
Local history books mention that as far back as the 1300s, this rocky slope was favored for vines, and was called "contrada el petroso," or simply, the place of many stones.
With barely an acre of land, Berni made miracles happen. His wines (crafted for personal consumption, not for sale) were so flavorful and refined that his family encouraged him to turn his hobby into a true calling, and make wine for the wider world.
Three generations and a few more acres later, the descendants of "Delfo" – nephew Gianni Pignattai, his wife Cecilia, son Andrea and daughter Gloria – are continuing their granduncle's passion.
While so much of Montalcino has become consumed by large estates and flashy conglomerates, it is a breath of fresh air to find a true family winery with deep roots in the region and an honest belief in the potential of Sangiovese from its native soils.
FARMING & WINEMAKING
The family tends four separate vineyards, between 1,200 and 1,500 feet above sea level and with varying expositions and soil types, with many close to the town of Montalcino. 'Fornello' faces east, at 1,200 feet in altitude; 'Colombaiolo,' (near Castelnuovo dell'Abate) faces south/southwest at 1,260 feet; 'Pietroso' faces west/northwest at 1,500 feet; and 'Montosoli,' at 960 feet, faces southeast. Vines are cared for sustainably, using organic treatments whenever possible.
Grapes are harvested by hand, and both the estate's Rosso di Montalcino and Brunello di Montalcino are sourced from the same vineyards. Fruit from each vineyard is fermented separately, on indigenous yeasts in either stainless steel tanks or in upright wooden tanks called "tine," and at controlled temperatures. Wines are aged in 30HL Slavonian oak casks (called "botti"), then aged in bottle before release. Wines are typically unfined and unfiltered.
Rosso di Montalcino
A lively, fruity Sangiovese crafted from a selection of younger-vine fruit from the family's Brunello vineyards. Red cherries, flowers, spice. A perfect high-altitude Rosso with plenty of verve.
Download fact sheet (2021 vintage) (PDF)
Brunello di Montalcino
Brunello di Montalcino Riserva
A bold and beautiful Brunello di Montalcino Riserva! The family selects fruit from a single vineyard, 'Fornello,' a high-altitude plot facing east with pure "galestro" soils, a mineral-rich compacted clay. Here intensity meets elegance for a Sangiovese that pulls out all the stops. Very limited!
Download fact sheet (2016 vintage) (PDF)