Azienda Agricola Stella di Campalto
Montalcino | Tuscany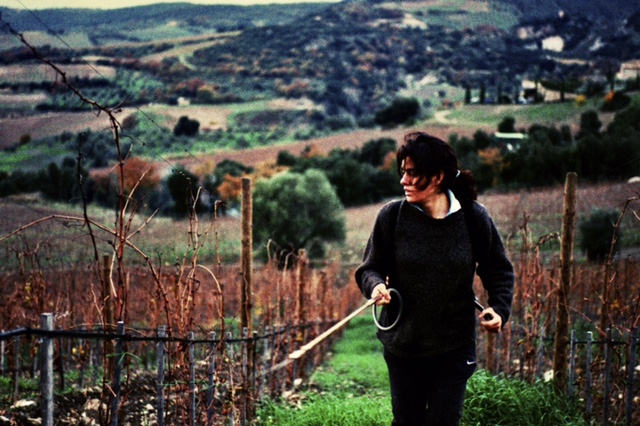 Oftentimes discovering one's true calling requires a leap of faith. Stella di Campalto found hers in an abandoned farm and winery in Montalcino, land that she restored to vibrant life with her own hands.
The San Giuseppe winery, not far from the ninth-century abbey of Sant'Antimo, was established in 1910 yet abandoned in the 1940s. Her family purchased the property in the early 1990s. Yet it wasn't until her aunt encouraged her to explore this bucolic southeastern corner of Montalcino, with its forests and ancient olive groves, that Stella realized how much her staid life in Milan was taking away from her and her children.
Once at San Giuseppe, she was more than captivated—she realized she had come home.
Seeking the help of local winemakers and friends, she planted the estate to only Sangiovese vines and from the start, insisted on organic/biodynamic agriculture. Her convictions and her practice are all born from diligent observation and a guiding respect for the land and vine.
Today Stella di Campalto is one of Brunello di Montalcino's most sought-after producers, and certainly one of its most respected artisans. She has achieved this through her natural, non-interventionist approach and almost magic ability to guide the soul of her vines into each bottle.
FARMING & WINEMAKING
The San Giuseppe farm is a 33-acre property, 13 acres of which is planted to Sangiovese vines; the rest is natural forest and a 100-year-old grove of olive trees. Stella prefers to keep her holdings small, to both maintain a close relationship with each vine and be able to walk easily from cellar to vineyard.
Stella maintains one contiguous vineyard, running from 1,100 feet to 780 feet in altitude. The slope is divided into six unique sections, each with its own character.
Stella was certified for organic farming in 1996; and then certified for biodynamic farming in 2005. Interestingly, as the land was abandoned for decades starting in the early 1940s, historically no chemical treatments have ever been used here.
Her cellar complex is on three levels, and uses a gravity system. Grapes are harvested by hand and destemmed, and led by gravity into small wooden vats. Each of Stella's vineyard plots is vinified separately on indigenous yeasts. Wine is aged in 15L or 25L casks and 900L tonneaux in the cellar's basement, some 50 feet underground, so temperatures remain cool and constant. Wines are bottled unfined and unfiltered.
As of the 2008 vintage, Stella produced only a Brunello di Montalcino Riserva (in addition to her Rosso) as she feels the extra aging time is required for her wines to truly begin to express themselves.
Toscana Rosso 'Choltempo Fiorello'
A special blend of past vintages that in sum, creates a Sangiovese wine that transcends both time and experience. Stella selected lots of Brunello wine from vintages 2012, 2013, 2014 and 2016 for her 'Choltempo Fiorello,' a summer berry-fresh, spiced wine that could come from nowhere else but the perfect biodynamic slopes of Stella's farm near Castelnuovo dell'Abate. Aged in French barrique and tonneaux (900L) for 27 to 47 months, depending on the vintage; then another two years in bottle.
'Choltempo' is a word in Tuscan dialect that describes the deeper understanding of events one achieves with the passing of time. 'Fiorello' is the name of Stella's beloved dog, since passed away.
Download fact sheet (PDF)
Rosso di Montalcino
A bright, joyful and soulful wine, pure Sangiovese cultivated according to biodynamic principles, from one of the more breathtaking and wild corners of Montalcino. True fans of Stella's wines break into two camps: those who treasure her Brunello Riserva wines, aged for years, and those who stand true to her Rosso wines, sourced from the same vineyards yet expressing a more playful, sultry side of Sangiovese.
Brunello di Montalcino
Each of Stella's peerless Brunello wines has its own character; sitting in her petite tasting room that overlooks her vineyards, she'll explain how one vintage is playful, like a child, another sleek and graceful, like a dancer. Aged in cask and bottle for years — far longer often than even most Riserva wines — each bottle is an experience of Sangiovese like no other.
Download fact sheet (2011 vintage) (PDF)
Download fact sheet (2012 vintage) (PDF)
Download fact sheet (2015 vintage) (PDF)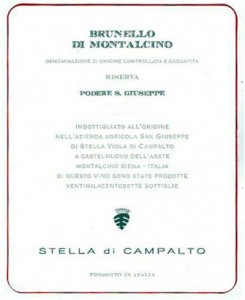 Brunello di Montalcino Riserva 'Beatrice'
As her 2011 wines were aging, Stella noticed that two separate lots (she vinifies each vineyard section separately) of wine were distinguishing themselves from others, more so than in past vintages. Because of this, she chose to bottle these separately as Brunello di Montalcino Riserva wines, named after her two daughters: Beatrice and Benedetta. 'Beatrice' is a selection of Sangiovese from the lower 'Vigna Bassa' plot, with sandy soils.
Download fact sheet (PDF)
Brunello di Montalcino Riserva 'Benedetta'
As her 2011 wines were aging, Stella noticed that two separate lots (she vinifies each vineyard section separately) of wine were distinguishing themselves from others, more so than in past vintages. Because of this, she chose to bottle these separately as Brunello di Montalcino Riserva wines, named after her two daughters: Beatrice and Benedetta. 'Benedetta' is a selection of Sangiovese from Stella's highest-altitude plot, 'Il Leccio.'
Download fact sheet (PDF)