Domaine Christelle Betton
La Roche de Glun | Northern Rhône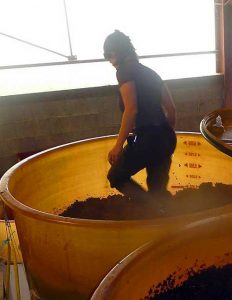 "Mischievous." "Whimsy." "Elixir." In naming her wines,
Christelle Betton
describes the range of emotions and feelings that her craft inspires – and that her wines deliver.
Representing the third generation of her family to have answered the siren call of northern Rhône Syrah, Christelle's vision is one of pure and refined fruit, inspired by the cool northern Mistral winds and stony personality of her family's vineyards in La Roche de Glun.
Her skills come naturally, having watched her grandfather and father care for their vines, plowing the fields by hand and farming as naturally as possible. Today Christelle farms her land organically, but is not certified; she prefers the flexibility of allowing the earth to tell her what it needs, and when.
At harvest time you'll find Christelle in the cellar, in black cowboy hat and knee-high plastic work boots, in her vats stomping grapes to the rhythms of Latin jazz or French rock. Mischievous, indeed.
FARMING & WINEMAKING
Christelle manages 15 acres of vines in Crozes-Hermitage and one-third acre of vines in Hermitage. Soils in the village of Roche de Glun are alluvial, with many "galets roulés" commonly found along the Rhône River valley (and most commonly in Châteauneuf-du-Pape). The area is also very dry, which is why the Betton family has for years plowed the land by hand, to better train their vines' roots to dig deep in the rocky soils. Also, vineyards are well-exposed to the cold northern "mistral" winds from the Alps, helping preserve freshness and acidity in the grapes.
Grapes are harvested by hand in small crates, and stored in a cool room for 24 hours before placing in tank. Fermentation happens on indigenous yeasts. Christelle uses only older French oak barrels (from four to eight years, and sourced from white Burgundy producers) to age her wines. In general, wines are aged in barrel for one year, and are bottled unfined and unfiltered.
Crozes-Hermitage Blanc 'Elixir'
A 100% Marsanne wine, selected from vines planted in 1985. White flowers, citrus; full-bodied, silky and long. A gorgeous white with verve, perfect for an aperitif or with soft-rind French cheese.
Download fact sheet (PDF)
Crozes-Hermitage Blanc 'Circé'
A lively and flavorful, 100% Marsanne wine grown just a stone's throw from the limit of Hermitage, with perfect exposition and terroir. Medium-bodied and wonderfully fresh, a "baby" Hermitage Blanc in soul and substance. In Greek mythology, Circe was a goddess and enchantress; just like this lovely blanc. 
Download fact sheet (PDF)
Hermitage Blanc 'Arpège'
A wonderfully seductive and very rare, pure Marsanne wine from the noble hill of Hermitage. Christelle Betton farms just one-third acre of vines in the lieu-dit 'l'Homme,' on sandy soils, for a plush, savory wine redolent of tropical fruit, honey and wildflowers.
Download fact sheet (PDF) 
Vin de France Syrah
A fresh and fantastic, pure Syrah grown at the very summit of the Hermitage hill, just outside the Crozes-Hermitage appellation boundaries. What intensity, what joy — this is a pure draught of red fruited energy, spice and soul. It's far too good for its very reasonable price. 
Download fact sheet (PDF)
Crozes-Hermitage Rouge 'Espiègle'
'Espiègle' means mischievous in French; this young-vine pure Syrah is certainly that. Fruity, teasing and lively, with a succulent core of red and black fruits. Aged in older French oak barrels for one year.
Download fact sheet (PDF)
Crozes-Hermitage Rouge 'Caprice'
'Caprice' means whim in French, and could describe the feelings of a passionate winemaker as she guides her vines through the challenges and often heartaches of each vintage. A selection of the estate's oldest vines, this pure Syrah wine is raised in older French oak barrels for one year. Licorice, cocoa, candied violets; black fruits and pepper.
Download fact sheet (PDF)
Established:
1976
Winemaker:
Christelle Betton
Region:
France • Rhône Valley • La Roche de Glun
Vineyard size:
15 acres
PRACTICING SUSTAINABLE FARMING
Christelle Betton took over the family estate from her father Roland and has greatly refined and purified their house style… [The wines] are excellent representatives of Crozes-Hermitage, deliciously drinkable and abundantly perfumed; a local treasure.