Domaine JMB Sorrel
Tain L'Hermitage | Rhône Valley
The Sorrel family first set root in Hermitage in 1893, when estate founder Félix Alexandre Sorrel purchased land in 'Les Bessards,' the south-facing backbone of the finest Hermitage Rouge wines.
Today, the family's third generation of winemakers—indeed, three Sorrel brothers (Jacques, Jean-Michel and Bruno, or JMB)—tend the family's few acres of land, crafting but a handful of bottles each vintage.
Plowing by horse, picking by hand, aging in older cask; here the traditions of classic Hermitage wines are as alive and treasured, as they were centuries ago.
The brothers' Hermitage wines are stately yet supple, utterly refined in aroma and texture and crucially, wonderfully long-lived.
FARMING & WINEMAKING
Estate vines are located in 'Bessards,' 'Greffieux' and 'Plantiers,' within a small walled plot also known as 'Le Vignon,' the namesake of the family's two Hermitage wines.
'Bessards' is predominantly granite, Hermitage's most cherished plots for Syrah with backbone, structure and age-ability; 'Greffieux' mixes more clay and limestone with granite, contributing refinement; and 'Plantiers' is mostly sandy, with alluvial stones. A majority of the vines in all these parcels was planted more than 50 years ago.
Work in the vineyards is performed by either hand or horse, the family's plots being less steep than others on the slopes of the Hermitage hill. The family cares for their land sustainably, plowing by horse to control weed growth between rows as well as aerate the soil, keeping it healthy.
Grapes are harvested by hand. Whites are pressed full cluster and fermented in cask; and then lightly filtered before bottling. Reds are either destemmed or left full cluster, depending on the vintage; and then fermented in temperature-controlled tanks. Wine is aged in cask (four- to five-year old), and bottled unfined and unfiltered.
Production is very limited, with less than 4,000 bottles each vintage.
Hermitage Blanc 'Le Vignon'
A pure Marsanne wine, sourced from older vines in 'Greffieux' and 'Plantiers' in Hermitage, many of which are approaching 100 years old! A classic, finely wrought Hermitage Blanc, with depth and complexity in its aromas and flavors. Stone fruits, beeswax, roast nut and spring flowers.
Download fact sheet (PDF)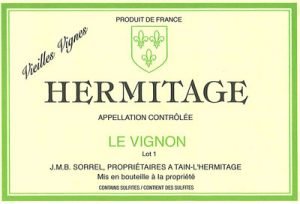 Hermitage Rouge 'Le Vignon'
A stately yet supple Hermitage Rouge, crafted in a classic style and promising a long cellar life! Pure Syrah fruit sourced from three vineyards: 'Bessards,' with vines more than 100 years old; 'Greffieux,' its clay and limestone soils contributing more supple fruit and silk; and 'Plantiers,' where the petit walled plot of 'Le Vignon' is found. Black cherry, blackberry, fine-grained yet structured tannins; a Hermitage Rouge for the ages.
Download fact sheet (PDF)