Domaine des Pierres Sèches
Cheminas | Rhône Valley
The northern Rhône is today experiencing a vinous reawakening, with a whole new generation of young talent eager to test their skills on the region's ancient, granite slopes.
Winemaker Sylvain Gauthier of Domaine des Pierres Sèches is one artisan who already has found more than solid footing here in the Saint-Joseph appellation. He started his micro-domaine in 2007, the name "pierres sèches" inspired by the many hand-built stone walls that support vineyard terraces in the region.
Originally from northern France, Sylvain studied winemaking in Beaune. After his studies he secured a post with Michel Chapoutier, then another with Stéphane Robert in Saint-Peray, before deciding that Saint-Joseph was where he would stake a claim on his own.
Sylvain's native talents are on full display in each and every bottle, whether Saint-Joseph Rouge or Blanc. These are wines with serious soul, deeply flavored yet effortlessly elegant, a perfect mirror for the rugged beauty of northern Rhône grapes.
FARMING & WINEMAKING
Winemaker Sylvain Gauthier cares for his 13.5 acres of land according to organic practices, yet the estate is not certified. (Sylvain plans to pursue certification in the near future, however.) Vineyards are plowed either by horse or by hand.
Vineyard holdings include small, steeply graded plots in the communes Sarras, Arras-sur-Rhône, Vion, Ozon and crucially, in the renowned, southeast-facing lieu-dit of 'Aubert' on the Sainte Épine mountain in Saint-Jean de Muzols, all located in the southern portion of the Saint-Joseph appellation. The original boundaries and villages of the Saint-Joseph appellation (drawn in 1956) are located here in the south.
Sylvain also maintains Syrah vines in the commune of Sécheras, not far from his cellar in Cheminas, for his Ardèche Rouge.
Soils are mostly decomposed granite, the classic terroir of the northern Rhône valley.
Syrah is partially destemmed (white grapes Marsanne and Roussanne pressed full cluster) and fermented in temperature-controlled, stainless steel tanks on indigenous yeasts. Saint-Joseph wines are aged in older French oak barrels, from three- to four-years old; the estate Ardèche Rouge is aged in tank. Wines are filtered but not fined.
Saint-Joseph Blanc
A juicy, floral, energetic white from 100% Roussanne grapes, sunny and suave and silky at once.
Download fact sheet (PDF)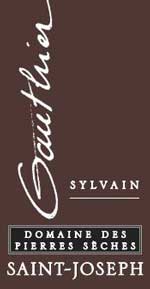 Saint-Joseph Blanc 'Aubert'
A bold blanc from one of the more cherished, high-altitude plots in Saint-Jean de Muzols, one of the first villages named as part of the original Saint-Joseph appellation (back in 1956). 'Aubert' has been planted to vines since the first world war; for decades, the Trollat family (northern Rhone royalty, a Saint-Joseph pioneer) tended these steep, granite- and schist-rich slopes. This is Saint-Joseph's grand cru, a "Montrachet" of the north, and a wine that delivers freshness, verve and attitude.
Download fact sheet (2018 vintage: PDF)
Ardèche Rouge (Syrah)
Oh, the glories of northern Syrah! Juicy, nervous, rugged, spiced. Aged all in tank to preserve every bit of pure fruit. Your new house red!
Download fact sheet (PDF)
Saint-Joseph Rouge
A stunning Saint-Joseph that captures the heart and soul of this appellation — indeed, it hails from villages that make up the southern part of Saint-Joseph, its original borders, where fruit is riper, earthy and very profound. Winemaker Sylvain Gauthier selects fruit from mostly older vines for this gem of a northern Syrah.
Download fact sheet (PDF)
Saint-Joseph Rouge 'Aubert'
A complex, concentrated single-vineyard selection of very old vine Syrah from the most prized plot in the village of Saint-Jean de Muzols, one of the original founding villages of the Saint-Joseph appellation. Bright red and juicy black fruit, lots of peppery spice, incense and licorice and soy … and a finish that goes on for what seems forever.  A great wine for the cellar, if you can resist it today.
Download fact sheet (2017 vintage: PDF)
Saint-Joseph Rouge 'Revirand'
'Revirand' holds a special place in the short yet exciting history of Pierres Sèches: it was this high-altitude, pure granite plot where winemaker Sylvain Gauther harvested Syrah to craft his very first Saint-Joseph wine in 2007. Facing full south, this is a Saint-Joseph of power and harmony; black fruit and spice, present yet fine-grained tannins, endless Syrah energy. This bottle could easily outshine many a Côte Rôtie!
Download fact sheet (PDF)
Saint-Joseph Rouge '1930'
The estate's very limited, very exceptional selection of pure Syrah from one of the appellation's most hallowed and historic terroirs in Saint-Jean de Muzols. The vineyard 'Aubert' in Saint-Jean has been planted to vine since before the first world war; for years, Saint-Joseph legend Raymond Trollat tended 'Aubert,' and some of his (and the appellation's) finest wines came from this high-altitude, stony vineyard. (Sylvain himself made an 'Aubert' cuvee in previous vintages; now his holdings are smaller, and they are all reserved for this '1930.') A selection of very old vine fruit from vines planted in 1930, this riveting, profound Syrah showcases winemaker Sylvain Gauthier at the peak of his talents; it's a wine for the ages, with depth and spice and serious staying power. Fermented full cluster and aged in new French oak tonneaux; bottled unfiltered with minimal added sulfites. Less than 1,000 bottles are crafted each vintage, and each bottle is numbered. 
Download fact sheet (2020 vintage) (PDF)