Domaine Martinelle
Lafare | Rhône Valley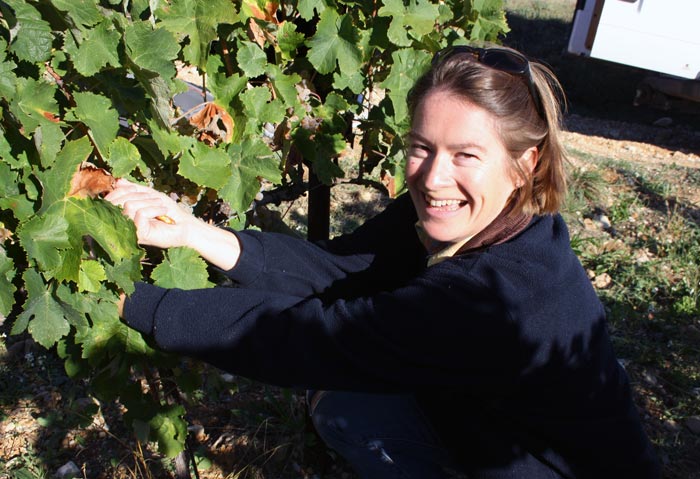 One of the leading micro-estates in the Ventoux,
 Martinelle
wines showcase fresh,
mistral
-infused fruit from the south's most captivating high-altitude vineyards.
Winemaker Corinna Faravel is without question a pioneer among a group of young artisans who early on recognized the hidden potential of the Ventoux in southern France, a diverse yet spectacular region known for far too long for the quantity but not the quality of its wines.
Located due east from the mountain vineyards of Gigondas, Domaine Martinelle combines an organic focus with a fiery passion in wines that speak honestly of the land's beauty and of endless pleasure.
Each bottle captures the deep, savory flavors of southern grapes while remaining lively and vivacious, just like the cool mistral winds that whip through the countryside in the heat of the northern Provençal summer.
FARMING & WINEMAKING
Estate vineyards are found on a series of small, terraced hillsides that run from 810 to 900 feet in altitude. Soils are a mix of limestone (like Burgundy, thus finesse), clay (contributes body and volume) and gypsum (good for soil fertilization; probably a result of volcanic activity from Ventoux eons ago). While much of the Ventoux is located on alluvial lowlands, this mountainous eastern corner is widely held as the highest-quality growing area of the entire appellation.
The regional 'mistral,' or cold northern winds from the Alps, rushes through these valleys in the summer months, keeping temperatures cool. The vineyards' altitude works to extend the growing season, with harvest often in late September through early October.
Vineyards have been cared for organically from the founding of the estate, which is now officially certified. Grapes are harvested by hand and fermented in cement tanks on indigenous yeasts in a cellar built into the hillside. Wine is aged in unlined cement tanks on fine lees, with very little sulfur added during the vinification process, and is bottled unfined and unfiltered.
Ventoux Rouge
Red plums, black pepper, raspberries, fresh garrigue. All the passion and power of the south with a lively freshness and lightness on the tongue—too easy to drink.
Download fact sheet (PDF)
Established: 2001
Winemaker: Corinna Faravel
Region: France • Rhône Valley • Lafare
Vineyard size: 30 acres
CERTIFIED ORGANIC (PDF)
One of my favorite producers from the Ventoux…