Domaine de Figueirasse
Petite Camargue | Provence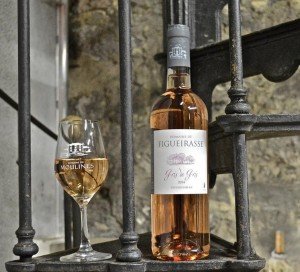 The Camargue's long, slow sunset seems to melt into the Mediterranean, its salmon-pink hue pouring into azure off the coast. This delicious moment is what
Domaine de Figueirasse's Gris de Gris
is all about—so much so that if the notion of "terroir" seemed previously obscure to you, one glass is all you will need to become a believer.
For more than a century, the Saumade family has tended vines on the sandy shores of the Camargue delta in the south of France. The sea is but 200 yards from the edge of the vineyards. The influence of the moist, sea-salty air helps keep vines healthy, which is why organic viticulture here is as natural as the tides and the call of seabirds overhead.
Gris de Gris des Sables is a particular style of rosé wine made especially in the Camargue, a blend of red grapes such as Grenache and Cinsault, pressed gently to extract a delicate, pale salmon color. Crisp and bright, with citrus-inspired acidity mixing with tangy red berry fruit, Gris de Gris doesn't just signal the start of summer—it may have inspired the season in the first place.
FARMING & WINEMAKING
Estate vineyards are located near the Camargue delta along the southern French coast, not far from Montpellier. Soils are exclusively sand, well-draining and nutrient-poor, but provide ideal terroir for southern grape varieties. The coastal humidity keeps vines from suffering hydric stress; the salt air keeps vine disease at bay. Barley and rye are planted between rows during the winter months to prevent wind erosion; in the spring, the crop is tilled under as a natural fertilizer. All vineyards are certified organic.
Grapes are harvested overnight when temperatures are coolest, and are immediately pressed gently and then fermented in temperature-controlled, stainless steel vats on indigenous yeasts. The wine is aged also in tank, and bottled in early winter to preserve the vintage's fresh fruit.
Sable de Camargue 'Gris de Gris'
The wine's pale salmon hue reminds of a sunset off the Mediterranean coast. Aromas are delicately floral; flavors suggest summer raspberries, grapefruit zest, candied ginger. 'Gris de Gris' is a rosé de pressurage; red grapes are pressed gently to extract the most delicate of pink color.
Download fact sheet (PDF)
Established: 1905
Region: France • Provence • Mudaison
Vineyard size: 123 acres
CERTIFIED ORGANIC (PDF)