Azienda Agricola Antonio Failoni
Staffolo | Marche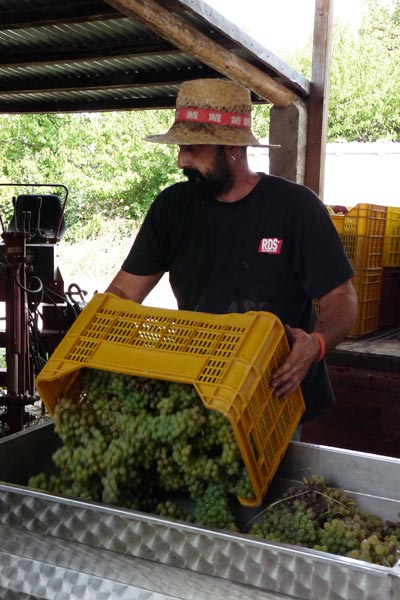 Winemaker Antonio Failoni is one of just three vine growers crafting wine in the Esino Rosso appellation, in the heart of the Marche. Named after the river that runs through this region of verdant, rolling hills and ancient olive trees, this wine reveals the heartfelt connection between the land and this modest family estate.
While Antonio wasn't born into a winemaking family, he knew early on that it was his true calling, inspired by the enticing aromas of fermenting grapes from a neighboring cantina when he was still young. He decided to realize his dream in the Marche after a family holiday, seduced by the region's peaceful landscape, healthy vineyards and ancient villages.
For some 25 years Antonio has purchased land, plot by plot, in and around the medieval village of Staffolo. Cared for organically, his 50 acres—10 acres of vines and 10 of 200-year-old olive trees, the rest wild countryside—benefit from a particular microclimate. Here the warming influence of the Adriatic Sea and the cool winds off the Umbrian Apennine Mountains combine to create an ideal balance for grape growing.
Failoni wines are character-rich, speaking passionately and honestly about the Marche's inspiring landscape and its native flavors.
FARMING & WINEMAKING
Estate vineyards sit at 1,200 feet above sea level on a series of rolling hills, and face south/southeast. Soils are mostly sandy, with veins of limestone. Antonio cares for both his vineyards and olive trees according to organic principles, but is not officially certified.
Grapes are harvested by hand. For the Verdicchio, grapes are pressed directly and fermented on indigenous yeasts in temperature-controlled tanks. The Esino Rosso is destemmed, fermented on indigenous yeasts in tank, then aged in French oak barrel and tank.
Verdicchio dei Castelli di Jesi Classico
Marche's native white grape, Verdicchio has been cultivated here since at least the fourteenth century. With its light gold-green hue and sea-salty finish (a nod to the nearby Adriatic Sea), this is a refreshing, savory white tailor-made for fresh seafood.
Download fact sheet (PDF)
Rosso Piceno (Montepulciano, Sangiovese, Merlot)
Full-bodied, earthy, divine: Rosso Piceno is the heart and soul of the Marche, a red redolent of ripe red fruits, light pepper and herbs.
Download fact sheet (PDF)
Esino Rosso (Montepulciano, Sangiovese)
The rare Marche appellation, Esino Rosso, takes its name from the Esino river that flows through the region. It is typically a more elegant, fruity wine than Rosso Piceno wines, with bright cherry and spice notes.
Download fact sheet (PDF)