Domaine Francis Orban
Leuvrigny | Champagne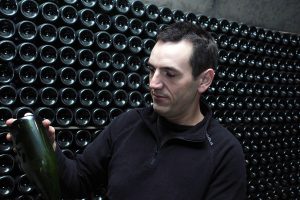 Leopold Orban, winemaker Francis Orban's great-grandfather, was one of the first recoltant-manipulants in the small village of Leuvrigny.
From a very early age, Francis knew he'd follow in the family tradition of tending Pinot Meunier vines on the sandy, clay-rich soils of the Marne Valley. Indeed, after finishing his enological studies at the ripe age of 19, he joined the family business, imbued with a  generations-deep passion for making pure Pinot Meunier wines.
Too long seen as "just" a blending grape in other Champagne regions, Pinot Meunier has pride of place in the Marne Valley. Nearly 90% of Francis' vineyards are dedicated to this singular grape, as it is here where Pinot Meunier reaches its full potential.
Above all, when allowed to shine as a single-varietal Champagne, Pinot Meunier delivers a vinous wine full of fresh fruit and lightly spiced with notes of vanilla and pepper. Full-bodied, vivacious and pure, it is a Champagne for true gourmands, who appreciate its flexibility at the table.
Crucially, Francis adds some 50% reserve wine from recent vintages to his non-vintage Champagnes, for wines of incredible character and flavorful depth.
FARMING & WINEMAKING
Francis Orban (as a grower Champagne producer, or récoltant-manipulant) tends some 18 acres of south-facing vines in and around the villages of Leuvrigny and Sainte-Gemme.
Soils are rich in sand and clay—different terroir than the chalky soils found around the Montagne de Reims or in the Côte de Blancs—a mix that suits Pinot Meunier vines well, and explains why the Marne Valley is the centerpoint of Meunier production.
Some 90% of family vineyards are planted to Pinot Meunier, with the rest dedicated to Chardonnay. Vines are on average between 30 and 40 years old.
Vineyards are cared for sustainably, and grapes harvested by hand. Grapes are pressed gently and fermented on indigenous yeasts in temperature-controlled, stainless steel tanks. Francis adds some 50% of reserve wines to his non-vintage Champagnes, for wines of impressive depth, character and length.
Extra Brut
This racy and fruity, pure Pinot Meunier Champagne showcases this noble grape in all its glory! A generous addition of reserve wine gives the wine wonderful depth and character. Aged for three years, with just 3 grams/L dosage.
Download fact sheet (PDF)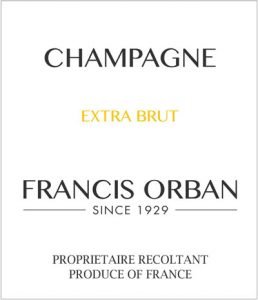 Brut Millésime
Brut 'L'Orbane'
'L'Orbane' is both a tribute to winemaker Francis Orban's ancestors who planted many of the estate's Pinot Meunier vines nearly a century ago, and to the prowess and perfection of pure Meunier Champagne on the peerless soils of the Marne. Francis hand-selects Meunier from 100-year-old vines from his home town of Leuvrigny for L'Orbane, ferments juice in French oak barrels and ages the wine for eight years in bottle. Rich and weighty, with endless spiced complexity and verve.
(Note: The 2014 vintage is the last vintage that winemaker Francis Orban produced a L'Orbane; from the 2015 vintage onward, he has created three single-vineyard wines to highlight his family's best terroirs. The first, 'Les Hauts Beugnets,' was released in 2023.)
Download fact sheet (2014 vintage) (PDF)
Brut Cuvée Parcellaire 'Les Hauts Beugnets'
Winemaker Francis Orban spent years analyzing both the soils and vines in his familly's vineyards to select three special parcels for a new line of single-vineyard Champagnes. His first release with the 2015 vintage is 'Les Hauts Beugnets,' a pure Pinot Meunier wine from his home village of Leuvrigny. Fermented in French oak barrels and aged for seven years in bottle under cork, 'Les Hauts Beugnets' is soulful and seductive, wonderfully fresh and refined. This is great Meunier! Only 1,500 bottles produced.
Download fact sheet (2015 vintage) (PDF)
Extra Brut Rosé
An exclusive bottling for North Berkeley Imports, this glorious, 100% Pinot Meunier Extra Brut Champagne is to die for. Ripe yet racy, spiced and sublime — a delicious example of just how food-friendly great Meunier Champagne can be! Made for the table, with its very low 3 grams of sugar per liter, it can pair with just about anything. Yet another perfect Champagne from the excellent cellars at Domaine Francis Orban.
Download fact sheet (PDF)
Brut Rosé
This wonderful, 100% Pinot Meunier rosé checks all the boxes: vibrantly aromatic, deeply flavored, decadently long. Like with his Extra Brut, winemaker Francis Orban adds 50% reserve wine to this lovely rose-colored Champagne (plus still red Pinot Meunier wine for color) for added depth and complexity. If you haven't yet fallen in love with Pinot Meunier, this sultry bottle will have you head over heels.
Download fact sheet (PDF)