Domaine Jean Vesselle
Bouzy | Champagne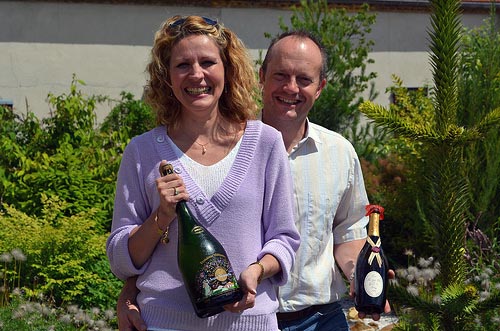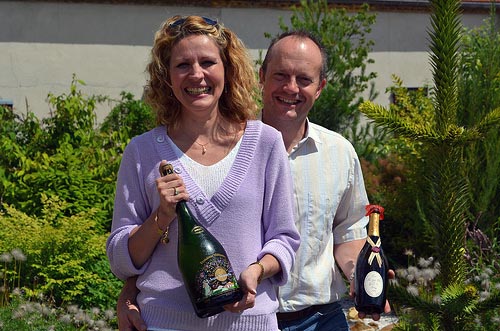 For nearly 300 years, the Vesselle family has been tilling the chalky soils of Bouzy and cultivating some of the village's best-placed Pinot Noir vines.
The family's collection of top terroirs and generations of leadership in championing Pinot Noir is what makes wines from Domaine Jean Vesselle such eloquent examples of Blanc de Noirs Champagnes.
Wines here combine a classic Champagne elegance with the signature Bouzy power, especially in wines such as 'Oeil de Perdrix.'
This unique rose de saignée is a taste of Champagne history, a style of wine long forgotten before winemakers Delphine and David Vesselle—to honor the traditions of their Champagne-making forefathers—brought it back with great success.
The family owns one of Champagne's smallest walled vineyards, the 'Petit Clos.' Located just outside the Vesselle home in Bouzy, 'Petit Clos' is the pinnacle of the powerful yet elegant Bouzy style, pure grand cru Pinot Noir fermented in barrels made from oak trees from the Champagne region, and aged for a decade in bottle.
FARMING & WINEMAKING
Domaine Jean Vesselle crafts "grower" Champagne, a récoltant-manipulant house that grows its own grapes and makes its own wine all on site. This qualitative difference is crucial for those seeking the ultimate in Champagne flavor and character.
The family's vineyards are planted to 90% Pinot Noir and 10% Chardonnay, a fidelity to Pinot Noir that's much greater than other houses in the region. Vines are cared for according to lutte raisonée principles, concentrating mostly on organic practices and avoiding chemical treatments. Vineyard rows are plowed to avoid the use of herbicides. The estate too uses solar energy and recycles rainwater to reduce its energy footprint.
Soils in general are the classic chalk of the Montagne de Reims. Grapes are harvested exclusively by hand and pressed gently, then fermented in temperature-controlled, stainless steel tanks. Wines undergo second fermentation in bottle (méthode Champenoise) and are cellared for two years to 10, depending on the cuvée. Wines are disgorged just before they are shipped.
Brut Nature 'L'Expression Nature'
A new wine for this 300-year-old estate, a non-dosage version of their peerless, Pinot Noir-based Brut Reserve — and what an "expression" of nature it is! Exuberant and lively on the tongue, with citrus and red berry notes. 
Download fact sheet (PDF)
Grand Cru Blanc de Blancs de Bouzy Brut Nature 'B3'
A special wine with very limited production, 'B3' is a unique look at Chardonnay as grown on terroir traditionally known for Pinot Noir, a 'Blanc de Blancs' from winemaker Delphine Vesselle's hometown of Bouzy. Years aging on fine lees for a wine of depth, concentration and wonderful character. 
Download fact sheet (PDF)
Grand Cru Blanc de Blancs de Chouilly Brut Nature 'B2C'
An equally special wine and companion in grape varietal to the estate's 'B3,' this Blanc de Blancs wine hails from the grand cru village of Chouilly in the northern Cote de Blancs. Here Delphine's husband David was born and raised; and also here not so long ago David was able to reclaim his family's Chardonnay vines, with the goal of crafting a pure Chardonnay Champagne with a generous dose of Bouzy savoir-faire! Fermented in cask and aged on fine lees in bottle for many years, this non-dosage wine is fresh and racy, just the partner for fresh shellfish or refined sushi.
Download fact sheet (PDF)
Extra Brut
A dazzling, super-dry cuvée with no added dosage. A blend of 80% Pinot Noir and 20% Chardonnay. Lemons, green apples, blood oranges.
Download fact sheet (PDF)
Brut Reserve
A finely balanced, fresh wine, with flavors of brioche, wild strawberries and white pepper spice. A blend of 80% Pinot Noir and 20% Chardonnay.
Download fact sheet (PDF)
Grand Cru Brut Millésime Prestige
A richly perfumed, graceful Champagne aged for nearly a decade in bottle and crafted only in the finest of vintages. Fresh and sultry and chock-full of nuance and aroma. 
Download fact sheet (PDF)
Grand Cru Brut Millésime 'Petit Clos'
'Petit Clos' is the heart of the family domaine, a quarter-acre walled Pinot Noir vineyard and one of the smallest 'clos' vineyards in Champagne. Fermented in barrel; aged for more than 10 years in bottle. The domaine's finest cuvée and one the finest, small-batch and handmade Blanc de Noirs Champagne you can find!.
Download fact sheet (PDF)
Brut 'Oeil de Perdrix'
The orange-pink color of this "eye of the partridge" Pinot Noir-based wine historically was the hue of most Champagne made in Bouzy in the nineteenth century.  (The wine's singular hue is like the color of a partridge's eye.) Pinot Noir grapes are macerated briefly to extract color then pressed. Pink roses, lavender, wild strawberry and pomegranate.
Download fact sheet (PDF)
Brut Rosé de Saignée
An elegant Pinot Noir-based Champagne with the body and structure of a fine red wine; textured and complex. The rosé de saignée method is as follows: grapes macerate briefly for color, then the juice is "bled" off to ferment separately.
"Singular, fascinating…could handle rich red meat dishes or the richest, funkiest cheeses with ease."—Stephen Tanzer
Download fact sheet (PDF)
Demi-Sec Rosé 'Cuvée Friandise'
A bountiful and seductive, semi-dry Champagne with a sweet nose of cherry pie and night-blooming jasmine flowers in summer. Fruity and full-bodied. Dosage 32 grams/L.
Download fact sheet (PDF)
Bouzy Blanc Coteaux Champenois
Essentially a "vin clair," this 100% Pinot Noir, if not bottled as a still wine, would be the base of the estate's Blanc de Noirs Champagne. Gorgeously refined and alive; brioche, fresh nuts, a hint of wild strawberries.
Download fact sheet (PDF)
Bouzy Rouge Coteaux Champenois
A delightful, delicate red that reminds of a fine Vosne-Romanée in its floral aroma and silky texture. Pure Pinot Noir from the chalky soils of the Montagne de Reims.
Download fact sheet (PDF)
Established: 1800s
Winemaker:  Delphine Vesselle
Region: France • Champagne • Bouzy
Vineyard size: 37 acres
PRACTICING SUSTAINABLE FARMING (PDF)
I was quite taken with the Vesselle Champagnes…Vesselle is based in Bouzy, right in the center of prime Pinot Noir country, where the wines are naturally ample and generous. Rich and vinous, the Vesselle Champagnes deliver considerable intensity and personality. This might very well be the finest range I have tasted here.