Azienda Agricola Musella
San Martino Buon Albergo | Veneto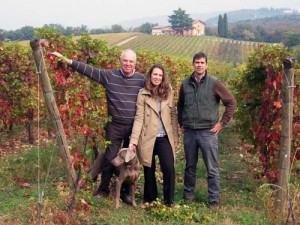 Italy's modern-day Garden of Paradise is found just outside the gates of Verona at Azienda Agricola Musella.
Encompassing more than 1,000 acres of forestland where olive and fruit trees share space with grape vines and ancient churches and cozy cottages dot the banks of a meandering river, this inspiring biodynamic estate is a regional treasure.
Since 1995, the Pasqua Di Bisceglie family has worked to return this grand estate to its noble viticultural past. Replanting historic hillside vineyards to native grape varieties such as Corvina, Corvinone and Rondinella as well as rejuvenating the land through biodynamic cultivation, the family in two short decades has established the wines of Musella as the true benchmarks for Valpolicella and Amarone – and at very reasonable prices to boot.
The estate's biodynamic credentials are serious. Certified by Demeter, Europe's largest certification body, Musella's team uses only naturally sourced fertilizer, among other solutions, to ensure that the natural beauty and health of their 60 vineyard acres remains in balance.
FARMING & WINEMAKING
Estate vines (as well as fruit and olive trees) have since 1995 been cared for according to biodynamic principles; Musella is officially certified by Demeter.
Consistent with biodynamic practices as set by pioneer Rudolph Steiner, all activity on the farm is determined according to the lunar cycle. No synthetic chemicals of any kind are used. Natural fertilizer comes from the farm's chickens that roam over the estate's hillside vineyards. The diversity of flora and fauna at the estate, with more than 1,000 contiguous acres, contributes to its impeccable health and balance.
There are three main vineyard areas: Monte del Drago, Il Perlar and Palazzina, all which face west/southwest and sit at altitude. Soils are varied, with Monte del Drago combining white clay with "tufo," a type of gritty, porous limestone; Il Perlar showcasing more iron-rich, red clay soils; and Palazzina with red clay and tufo.
Grapes are harvested by hand and fermented on indigenous yeasts.
Established: 1995
Winemaker: Enrico Raber
Region: Italia • Veneto • San Martino Buon Albergo
Vineyard size: 61 acres
BIODYNAMIC WINERY
---
It's not too often I run across an estate in Veneto that delivers this level of quality at what are exceedingly fair prices in today's market. Readers will want to give these offerings serious consideration.
—Antonio Galloni
---
---