Azienda Agricola Diego Conterno
Monforte d'Alba | Piedmont
A rising star in the southern reaches of the Barolo zone, Diego Conterno and his son, Stefano, craft elegant, lively Nebbiolo wines in Monforte d'Alba.
Trained by Piedmont legend Beppe Colla years ago at Prunotto, Diego with his cousins helped establish Conterno-Fantino in 1982. After nearly two decades of crafting bold wines at this modern Barolo estate, Diego felt it was time for him to explore a more natural expression of Nebbiolo.
He left the family project to start his own in 2000, bringing with him from his family's holdings a nearly five-acre plot in 'Ginestra,' unquestionably Monforte's top cru. In 2010, his son Stefano joined the estate, adding a new energy and focus to its already growing reputation for quality in Monforte.  
Crucially, Diego Conterno wines "blend the energy and brawn of Monforte with the translucence of traditionally inspired winemaking," says Antonio Galloni. Rich and potent yet utterly suave in perfume and flavor, wines across the board are made naturally, fermented on indigenous yeasts in neutral cement tanks and aged in traditional large oak cask (botti). All vines are cared for organically.
FARMING & WINEMAKING
The estate tends some 20 acres of vineyard land organically in the village of Monforte d'Alba, located along the southern edge of the Barolo zone. The Conternos began farming organically in 2010, and achieved certification in 2014.
The family's historical holdings include vines in the 'Sori' or full south-facing portion of 'Ginestra,' some five-acres worth and planted in 1982. Other holdings include vines in 'San Pietro,' 'Pajana' (part of Ginestra) and 'Gris,' all in Monforte.
The estate's Nebbiolo vines (for its Nebbiolo d'Alba bottling) as well as its Barbera, Dolcetto and Nascetta vines, are planted in 'Ferrione,' which faces west and is situated just below the family winery, which was renovated in 2014.
Harvest is performed by hand. In the cellar, grapes are destemmed and fermented on indigenous yeasts in temperature-controlled, stainless steel tanks. Barolo wines are aged in traditional oak cask (botti), then further aged in neutral cement tanks before bottling, with very little added sulfur.
Langhe Nascetta
Piedmont's true native, white grape may be Nascetta (say nass-CHET-ta), a rare gem that is slowly making a comeback in the Langhe region after being forgotten for too many years. Historically, Nascetta was made into a sweet wine (mostly for religious services) yet as a dry wine, its complexity and aromatic intensity are immediately captivating. Citrus and pineapple, savory notes of sage and rosemary.
Download fact sheet (PDF)
Dolcetto d'Alba
A pretty, versatile wine redolent of ripe red and blue berries and underbrush, a touch of summer with a hint of fall. Dolcetto, or "little sweet one," is always a joy to savor with its soft tannins and savory finish.
Download fact sheet (PDF)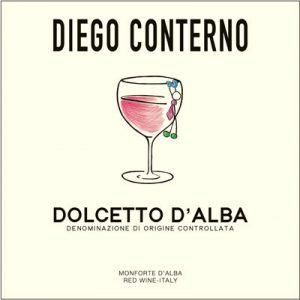 Barbera d'Alba 'Ferrione'
Next to Nebbiolo, Barbera is Piedmont's next-most important grape, a ruddy and rubied, elegant red that can deliver wonderful complexity and concentration when treated like the queen it is. A beautiful wine with plenty of depth.
Download fact sheet (PDF)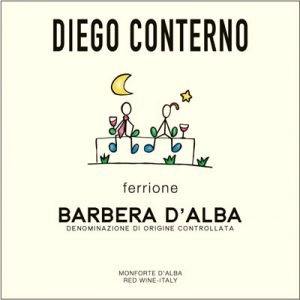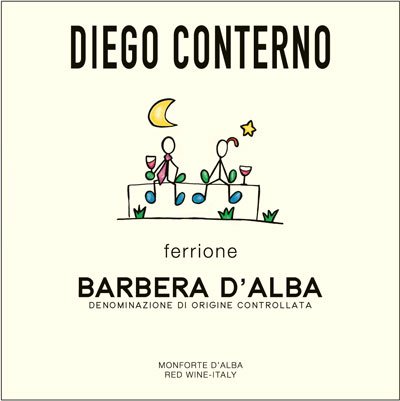 Langhe Nebbiolo 'Baluma'
Sourced from a west-facing plot just outside the Barolo zone and a hop-skip from the family cantina, 'Baluma' is a fresh, rose-kissed and wonderful Nebbiolo made for easy and early enjoyment. In Piedmontese dialect, 'Baluma' means "let's dance!"
Download fact sheet (PDF)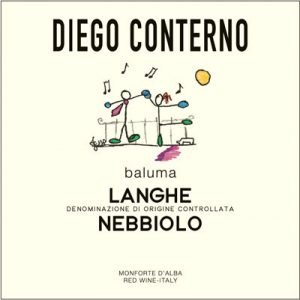 Barolo
An endlessly elegant Nebbiolo wine sourced from three separate vineyards in Monforte. 'San Giovanni,' not far from the Barolo commune, contributes suave fruit; 'Bricco San Pietro' provides freshness; and 'Ginestra' the wine's heady structure. Aged for two years in traditional oak cask, called "botti."
Download fact sheet (PDF)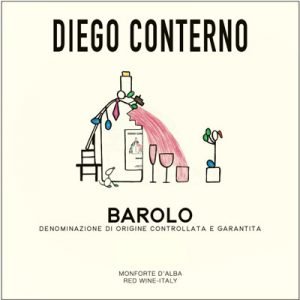 Barolo del Comune di Monforte d'Alba
"Comune di" is a new designation in Barolo, a way for winemakers to honor the traditions and character of Barolo's historic villages. Here Diego and Stefano select older vine fruit from their holdings in 'Pajana,' a part of the larger 'Ginestra' vineyard, and from 'Gris,' both located on the eastern slopes of Monforte.
Download fact sheet (PDF)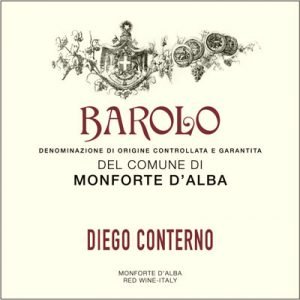 Barolo 'Ginestra'
Monforte's crown jewel, 'Ginestra' in the hands of Diego Conterno – a native talent who grew up literally in this vineyard – is otherworldly. This single-vineyard Barolo wine, sourced from the 'Sori' or 100% south-facing portion of 'Ginestra,' is bold, beautiful and seemingly eternal.
Download fact sheet (PDF)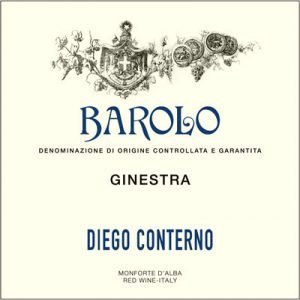 Established: 2003
Winemaker: Diego and Stefano Conterno (father-son)
Region: Italy • Piedmont • Monforte d'Alba
Vineyard size: 20 acres
CERTIFIED ORGANIC (PDF)
Diego Conterno is an estate to watch … The Barolos blend the energy and brawn of Monforte with the translucence of traditionally-inspired winemaking.