Azienda Agricola Luigi Vico
Serralunga d'Alba | Piedmont
Luigi Vico's family roots in the Barolo village of Serralunga d'Alba reach back to 1694, yet it took more than 300 years, and the dedication of a native son, for the family name to appear on a Barolo wine.
Luigi's passion for viticulture started when he was just a boy. He would often help his grandparents during the summer months as they tended by hand their few acres of well-placed vineyard land, purchased by their own parents, in the early 1900s. While they did bottle some of their harvest for the family, most of their Nebbiolo grapes were sold off to local winemakers.
As is common in many agricultural families, subsequent generations often leave the farm to seek employment elsewhere, leaving behind the grueling work that vine growing can require. The family land was rented out on long-term contracts, and with that, the family's vinous ties to Serralunga seemed to come to a close.
Eventually, fate knocked on Luigi Vico's door. Well-established in Turin with his family, Luigi still longed for those summers in the fields with his grandparents. And with the long-awaited expiration of the rental contracts, Luigi realized that he could best honor his family's legacy in Serralunga by reclaiming his vineyards and crafting, finally, a Barolo wine from the family land.
Luigi reached out to one of Serralunga's most respected and talented winemakers, Davide Rosso of Azienda Agricola Giovanni Rosso, to help him craft his wines. Their first vintage is the incredibly auspicious 2016, a landmark year for Barolo – and it is clear that there is much more in store from this exciting partnership.
FARMING & WINEMAKING
The Luigi Vico label is crafted at the estate of Giovanni Rosso by winemaker Davide Rosso, in the Barolo village of Serralunga d'Alba, Luigi Vico's home town.
The Vico family owns approximately five acres of vineyard land across three vineyards: 'Prapò,' 'Meriame' and 'Prato Done.' All vineyards are cared for according to organic principles, and the estate is certified.
Grapes are harvested by hand. Fermentation happens in cement tank on indigenous yeasts. Barolo wines are aged in a combination of French and Slavonian oak cask ("botti").
Moscato d'Asti 'Echinopsis Mirabilis'
In a small plot in Serralunga called 'Prato Done,' purchased by Luigi Vico's great-grandparents in 1900, you'll find perfect older Moscato vines that give birth to this lightly sweet and bubbly Moscato d'Asti wine. Considered one of the oldest grapes in the Piedmont area, Moscato Bianco (also known as Muscat a Petit Grains) only began to be crafted in a light, frizzante style in the mid-1800s. Today it is typically enjoyed as a refreshing dessert wine.
Echinopsis mirabilis, or the "flower of prayer," is a small cactus that blooms in summer, its white, strongly scented flower appearing at night and only for a few hours.
Download fact sheet (PDF)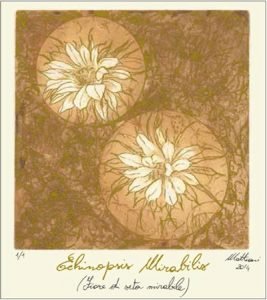 Langhe Nebbiolo
For an estate so steeped in history, it's an exciting moment to found a new vineyard, put a stamp on next steps for the vinous dreams of Luigi Vico and family! This lovely and lithe Langhe Nebbiolo is redolent of pink and red roses and spice — this newly planted, cool and high-altitude vineyard providing just the sort of sunny balance that Nebbiolo craves. The perfect red to satisfy with an appetizer plate and a sunset over Serralunga d'Alba.
Download fact sheet (PDF)
Barolo Comune di Serralunga d'Alba
A new category of Barolo wine as of a decade ago, the designation "comune di" plus village name signifies a Barolo wine farmed and crafted within a specific Barolo village: here, of course, Luigi Vico's home town of Serralunga d'Alba. This delightful and powerful Nebbiolo is sourced from the 'Meriame' vineyard in Serralunga; in fact, it is essentially a single-vineyard wine. Historically an orchard, 'Meriame' now is home to Nebbiolo vines, yet with an eye toward biodiversity Luigi has left a fruit tree to mark the beginning of each of his vineyard rows. Luigi's great-grandparents purchased this small parcel in 1920.
Download fact sheet (PDF)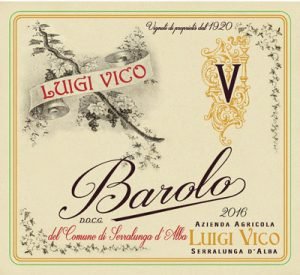 Barolo 'Prapò'
Vermouth di Torino
As a child, Luigi Vico remembers sitting with his grandfather after church on Sundays in Serralunga d'Alba, nibbling on cantucci while his grandfather enjoyed small, chilled glasses of Vermouth and conversation with his friends. This classic digestif, made with a base wine of Moscato grapes to which neutral alcohol, sugar and a secret selection of wild herbs and spices are added, offers a sensory link to poignant family memories for Vico, in its rosy aromas and lightly bitter finish.
Download fact sheet (PDF)
Established: 2016
Winemaker: Davide Rosso
Region: Italy • Piedmont • Serralunga d'Alba
Vineyard size: 5 acres
CERTIFIED ORGANIC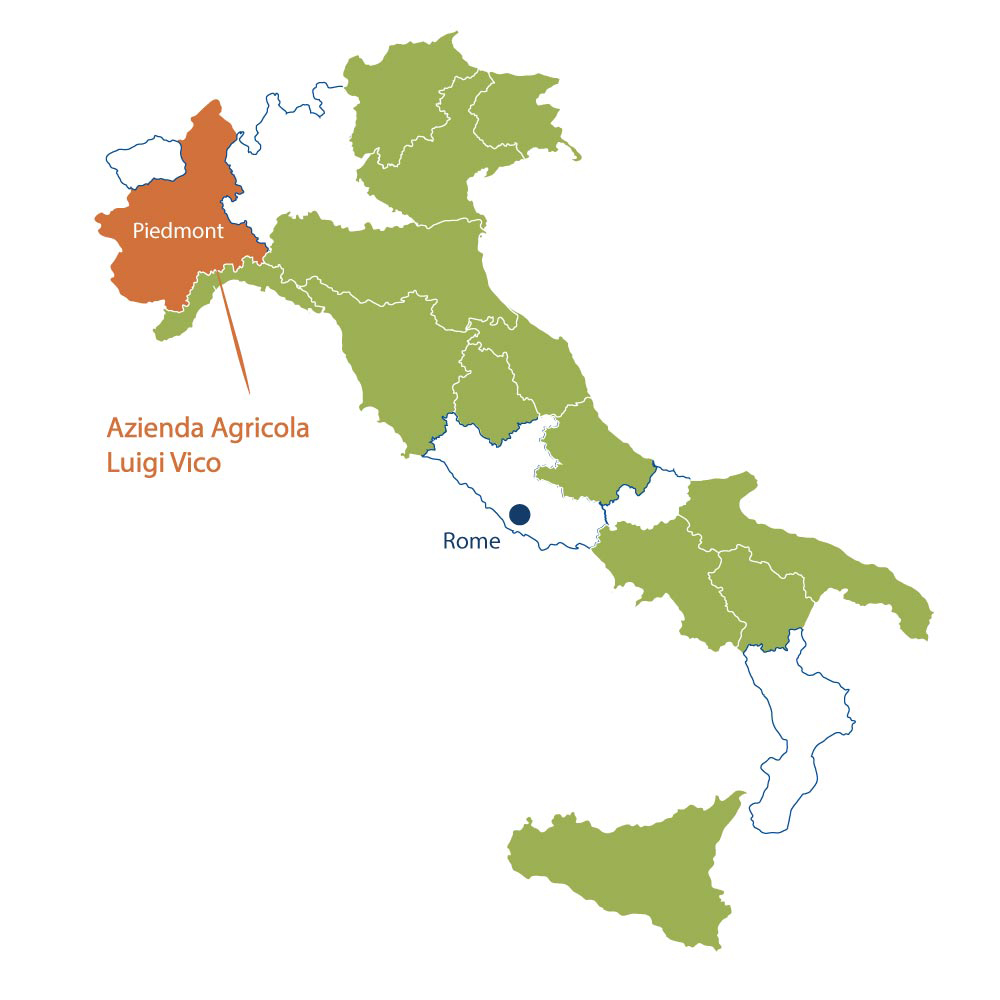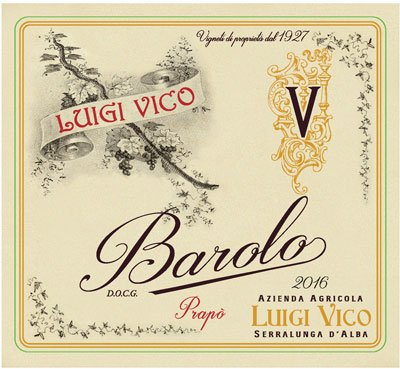 The story of a label
The striking, classic Barolo labels of Luigi Vico were created through the coming together of both history and inspiration. Luigi's grandfather had designed a Barolo label, yet never used it; that label's design borrowed a delicate vine border from a travel book printed in 1885, "A Swallow's Flight In Serralunga." Additional elements remind of classic Barolo labels from the 1920s, when the family first became vineyard owners in Serralunga.