Domaine Philippe Gavignet
Nuits-Saint-Georges | Côte de Nuits | Burgundy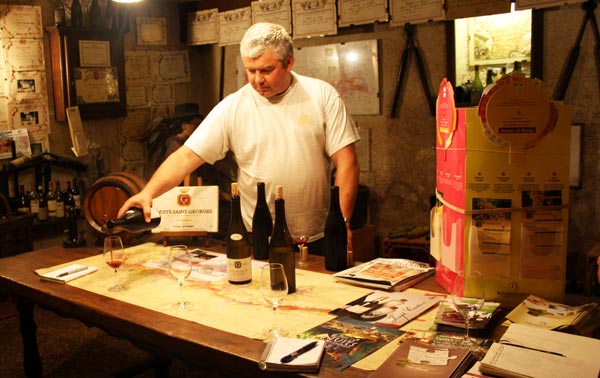 The style of Philippe Gavignet Burgundy "brings back" the profound elegance of Pinot Noir to Nuits-Saint-Georges, an appellation often known for more tannic (and often less balanced) wines. Gavignet wines are solid proof that Nuits has the terroir to produce elegant Burgundy but that it requires a conscientious winemaker such as Philippe to craft it.
What first attracted us to this fourth-generation estate nearly more than 20 years ago was the impressive pedigree of Gavignet's vineyards in Nuits. What you'll discover with these selections are unquestionably some of Nuits' most expressive, very-old-vine terroirs, with vines planted as far back as the 1920s.
Yet what's kept us coming back to this modest cellar is the finesse and harmony of this estate's honest, hand-crafted wines. Not to mention what an enjoyable experience it is to taste with Philippe, a "salt of the earth" sort of winemaker. He can't stand pretence; casual but serious, Philippe is a true artisan who is always eager to share with us older bottles to show just how revelatory his old-vine Nuits can be.
Curiously, Gavignet remains an insider's secret, while "bigger" names in the village garner the attention (and demand ever-higher prices). Yet no other producer even comes close to capturing the true character of this impeccable terroir as does Philippe Gavignet.
FARMING & WINEMAKING
Most of winemaker Philippe Gavignet's Pinot Noir vines are very old, with a majority planted in the 1930s and 1950s. Vineyards are cared for as naturally as possible, avoiding the use of herbicides and pesticides. Harvest is by hand; wines are aged in a mix of new and older French oak barrels (with no more than one-third new oak). All wines are bottled unfined and unfiltered.
Bourgogne Aligoté
There is nothing that winemaker Philippe Gavignet can't do. Case in point is this riveting and refreshing Bourgogne Aligoté, sourced from high-altitude vineyards in the Hautes-Côtes as well as from a perfect plot in Nuits proper. So much freshness, so much juicy energy. 
Download fact sheet (PDF)
Bourgogne Chardonnay
A refined, plush and perfectly balanced Bourgogne Chardonnay from richer soils in Nuits-Saint-Georges. Winemaker Philippe Gavignet ages his wine half in tank and half in larger oak barrels, for more texture and complexity. A stunning "basic" Bourgogne that's great with river fish or grilled chicken.
Download fact sheet (PDF)
Nuits-Saint-Georges Blanc 'Les Argillats'
50% Chardonnay and 50% Pinot Blanc. 'Argillats' is planted to both red and white grapes; while the vineyard's soils in general combine brown limestone and silt, whites are planted exclusively on a vein of sand that runs through the plot. A refined, silky white with tons of citrus energy.
Download fact sheet (PDF)
Bourgogne Pinot Noir
Not your "average" Bourgogne Rouge. Gavignet combines fruit from 45+ year old vines grown on two separate plots in Nuits proper; the vineyards' mineral-rich, silty soils contribute spice and refined tannins. It's true that you can judge the talents of a winemaker in how he or she treats their "base" wine; this is, hands-down, one of the more refined, character-rich Bourgogne Rouge wines out there.
Download fact sheet (PDF)
Bourgogne Hautes-Côtes de Nuits 'Clos des Dames Huguette'
'Clos des Dames Huguette' is a large vineyard located directly above Nuits-Saint-Georges, in the wind-swept hills of the Hautes-Côtes, between 1,050 and 1,200 feet in altitude. Terroir here is similar to the clay-limestone soils of the Côte d'Or, yet top soils are much thinner. This higher perch and rocky terrain translates into a Pinot Noir of serious aromatic definition and cool red fruit flavors; all the depth and concentration you'd expect from Nuits, wrapped in a dashing silky robe.
Download fact sheet (PDF)
Bourgogne Hautes-Côtes de Nuits 'Clos de L'Hermitage'
A new vineyard planted by the family in the Hautes-Côtes, a limestone plateau that sits at altitude over the main Burgundian "côte." Here temperatures are cooler, and winds stronger, for wines with incredible poise and balance. Notes of raspberry and cherry, with hints of violet and licorice. 
Download fact sheet (PDF)
Bourgogne Hautes-Côtes de Nuits 'La Montagne'
Higher and higher still into the Hautes-Côtes — the "mountain" is another new visionary plot discovered by the Gavignet team, over 1,000 feet in altitude and surrounded by forestland between Nuits and Premeaux-Prissey. Cool winds, bright fruit, a ton of energy and precision. 
Download fact sheet (PDF)
Nuits-Saint-Georges Vieilles Vignes
Some of Gavignet's oldest vines are the core of this "vieilles vignes" cru, planted in 1920 and 1954. Vineyards 'Les Belles Croix' and 'Les Allots' both border Nuits-Saint-Georges' premier cru row of vineyards. For us, this wine is the sum of all the things that make Gavignet wines so remarkable: impeccable terroir, stunning older-vine fruit, peerless craftsmanship, elegant flavors.
Download fact sheet (PDF)
Nuits-Saint-Georges 'Les Argillats'
One of Nuits' higher-altitude plots, 'Argillats' sits at the forest line and deep in the mouth of the valley west of the village of Nuits. This cooler perch gives Pinot Noir with great definition and finesse (and also explains why a small portion of the vineyard is planted to Chardonnay). Bright red and black fruit, stony persistence, lots of freshness.
Download fact sheet (PDF)
Nuits-Saint-Georges 'La Charmotte'
You could translate 'La Charmotte' loosely as "little cutie," as this is the sort of red-fruited joy and pep this villages-level Pinot Noir delivers. Located on the Vosne side of Nuits and touching premier cru 'Bousselots,' 'Charmotte' is certainly charming. Floral nuance, plush texture and a ton of pleasure. 
Download fact sheet (PDF)
Nuits-Saint-Georges 1er Cru 'Les Bousselots'
The 'Bousselots' vineyard sits not far from the village border with Vosne-Romanée; a bit of Vosne violets and velvety tannins make their way into this sultry, elegant cru wine. Vines planted in 1946.
Download fact sheet (PDF)
Nuits-Saint-Georges 1er Cru 'Aux Thorey'
A small plot of very old vines, planted by the family in 1942. Steeply graded, 'Aux Thorey' sits on the Vosne side of Nuits and is not far from premier cru 'Bousselots,' sharing similar limestone-rich soils. Structured and intensely aromatic, with a velvety finish. 
Download fact sheet (PDF)
Nuits-Saint-Georges 1er Cru 'Les Chaboeufs'
Half the vineyard was planted in 1950; the rest in 1990 and 1994. The 'Chaboeufs' vineyard is nestled into a cool, narrow valley; soils are brown limestone with some clay, stony and iron-rich. 'Chaboeufs' is meaty, black-fruited, concentrated — yet retains a cool elegance in both texture and aroma, very captivating. A great wine for the cellar.
Download fact sheet (PDF)
Nuits-Saint-Georges 1er Cru 'Les Pruliers'
Gavignet's vines, planted in 1974, at the foot of this vineyard grow in brown limestone soils that are very gravely. This extra bit of mineral influence gives 'Pruliers' structure and definition, with a touch of coffee and chocolate on the finish.
Download fact sheet (PDF)
Established: 1930s
Winemaker: Philippe Gavignet
Region: France • Burgundy • Côte de Nuits • Nuits-Saint-Georges
Vineyard size: 24 acres
PRACTICING SUSTAINABLE FARMING (PDF)