Domaine Gérard Raphet
Morey-Saint-Denis | Côte de Nuits | Burgundy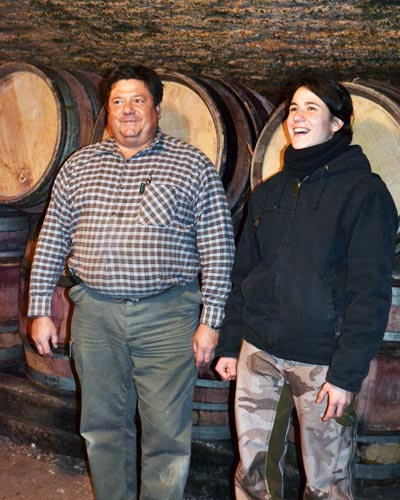 The wines of Gérard Raphet are a Burgundy lover's Burgundy. While the wine's color in the glass is a delicate ruby, aromas and flavors surprise with their forceful intensity. This contrast often catches the uninitiated off guard, yet it is part of the attraction and seduction of these limited and highly sought-after wines.
Indeed of all our Burgundy partners, Raphet inspires the most emotion when trying to describe what exactly makes these wines so captivating. Raphet Burgundy surprises and delights; it opens the possibilities of what great, old-vine Burgundy can do, and just how intimate and special that experience can be.
We first started working with the Raphet family decades ago, when Gérard's father Jean was at the helm. Our tastings would often evolve into a long chat in the family kitchen over a couple of bottles, unlabeled, vintages such as 1978 and 1985 hand-scrawled on the glass.
No Raphet ever went to enology school; winemaking as family tradition has been passed from father to son, and now daughter, through four generations. There's no pontificating, no philosophy—just the rhythm of a day that starts before sunrise, the years of history absorbed in each gnarled, 100-year-old vine, and the handful of barrels stashed in a dark cellar underneath the family home.
Gérard took over the domaine in 2005; today his daughter Marion also helps out in the cellar and fields. Gérard is modest, almost shy, preferring the majesty of his old-vine Pinot Noir to "do the talking." And talk it does, from the exuberant aromas of young wine to the suave silk of cellared bottles, some 10 to 20 to even 30 years on. Our cellars have a special corner for Raphet Burgundy, and so should yours.
FARMING & WINEMAKING
Raphet Burgundy is handmade from field to bottle, with a rhythm and method that hasn't changed in four generations. Vines are on average very old, with many vines over 100 years. Harvest is done by hand, and grapes are fermented on indigenous yeasts in tank and then aged for some 18 months in mostly older French oak barrels. Wines are bottled unfined and unfiltered.
With the help of winemaker Gérard Raphet, North Berkeley Imports selects certain complete barrels of wine to import under the  exclusive label, "Cuvée Unique."
Bourgogne Passetoutgrains
A fresh and wonderfully fruity red, a perfect combination of 50% Pinot Noir and 50% Gamay grapes, complete with the spiced Raphet signature that makes his Burgundy wines so enchanting and irresistible. 
Download fact sheet (PDF)
Bourgogne Rouge 'Les Grands Champs'
Located in Gevrey Chambertin, 'Les Grands Champs' is a lieu-dit southwest of the village proper and surrounded on three sides by villages-level Gevrey vineyards. Soils are mostly red clay and silt.
Download fact sheet (PDF)
Gevrey-Chambertin 'Champs Chenys' Vieilles Vignes
'Champs Chenys' is directly downslope from grand cru Charmes-Chambertin; Raphet's rows of vines are located in a small "notch" carved into Charmes (that is, vines are surrounded on three sides by grand cru terroir). Vines range from 35 to 110 years old.
Download fact sheet (PDF)
Morey-Saint-Denis Vieilles Vignes
A villages wine that ages in step with the finest premier cru bottles. Raphet selects old-vine fruit (60 years or older) from 'Clos des Ormes' in Morey, as well as fruit from premier cru Morey-Saint-Denis 'Millandes.'
Download fact sheet (PDF)
Gevrey-Chambertin 'Les Seuvrées'
Raphet's vines in this villages-level plot border grand cru Mazoyères-Chambertin.  A suave combination of intensity and floral delicacy.
Download fact sheet (PDF) 
Chambolle-Musigny 'Les Bussières'
Raphet's few rows of vines in 'Les Bussières' border premier cru 'Les Sentiers' upslope, next to premier cru 'La Bussière' in Morey. Similar to 'Sentiers,' soils are deep and rich in clay.
Download fact sheet (PDF)
Gevrey-Chambertin 1er Cru 'Combottes'
'Combottes' borders grand cru Latricières-Chambertin in Gevrey and grand cru Clos de la Roche in Morey-Saint-Denis, sharing similar soils and exposition; in effect, it is surrounded on all sides by grand cru vineyards. An enticing red that will age wonderfully in a cool cellar.
Download fact sheet (PDF)
Gevrey-Chambertin 1er Cru 'Lavaux Saint Jacques'
Raphet's vine rows border premier cru 'Clos Saint Jacques,' arguably the heart of Gevrey's top premier cru row in the "combe" of Gevrey, benefitting from the valley's cooler winds. Soils are a mineral-rich, red clay.
Download fact sheet (PDF)
Morey-Saint-Denis 1er Cru 'Les Millandes'
Estate vines, facing east, sit at the northwest corner of this premier cru, bordering grand cru Clos de la Roche. Soils are mostly brown limestone, like in Clos de la Roche, but with more clay. 'Millandes' is always supple and sedutive, with a fetching note of dusty chocolate.
Download fact sheet (PDF)
Charmes-Chambertin Grand Cru
Raphet tends four separate parcels in this larger grand cru vineyard, two-thirds of which hail from Charmes proper; the rest from Mazoyères-Chambertin.
Download fact sheet (PDF)
Clos Vougeot Grand Cru Cuvée Unique
It's easy to find the majority of the family's vines in this grand cru, as Gerard's father, Jean, had a stone marker set on the vineyard's down-slope wall. Another family parcel upslope, with older vines, is located in lieu-dit 'Les Grand Maupertuis.'
Download fact sheet (PDF)
Clos de la Roche Grand Cru
Raphet's rows of vines are located upslope in this grand cru vineyard, near the border with grand cru Clos Saint-Denis. A small percentage of vines were planted in 1920; the rest in 1982.
Download fact sheet (PDF)
Clos Vougeot Grand Cru Vieilles Vignes
A special selection of older vines, many more than 100 years old, from this legendary grand cru vineyard. Brooding and rich, dark red fruit and tons of spice. For many Burgundy enthusiasts, this old-vine cru is the finest example of the true soul of Vougeot.
Download fact sheet (PDF)
Chambertin-Clos de Bèze Grand Cru
A perfect cross-section of the heart of grand cru Clos de Bèze, with bright red fruit and peppery spice. A treasure for the cellar, yet very limited: only a barrel or two made each vintage.
Download fact sheet (PDF)