Domaine Mugneret-Gibourg
Vosne-Romanée | Côte de Nuits | Burgundy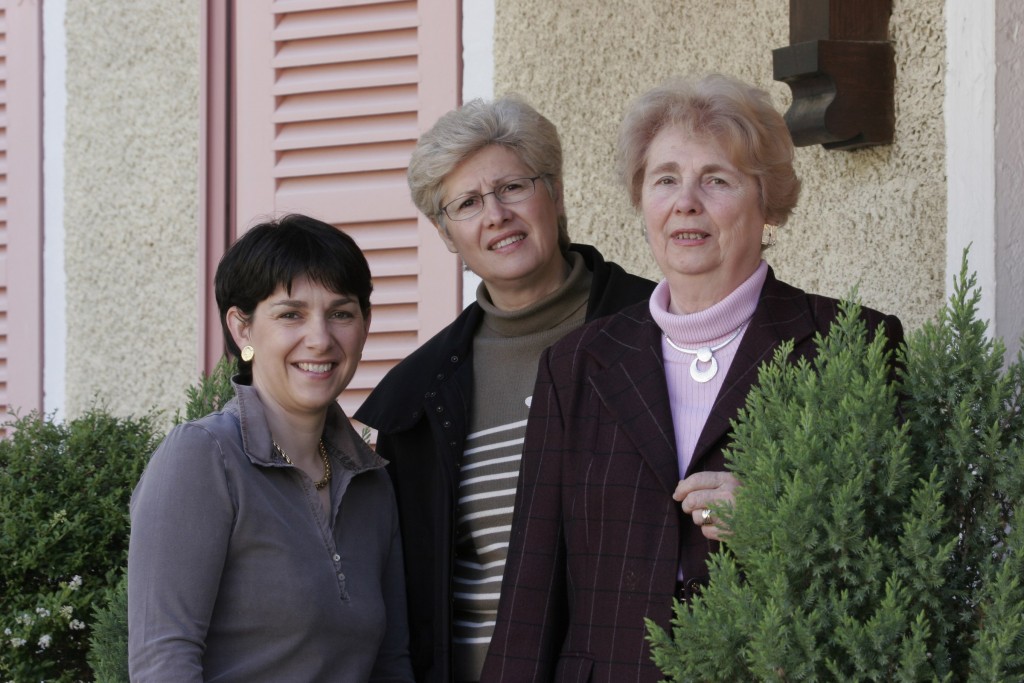 The silky persistence and enveloping aromas of Pinot Noir from Vosne-Romanée is what is often meant when one calls any wine "Burgundian." There are few estates that capture the seductive power of Burgundian Pinot Noir as faithfully as does
Domaine Georges Mugneret-Gibourg
in Vosne.
To wit, the Mugneret sisters today are one of the leading talents in all of Burgundy. Their very small production is highly sought-after (and often in vain) by the world's connoisseurs, simply because Mugneret Burgundy offers such a subtle yet potent impression of Burgundy's most hallowed terroirs.
The history of the Mugnerets has much to do with fate, a theme not unfamiliar to grape growers or winemakers. The modern founder of the family estate, Dr. Georges Mugneret, was born into a winemaking family yet pursued his passion for wine alongside his profession as an ophthalmologist. In the late 1980s, however, he passed away after a short but serious illness, handing over the estate he had nurtured to his wife, Jacqueline, and two daughters, Marie-Christine and Marie-Andrée, for them to either carry on, or sell.
Madame Mugneret said no sale; Marie-Christine gave up a career as a chemist to learn winemaking; and Marie-Andrée quickly finished her oenological studies. And with a passion and dedication no less than their father's, they pushed on to establish Mugneret-Gibourg as the world-class domaine it is today.
We first started working with the Mugnerets decades ago when their father was at the helm; today, it is always a joy to visit these hard-working and ever generous sisters and taste the products of their tireless labors. Mugneret Burgundy is Burgundian to its core, a pleasure to drink and a treasure to cellar.
FARMING & WINEMAKING
The Mugnerets care for their vineyards sustainably, using natural treatments if necessary (but very infrequently). Plowing between the rows to control weed growth and green harvesting to control yields is the norm.
Grapes are harvested by hand and are sorted on a sorting table at the cellar. Fruit is destemmed and fermented in temperature-controlled tanks on indigenous yeasts. Wines are aged in French oak barrels for 18 months; villages wines see 10-20 percent new wood; premier cru wines 30-50 percent; and grand cru wines up to 70 percent. Wines are bottled unfined and unfiltered.
Bourgogne Rouge
A spicy, subtle and elegant Pinot Noir from older vines in a vineyard ('Les Lutinières') previously classified as a
villages
Vosne-Romanée. Easily one of the Cote d'Or's finest Bourgognes every vintage.
Download fact sheet (PDF)
Vosne-Romanée
The heart and soul of Vosne. The Mugneret sisters select older-vine fruit from contiguous parcels in Vosne ('La Columbière,' 'Champs Goudins' and 'Le Pré de la Folie') plus 'Les Chalendins' to the northeast and 'Les Croix Blanches' to the south, for a Pinot Noir of finesse and pure ruby flavors.
Download fact sheet (PDF)

Vosne-Romanée 'La Colombière'
Returned entirely to family hands after the end of a decades-long metayage agreement, 'La Colombière,' a vineyard that backs on to the family domaine, is a sprightly and savory Pinot Noir, with violet aromas and a long finish. 
Download fact sheet (PDF)
Nuits-Saint-Georges 1er Cru 'Les Chaignots'
On the Vosne side of Nuits, 'Chaignots' combines the violet essence so often found in Vosne wines with a complex, mineral core, an expression of the vineyard's rocky soils.
Download fact sheet (PDF)
Chambolle-Musigny 1er Cru 'Feusselottes'
Located in the heart of the village, the vineyard's iron-rich soils and cooler exposition deliver a Chambolle in a classic style, with airy purple aromas and a suave, silky texture.
Download fact sheet (PDF)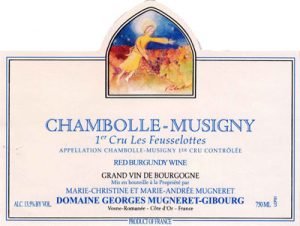 Echezeaux Grand Cru
The Mugnerets' Echezeaux, from the highest point of the vineyard ('Les Rouges du Bas') and a plot bordering Clos Vougeot ('Quartier de Nuits'), combines the grand cru's classic roasted notes and spice with light, floral tones and smooth tannins.
Download fact sheet (PDF)
Ruchottes-Chambertin Grand Cru
Mixing licorice and cassis aromas, Ruchottes-Chambertin is floral and profound at once. A gorgeous wine and one that showcases the Mugnerets' elegant, pure style to full effect.
Download fact sheet (PDF)
Clos Vougeot Grand Cru
The family's few rows of vines, at the top of the slope in the northwest corner near the chateau (in 'Montiottes Hautes,' and purchased by Georges Mugneret in 1953) give arguably the "truest" character of Vougeot. Deep, structured, supple.
Download fact sheet (PDF)
Established:
1933
Winemaker:
Marie-Christine and Marie-Andrée Mugneret
Region:
France • Burgundy • Côte de Nuits • Vosne-Romanée
Vineyard size:
20 acres
PRACTICING SUSTAINABLE FARMING
One of the great Burgundy producers…The style is pure, accurate and high-impact, without a great show of weight.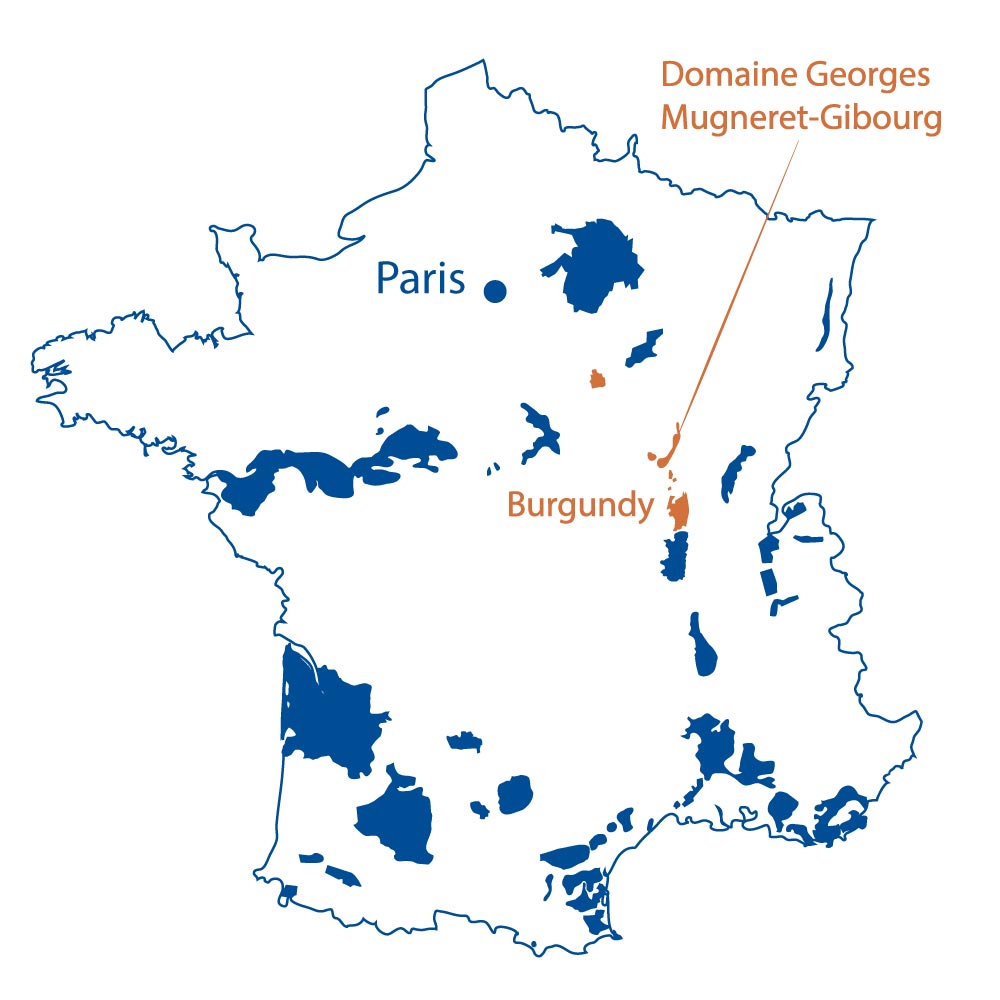 The charming, hospitable and elegant Mugneret ladies, Jacqueline and her daughters Marie-Christine and Marie-Andrée, produce meticulously crafted wines from the yield of their estate…these wines are full, concentrated, very stylish and extremely well balanced; delicious examples of Pinot Noir.