Fratelli Alessandria
Verduno | Piedmont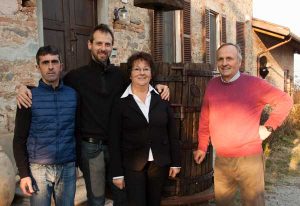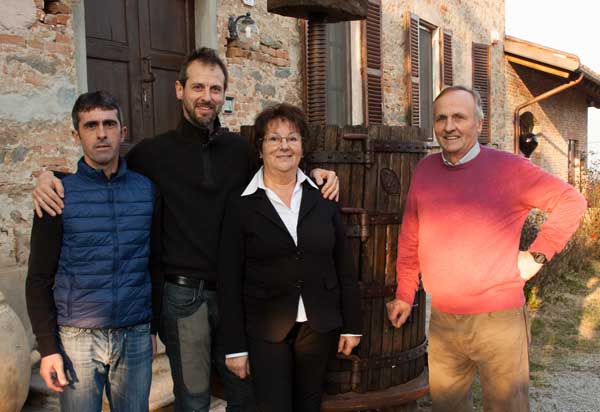 At the northern edge of the Barolo zone, the sun-bleached, sandstone homes in the village of Verduno glow in the soft morning light. A cool breeze from the river Tanaro rustles the leaves of oak trees that border south-facing vineyards, soaking up the sun's early rays.
The Alessandria family since the mid-19th century has called this gentle landscape home. In 1870, when the family first established their farm, calling it Fratelli Alessandria, Verduno was the center of Barolo winemaking—it was here where families first crafted dry Nebbiolo wines in the style we know today, and also bottled wines individually instead of shipping in cask. Because of this, the village was internationally recognized as the face of Barolo and sought out by collectors across the European continent.
Today Verduno is experiencing a renaissance, and it is the "brothers" Alessandria who are guiding the wines of Verduno back to the heights they once held. It is of course a family affair—the brothers Gian Battista and Alessandro, and Alessandro's son, Vittore, are the stewards of this generations-old estate.
What Verduno gives is exactly what we crave in our Barolo wines: complexity without heaviness, structure with finesse. The Alessandria family provides a "mirror to the landscape," Vittore says, respecting the history of their forefathers yet "looking ahead" to ensure that what's in each bottle reflects the true essence of Barolo from Verduno.
FARMING & WINEMAKING
The family's 30 acres of vineyards are located in Verduno and Monforte d'Alba, with a focus on Nebbiolo; other grape varieties include Dolcetto, Barbera and the rare Pelaverga, a grape native to Verduno and grown only in the region. White grape varieties include Favorita and Chardonnay.
Local soils are called "marne di Sant'Agata," a mix of sand and clay with a high proportion of limestone, unique to Verduno. Vineyards are farmed according to organic practices, but the estate is not certified.
Grapes are harvested by hand, are destemmed and fermented on indigenous yeasts in temperature-controlled, stainless steel tanks. Wines are aged in the family's 19th-century underground cellar, which maintains a constant temperature of 52-62 degrees Fahrenheit and 80% humidity, in older Slavonian and French oak casks (20-40HL).
Langhe Favorita
Polished, poised and stunningly beautiful: this has got to be our favorite Favorita by far. Juicy white peaches, apricots, lemon zest, fresh almonds. A beautiful, soulful and refreshing wine.
Download fact sheet (PDF) 
Langhe Rosso 'Rossaluna'
There is nothing that the "brothers" Alessandria touch that doesn't turn to gold; case in point, this anything-but-simple Langhe Rosso that combines the joyous, juicy flavors of Nebbiolo, Barbera and rare Freisa with the impeccable silk and elegance of Verduno terroir. The sum is a wine that's irresistible, a required red for casual dinners and convivial afternoons.
Download fact sheet (PDF)
Dolcetto d'Alba
How can you not fall for a berry called the "little sweet one?" Dolcetto ripens early and allows Piedmontese growers to enjoy the fruits of their labors on the table with homemade pasta while Nebbiolo takes its sweet time getting off the vine. A wine for friends and casual dinners, grilled chicken or hamburgers with smoky bacon. 
Download fact sheet (PDF) 
Barbera d'Alba
A selection of younger vines from two well-placed, cooler vineyards in Verduno. Plush fruit, perfect balance; summer ripeness through and through. All tank made.
Download fact sheet (PDF)
Barbera d'Alba Superiore 'Priòra'
A selection of fruit from older vines in both Verduno and Monforte d'Alba. Red and black cherries, plums, mocha, baking spices; a broader, more intense and more complex Barbera, with refined tannins and a long, smooth finish.
Download fact sheet (PDF)
Verduno Pelaverga 'Speziale'
The red Pelaverga grape is native to Verduno; there are less than a dozen local producers who have stayed true to Verduno's special grape. Pelaverga is at its core lively and refreshing, with tangy, red plum flavors and floral aromas. Locals like to chill Pelaverga wines slightly, better to enjoy it during the heat of the summer. Pelaverga too has a bit of a saucy side; locals say it's a natural aphrodisiac, its spicy nature inspiring equally spicy behavior. All tank made.
Download fact sheet (PDF)
Langhe Nebbiolo 'Prinsiot'
A selection of younger Nebbiolo vines from three separate vineyards in Verduno. Aged 10 months in neutral Slavonian and French oak casks. The family includes a generous amount of declassified Barolo fruit in this elegant wine; the spice and silky tannins are captivating. A wine that punches way above its weight.
Download fact sheet (PDF)
Barolo
The family blends fruit from five different vineyards in Verduno, with varying altitudes and expositions; plus a small amount of fruit from 'Gramolere,' in Monforte d'Alba. Aged for three years in neutral Slavonian and French casks. The family's first Barolo was released in 1880!
As of the 2017 vintage, the family has stopped making their Barolo 'normale,' to instead highlight exclusively Verduno fruit in their new Barolo del Comune di Verduno. 
Download fact sheet (PDF)
Barolo del Comune di Verduno
A new wine as of the 2017 vintage, the Barolo del Comune di Verduno highlights the elegance and suave fruit of the Alessandria family's home village, Verduno. We can't think of a better tribute to this northern Barolo town, renowned for centuries for its refined Nebbiolo wines, not to mention its talented winemaking families!
Download fact sheet (PDF)
Barolo 'San Lorenzo di Verduno'
'San Lorenzo' is located in Verduno, facing south at a slightly lower altitude, between 720 and 880 feet above sea level. Here the mineral influence of the "marne di Sant'Agata" comes through, with more precise floral aromas and a more linear, yet deeply elegant, profile.
Download fact sheet (PDF)
Barolo 'Gramolere'
'Gramolere' is located in Monforte d'Alba, facing south/southwest, at some 1,050 to 1,750 feet above sea level. Vines are on average 30 years old. Consistent with the style of Nebbiolo from Monforte, the wine shows more structure; tannins are present yet refined; with darker berry fruit and more pronounced peppery spice.
Download fact sheet (PDF)
Barolo 'Monvigliero'
Verduno's "grand cru" Barolo and a vineyard that finally is getting its due. This south/southwest facing plot forms a perfect amphitheater, at between 750 and 930 feet above sea level. The wine's aromas are out of this world, powerfully expressive; tannins are suave, and layers of flavor slowly unwind as the wine sits in the glass. 'Monvigliero' deserves to be spoken in the same breath as Barolo's very top vineyards — and with Fratelli Alessandria behind the bottle, it certainly will.
Download fact sheet (PDF)
Barolo Chinato
Chinato (key-NAH-toe) was created originally in the late 1800s as a "medicine" recommended by Langhe doctors for people suffering from the flu. Today each Langhe family has its own secret recipe; the "brothers" Alessandria are no different. They add some 35 different herbs and spices to a base of Barolo DOCG wine and age it in oak barrels for a smooth, velvety and warming elixir best enjoyed chilled after a sumptuous meal. (Chinato and dark chocolate are a match made in heaven!)
Download fact sheet (PDF)
Established:
1870
Winemaker:
 Alessandro and Vittore Alessandria
Region:
Italy • Piedmont • Verduno
Vineyard size:
30 acres
PRACTICING ORGANIC
Fratelli Alessandria is one of Piedmont's under-the-radar jewels. The Alessandrias make compelling, classically-built wines from estate vineyards in Verduno and Monforte d'Alba. Best of all, the wines remain very reasonably priced by today's standards. Readers who enjoy structured, age-worthy Barolos won't want to be without these wines.