Domaine Arlaud
Morey-Saint-Denis | Côte de Nuits | Burgundy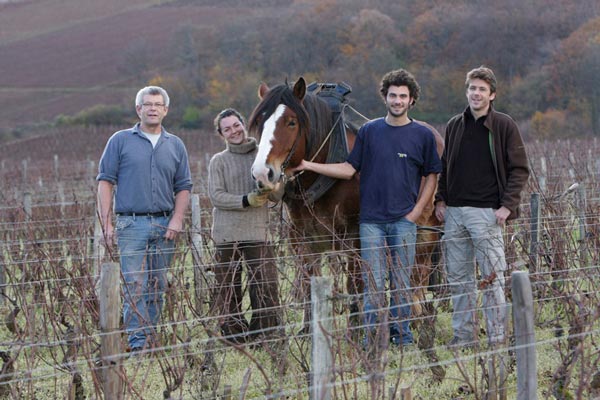 Domaine Arlaud Père et Fils is a reference point for natural Burgundy wines. The singular experience each organically raised cuvée offers is a revelation for even the most experienced palates.
For more than 20 years we've partnered with this domaine in Morey-Saint-Denis, witnessing each vintage the ever-greater clarity of expression the family has been able to achieve in each of their harmonious Burgundy wines. Today the family stands side-by-side with Burgundy's most respected names, especially distinguishing itself with its dedication to organic viticulture.
The family began to cultivate their vineyards organically in 2004. In 2009, they were inspired to push further, establishing biody­namic viticultural practices across all their holdings. As of the 2014 vintage, the estate will hold both organic and biodynamic certification, the very first estate to do so in Morey-Saint-Denis.
FARMING & WINEMAKING
Preserving the health and character of their vineyards is of utmost importance to the Arlaud family. They have farmed organically for years; today they also follow biodynamic principles in caring for their vines and wines. Harvest is always by hand, and vineyard rows are plowed not by tractor but by horse.
Once harvested, grapes are sorted and destemmed (not crushed) before fermenting on indigenous yeasts in temperature-controlled cement tanks. Wines are aged in French oak barrel from 14 to 16 months, using on average 15 percent new barrels for villages wines; 20 percent for premier crus; and 30 percent for grand crus. Wines are bottled according to the lunar cycle, unfined and unfiltered.
Bourgogne Rouge 'Oka'
A selection of older-vine vineyards in Vosne-Romanée and from the higher-altitude perch of Hautes-Côtes vineyards in the Côte de Nuits (not estate-owned). "Oka" is both the name of and a tribute to the family's plow horse, a trustworthy and essential member of the Arlaud biodynamic team.
Bourgogne Rouge 'Roncevie'
'Roncevie' is surrounded by villages-level vines of Gevrey-Chambertin, and shares essentially identical exposition and soils. The estate founder, Joseph Arlaud (Cyprien's grandfather), planted Pinot Noir vines here in 1964 and 1965. The 12-acre plot was at the time rated Gevrey villages; it was reclassified as Bourgogne Rouge a year later.
Chambolle-Musigny Vieilles Vignes
Chambolle is often considered the most delicate and aromatic of Côte de Nuits wines. Sourced from four separate, estate-owned parcels within lieu-dits 'La Justice,' on the Brochon side, and 'Les Seuvrees,' on the Morey-Saint-Denis side, across the road from Charmes-Chambertin. Vieilles Vignes means "old vines"—on average, Pinot Noir vines from these plots are over 40 years old.
Chambolle-Musigny 1er Cru 'Sentiers'
The family's vines in this well-placed premier cru vineyard border grand cru Bonnes Mares (premier cru 'Ruchots' also touches on the Morey-Saint-Denis side). Vines planted in 1966.
Morey-Saint-Denis 1er Cru 'Aux Cheseaux'
An ancient, rocky site that is home to the ruins of a Gallo-Roman villa. The vineyard sits on the northern border of Morey-Saint-Denis, touching grand cru Charmes-Chambertin. Soils here are particularly stony and rich in chalk. Vines planted in 1980.
Morey-Saint-Denis 1er Cru 'Millandes'
Located in the heart of the village, bordering the "Route des Grands Crus" and just below Clos de la Roche. A majority of vines planted between 1973 and 1976; a small portion planted in 1999. 'Millandes' often shows deeper Pinot flavors, suggesting chocolate and poached red fruits.
Download fact sheet (PDF)
Morey-Saint-Denis 1er Cru 'Ruchots'
Located at the border with Chambolle-Musigny, and directly below grand cru vineyards Clos de Tart and Bonnes Mares. The name 'Ruchots' stems from the French "roche," or rocks. Vines planted in 1955 and 1983. 'Ruchots' is the most structured of the Morey-Saint-Denis premier crus, suited for long cellar aging.
Gevrey-Chambertin 1er Cru 'Aux Combottes'
A well-placed premier cru, surrounded on three sides by grand crus: Clos de la Roche in Morey-Saint-Denis and Latricières and Mazoyères-Chambertin in Gevrey. The name 'Combottes' means "small valley." Mostly planted in 1964 and 1999, with a small section of vines planted in 1925.
Charmes-Chambertin Grand Cru
The family's vines are split between the highest part of Mazoyères-Chambertin, along the "Route des Grands Crus" and touching Latricières, and the lower portion of Mazoyères. The oldest vines were planted in 1957; others in 1980, 1989 and 1992.
Clos de la Roche Grand Cru
One acre of vines in the grand cru's lieu-dit, 'Les Mochamps,' which borders the "Route des Grands Crus." Nearly half the family's vines were planted in 1978; the rest in 1990. This long-lived grand cru gets its name from the "mother rock" of Burgundy, pure limestone that runs underneath the most noble of Burgundy vineyards.
Clos Saint-Denis Grand Cru
One of the village's most ancient sites, this "clos" or walled vineyard was founded in 1023. The family's half-acre of vines was planted in 1970. Soils are unique, combining the traditional Burgundian limestone with a vein of iron oxide.
Bonnes Mares Grand Cru
The family's quarter-acres of vines feed from limestone and mostly red clay soils, with a portion on white clay soils. Vines planted in 1979. The vineyard draws its name from ancient sculptures that were found at the site, a trio of goddesses or "good fairies."
Established: 1949
Winemaker: Cyprien Arlaud
Region: France • Burgundy • Côte de Nuits • Morey-Saint-Denis
Vineyard size: 37 acres
ORGANIC and BIODYNAMIC WINERY
---
Cyprien Arlaud is quietly going about making some very fine wines from his base in Morey-Saint-Denis…Personally, I have a lot of time for Arlaud's wines. There is a subtle sense of modernity to them, with the fruit erring towards black rather than red, quite fleshy and voluminous in the mouth, and not subtle but eager to express themselves…there are some gems here.
—Neil Martin, The Wine Advocate
---