Where were you in the summer of 1994?
We were standing in a modest family cellar in Morey-Saint-Denis. The dusty, filtered summer light from the open cellar door warmed a few dozen stacked, wine-stained oak barrels. Hervé Arlaud passed around tasting glasses with work-weathered hands that could wrestle a bull, and win. His lanky, teenaged son Cyprien looked on shyly as we swirled and tasted. And smiled.
Discovering the talents of the Arlaud family was a watershed moment for us as an importer. A generations-old domaine, with exemplary vineyards cared for by hand, poised to take their art to the next level.
Today, Arlaud stands tall with the best in Burgundy, and those who collect and savor these outstanding wines know that every vintage is a reason for celebration.
These are some of the more expressive, elegant and penetrating Burgundies we've ever tasted from the family over the years. Even notoriously hard-grader Stephen Tanzer gave the 2014 Arlaud Red Burgundies rave reviews (see below or read this post), serving as both a nod to a great vintage and the even greater talents behind the bottle.
We've always kept a special corner of our cellars stacked with Arlaud Burgundy, and these 2014s provide you with the perfect reason to start your own collection.
Interested? Give our portfolio experts in Berkeley a call.
VILLAGES-LEVEL WINES
2014 Gevrey-Chambertin
Sourced from four separate, estate-owned parcels, one of which sits just across the road from grand cru Charmes-Chambertin. "… A tightly wound mid-weight wine with no excess flesh; much more black and purple fruit…"— Stephen Tanzer
2014 Chambolle-Musigny
Almost too easy to drink! The harmony that the best of Chambolle is known for is captured perfectly in this organically raised gem. "Nicely fleshy village wine with excellent equilibrium from day one."— Stephen Tanzer
2014 Vosne-Romanée
NEW SELECTION! Cyprien selects a few rows of older vines from a special plot not far from the famed premier cru vineyard, 'Clos des Reas.' This is Vosne through and through: light violets, white pepper, smooth and seductive.
PREMIER CRU WINES
2014 Morey-Saint-Denis 1er Cru 'Aux Chezeaux'
An ancient, rocky site that is home to the ruins of a Gallo-Roman villa, touching grand cru Charmes-Chambertin. Cool and precise, with ruby-edged summer fruit and refined, subtle spice.
2014 Morey-Saint-Denis 1er Cru 'Millandes'
Located in the heart of the village below grand cru Clos de la Roche. 'Millandes' offers deeper, more soulful Pinot flavors, like chocolate and poached red fruits. A gorgeous young wine that will evolve elegantly over the years.
2014 Morey-Saint-Denis 1er Cru 'Ruchots'
A brooding, concentrated wine sourced from a plot directly below grand cru Clos de Tart and Bonnes Mares. The name 'Ruchots' is patois for "roche," or rocks. "For all its volume, this premier cru boasts terrific spine and energy…"— Stephen Tanzer
2014 Gevrey-Chambertin 1er Cru 'Combottes'
A well-placed premier cru, surrounded on three sides by grand crus: Clos de la Roche in Morey-Saint-Denis and Latricières and Mazoyères-Chambertin in Gevrey. This combines the Gevrey's rustic, licorice edge with Morey's satin and spice.
2014 Chambolle-Musigny 1er Cru 'Sentiers'
The family's vines border grand cru Bonnes Mares (premier cru 'Ruchots' also touches on the Morey side). 'Sentiers' is all silk, with the characteristic Chambolle purple fruits and bright acidity. Energetic yet refined.
GRAND CRU WINES
2014 Charmes-Chambertin Grand Cru
"Aromas of black raspberry, black cherry, licorice, anise and bitter chocolate … Rich, fine-grained and deep, conveying a chocolatey ripeness … This plush wine finishes with big, ripe, chewy tannins."— Stephen Tanzer
2014 Clos de la Roche Grand Cru
"The wine's balance of sweet and juicy is exhilarating. Airy, incisive and light on its feet for the vintage, with bright acidity hiding the wine's underlying volume … Finishes very long and perfumed … offers terrific potential."— Stephen Tanzer
2014 Clos Saint-Denis Grand Cru
One of Burgundy's most ancient sites, this "clos" was founded in 1023. "Juicy, precise and penetrating, with very intense purple fruit flavors framed by brisk acidity. Really perfumes the mouth and wakes up the taste buds…"— Stephen Tanzer
2014 Bonnes Mares Grand Cru
The vineyard draws its name from ancient sculptures found at the site, a trio of goddesses or "good fairies." "…Finishes with big tongue-dusting tannins and superb palate-saturating length."— Stephen Tanzer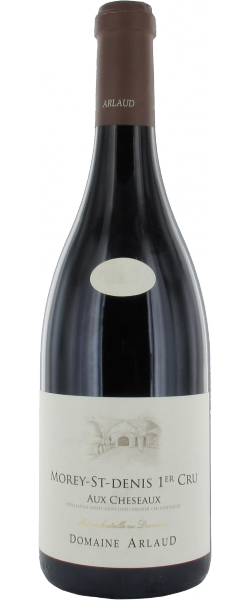 2014 has "…alluring fruit, juicy supporting acidity, expressive terroir character, supple tannins and considerable early appeal. Best of all, the wines display an attractive natural balance and elegance, and should offer at least medium-term ageability. It's a more consistent vintage in quality than 2013…"