Summer can officially begin: bottles of the blockbuster 2015 Domaine Vacheron Sancerre Blanc are set to arrive in our warehouses by the end of the month.
This arrival is a big deal for a number of reasons. First, it marks some of the first 2015s in the door, and really there has never been a better time to go long on the Loire. While 2014 was stellar, 2015 is better still, with critics heaping early praise on 2015's "excellent quality." Well, that's a phrase that sticks to Vacheron wines every vintage—so get ready to be wowed.
There's no question that with this vintage, the Vacherons are at the top of their game—and every serious winemaker in the region will certainly admit that they wish they could make wines like the Vacherons. From the family's pioneering work in identifying and exploiting the region's terroirs to their leading position in biodynamic viticulture, there are few, if any, artisans in Sancerre as exacting or as respected.
Consider this: when a master somm came to us last month to request wines for a top-level seminar he was giving for the nation's top sommeliers at the Food & Wine Classic in Aspen, guess which producer he asked for? You guessed correctly: Domaine Vacheron.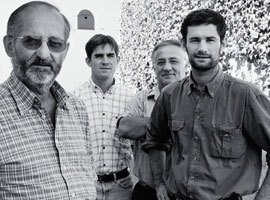 But how exactly do they do it? What is it about Vacheron that makes each bottle of Sauvignon Blanc such a faithful mirror of the true soul of Sancerre? We spent one afternoon not too long ago driving up and down these rolling hills, to get a closer look at the material that makes these wines so mind-blowing.
There were plenty of moments when we worried that our rental 4×4 wouldn't make it—spinning tires on flint soils make a terrible sound. But that crazy crunching helped us make the connection from Sancerre's soils to the smoky, tangy essence of organically raised Sauvignon Blanc.
The vineyards for Vacheron Sancerre Blanc are divided into half flint stone, half chalk. When you think flint, think of the pop of a cap gun, a sky filled with the smell and shriek of Fourth of July fireworks. That smoky, electric edge is what you'll find in Vacheron Sancerre Blanc—it's an energy that's palatable. The chalk side of the equation – think of the clean, briny smell of scrubbed oyster shells—comes across as an acidic crispness and lacy texture on the tongue, truly thirst-quenching.
The bottom line here is not to go on about dirt and rocks but to explain the magical combination of talent and terroir that fills each of these bottles—and convince you that until you've tasted a bottle of Vacheron Sancerre, you don't really know Sancerre.
Interested? Give our portfolio specialists in Berkeley a call.
2015 Domaine Vacheron Sancerre Blanc
Certified organic/biodynamic. 100% Sauvignon Blanc, grown on a mix of flint and chalk soils in Sancerre. Arrives in our temperature-controlled warehouse straight from the family domaine the first week of July.