Domaine de Noiré
Chinon | Loire Valley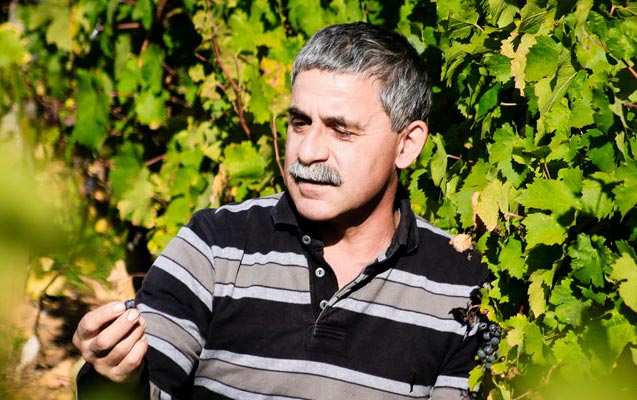 Violet-scented, smooth as silk and tangy: the most satisfying Cabernet Franc wines hail from the cellars of
Domaine de Noiré
in Chinon. Winemaker Jean-Max Manceau, a Chinon native, has long been a champion of the region's reds, and his own wines are the standard for the heights Chinon can achieve.
What sets Domaine de Noiré apart is not only its impeccable terroir but also its understanding of the potential of old-vine Cabernet Franc in Chinon, one of the few Loire appellations dedicated to red wines. These are wines that strike an effortless balance between playful and profound—delicate floral perfumes reveal a multilayered mouthful of summer-ripe fruit and spices with each sip.
Manceau is as deeply rooted in Chinon as his many older Cabernet Franc vines. For years, he worked as an enologist for a local winery, while holding the presidency of the Chinon AOC and heading up a commission to preserve winemaking traditions in the greater Loire Valley. He and his wife Odile repurchased Domaine de Noiré in the early 2000s (the domaine once belonged to Odile's family) and have quickly re-established the estate as a leading producer of exceptionally pure Cabernet Franc wines.
FARMING & WINEMAKING
Estate vineyards are located between Chinon and Cravant, on a plateau with mineral-rich, stony soils, and face full south, allowing grapes to ripen fully, giving the resulting wines more structure and depth. Vines are on average 30 years old, and are certified organic.
Harvest is done by hand, and grapes are generally destemmed and fermented on indigenous yeasts in temperature-controlled, stainless steel tanks. Most wines are also aged in tank; some selections are fermented and aged in terracotta (clay) amphorae, a vessel that allows oxygen transfer but is neutral, unlike oak barrels.
Val de Loire Chardonnay
Great terroir comes back home! Winemaker Jean-Max Manceau and his wife Odile were able to bring back historic land (owned by Odile's grandparents) to the domaine, a limestone-rich and gravelly vineyard ideal for Chardonnay vines. A rare find in this land of Chenin Blanc, Chardonnay here is medium-bodied, fresh yet complex, with wonderfully sunny fruit and a hit of nuts a la Meursault. The shield depicts the Tour de Saint-Martin, an ancient fortress in the region; the symbol was once used on wine labels centuries ago.
Download fact sheet (PDF)
Chinon Blanc 'Amphora'
A refined, supple Chenin Blanc wine from exceptional terroir, crafted according to ancient winemaking traditions. Winemaker Jean-Max Manceau ferments grapes in terracotta amphora jars, and ages the wine on fine lees for one year.
Download fact sheet (PDF)
Chinon Rosé
Juicy, tangy and medium-bodied, this pure Cabernet Franc pink wine is bursting with wild strawberry and raspberry flavors. A delightful way to celebrate the summer; a flavorful wine that will pair with any warm-weather dishes you create.
Download fact sheet (PDF)
Chinon Rouge 'Soif de Tendresse'
Violet aromas, soft tannins, explosively ripe and bright red summer fruit. Translated as a 'thirst for tenderness,' this pure and ripe Cabernet Franc delivers immediate and profound pleasure.
Download fact sheet (PDF)
Chinon Rouge 'Caractère'
A special selection of Cabernet Franc from some of the estate's oldest vines, on limestone soils — a bit of Burgundy meets the Loire. Longer aging in large oak cask gives the wine its supple texture and depth.
Download fact sheet (PDF)
Chinon Rouge 'Dolia'
A "dolia" is the Latin name for a terracotta amphora that's specifically made for wine; often up to 3,000L in volume, and tulip-shaped. Winemaker Jean-Max Manceau was inspired by the winemaking practices of antiquity, thus his 'Dolia,' a pure Cabernet Franc wine, was aged exclusively in amphorae. Wonderfully textured and silky on the tongue, this ripe and spiced Cabernet Franc would be perfect with refined yet hearty autumn cuisine.
Download fact sheet (PDF)
Established: 2001
Winemaker: Jean-Max Manceau
Region: France • Loire Valley • Chinon
Vineyard size: 34 acres
CERTIFIED ORGANIC (PDF)