Domaine de la Grenaudière
Maisdon-sur-Sèvre | Loire Valley
Lemon-bright, sea-kissed and bone dry, Muscadet is the vinous child of the cool Atlantic and the Loire's river plains, a grape that screams of the sea and promises easy pleasure.
A natural pair with fresh seafood, Muscadet too is still one of the great values in white wine, as even the top bottles from the region's best terroirs—like our old-vine selection from Domaine de la Grenaudière—are still more than affordable.
Muscadet is the life-blood of the Ollivier winemaking family, as they've been crafting wines from the Melon de Bourgogne grape at the meeting of the Sèvre and Maine rivers on France's Atlantic coast since the eighteenth century.
Our Muscadet is a special selection of older-vine fruit that is aged on fine lees for more body and texture, while still preserving the tangy citrus kick that makes Muscadet so thirst-quenching.
FARMING & WINEMAKING
Maisdon-sur-Sèvre sits at the confluence of two rivers, the Sèvre Nantaise to the north and the Maine to the west. The family's vineyards are found on the banks of each, to best take advantage of the different terroirs each side offers. On the Maine, sandy/gravel rich soils have granite sub-soils; on the Sèvre, gravelly soils reveal sub-soils of schist. Vines are from 25 to 60 years old.
Harvest is by hand, and grapes are pressed then fermented on indigenous yeasts in stainless-steel and cement (lined) tanks. Wines are aged on fine lees in tank, with occasional lees stirring.
Muscadet Sèvre Et Maine
A refreshing, older-vine Muscadet that offers both body and soul: a supple, juicy texture paired with the salty tang of the sea and fresh citrus flavors.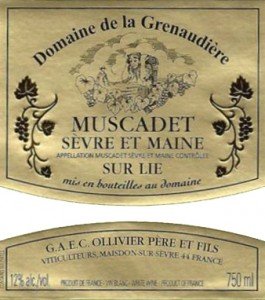 Download fact sheet (PDF)