Jacky Preys et Fils
Meusnes | Loire Valley
Of all our Loire selections, there are few wines that express the thirst-quenching kick of the region's mineral-rich terroir better than does Jacky Preys' Fié Gris "Terroir Pierre à Fusil."
In French, pierre à fusil means gunflint. Touraine was a center for gunflint production during the Napoleonic era. The region's flint-rich soils infuse grapes with a vibrant, nervous energy that is translated as a whiff of smoke in the wine's perfumes and in crisp and clean, citrus-inspired flavors.
Yet Preys' flinty terroir is only half the story. Fié Gris is a Loire grape variety that was virtually forgotten until Jacky Preys discovered in a recently acquired vineyard a curious patch of pink-skinned grapes. Experts were consulted, and it turned out that these pre-phylloxera plants were Fié Gris, an ancient mutation of Sauvignon Blanc.
Fié Gris combines all the mineral zest (thanks to the flinty soils) of a young Sancerre or Pouilly-Fumé yet is a rounder, more textured wine, with flavors that remind of yellow plums, tomatillos and fresh herbs.
FARMING & WINEMAKING
While Jacky Preys and his son Pascal own one of the larger wineries in Touraine, what has set the family apart is their particular attention to native Loire varieties like Fié Gris. Today Loire winemakers can help further the renaissance of Fié Gris, thanks to Preys' work in conserving his ancient rootstock.
Preys cares for his vines according to sustainable methods and only uses indigenous yeasts in the cellar. He harvests his older Fié Gris vines by hand, and ferments and ages it on fine lees in stainless steel tanks.
Chenin Blanc Vin Orange Vieille Vigne Nature
There is literally nothing that the talented Jacky Preys can't do. This pure Chenin Blanc, grown on the flinty sols of Touraine, is a marvel — spiced and seductive, with notes of Mirabelle plum, herbs and acacia honey, it is a true "orange" wine (macerated on skins for five days) and then aged in terracotta jars and amphora for six months. Texture, heady aroma, wonderful length!
Download fact sheet (PDF)
'Terroir Pierre a Fusil' Cuvée de Fié Gris Vieilles Vignes
Wildflowers, tarragon, yellow plums, tomatillos. Fié Gris is an ancient Loire grape and one that was nearly lost were it not for the efforts of winemaker Jacky Preys. Flinty soils give the wine its definition and mineral edge; Fié Gris' natural juicy, tangy flavors are thirst-quenching.
Download fact sheet (PDF)
Touraine Blanc 'Cuvée Silex'
Many of the Loire Valley's finest talents have long established flint soils, or "silex," as ideal terroir for Sauvignon Blanc—these profoundly mineral soils contribute to this wine a smoky essence and a vibrant, energetic finish.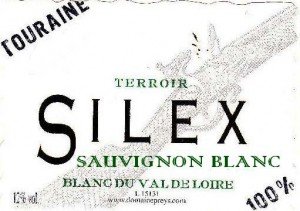 Download fact sheet (PDF)