A Burgundian vineyard isn't exactly a mountain bike track, but nobody ever made teenaged Frédéric Magnien wise to this fact. On the days his father Michel didn't have him up at dawn to clean the tractor or scrub the cellars, Fred would jump on his bike and tear up the vine-covered hills above Morey-Saint-Denis.
As Fred raced around, taking a corner too tight or jumping centuries-old stone walls, he'd notice which vine growers spent the most time in their fields, and how they worked. Often he'd stop to chat with a neighbor or two. And over the years, Fred came to know each and every grower personally—and everyone knew him. By the time he was ready to start making his own wine, Fred probably knew more about the Côte d'Or than growers twice his age – and that knowledge would serve him well.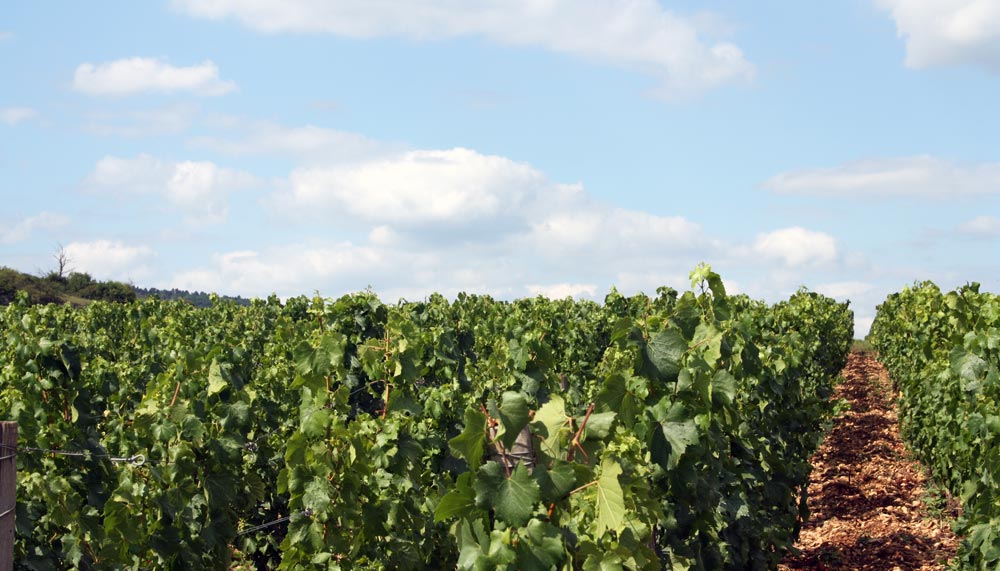 This is the insider's secret of Magnien Burgundy, the key that sets his wines apart from the rest. It's not that he's the only guy who knows that 'Aux Champs Perdrix' in Vosne-Romanée is an exceptional villages plot—anyone can Google that and get the drift. It's that Fred knows the vine grower who has for generations maintained those few exquisite rows right next to the border with grand cru monopole La Tâche—and it's specifically that organically raised Pinot Noir which goes into his bottles.
The best GPS system in the world can't dial in terroir as precisely as does a bottle of Magnien Burgundy. With five generations of experience running through his veins, not to mention a childhood growing up amid winemakers and vines, Fred is simply the best companion a wine lover could have in discovering the myriad personalities and infinite pleasures that Burgundy promises, vintage after vintage.
Fred's 2014s are scheduled to dock in mid-August, yet the rude reality of this truly delicious vintage is there's very little to go around. (And yes, we know this has been a constant refrain in recent years—blame Mother Nature, not us.) For many of Fred's premier and grand cru wines, we can count the cases we've been able to import on two hands.
Yet this early call to reserve the wines you want is one that should be heeded: 2014 is a vintage to please equally those who enjoy Burgundy in its youth and those who don't mind waiting a decade or so for time to work its magic.
Says Stephen Tanzer: 2014 is "a vintage of moderately fleshy, ripe wines with lovely transparency to terroir … destined for medium-term drinking (say, within 5 to 10 years after the vintage for village wines, 7 to 14 for premier crus and 10 to 20 for grand crus) but the most concentrated and best-balanced wines may surprise with their longevity."
The best of both worlds? You bet. Take a look at the list below for the wines that we've imported directly from Fred's cellars in Morey-Saint-Denis for you, and give us a call to reserve your cases today.
2014 Morey-St.-Denis 'Les Herbuottes'
A perfectly placed village vineyard, not far from grand cru Clos de la Roche, and one that captures the essence of Morey, with its spicy aromas and pure flavors.
2014 Gevrey-Chambertin 'Jeunes Rois'
The vineyard's walls trap heat and push Pinot Noir here to a deep, black-fruited concentration; supple flavors and lots of aroma, and a wine that will age, too.
2014 Chambolle-Musigny Vieilles Vignes
Elegant violet aromas and plush, purple fruit are delightful in this Chambolle. Rich fruit from older vines gives this Pinot more depth and concentration.
2014 Vosne-Romanée 'Aux Champs Perdrix'
A villages-level wine that always outperforms, given its ideal placement, not far from hallowed grand crus La Tâche and Romanée-Conti.
2014 Morey-St.-Denis 1er Cru 'Ruchots'
Morey's top premier cru vineyard; Magnien's vines sit near the vineyard wall with Clos de Tart. Tangy, richly perfumed and always built for the long haul.
2014 Nuits-St.-Georges 1er Cru 'Damodes'
Elegance and power combined; 'Damodes' is unusual in that its terroir is mostly chalk, rare for the appellation. Plums, violets and red currants.
2014 Gevrey-Chambertin 1er Cru 'Lavaux Saint Jacques'
'Lavaux' vines feed directly from Burgundy's "mother rock," giving this wine serious concentration and body. An excellent selection for the cellar.
2014 Chambolle-Musigny 1er Cru 'Borniques'
Bordering grand cru Musigny and sharing similar exposition and clay-rich soils, 'Borniques' is a richer, more complex Chambolle that still retains the village's characteristic cool, floral aromas
2014 Chambolle-Musigny 1er Cru 'Charmes' Vieilles Vignes
Silky and refined, 'Charmes' feeds almost directly from the chalky "mother rock" just a few inches below the surface; this proximity results in a mineral wine, with classic Chambolle ruby-like fruit and light spice.
2014 Echezeaux Grand Cru
A profound yet elegant Echezeaux, a blend of older-vine Pinot from lieu-dits 'Les Treux' and 'Les Poulaillères,' a plot from which Romanée-Conti makes its own Echezeaux exclusively.
2014 Clos de Vougeot Grand Cru
Magnien's selections hail from the top of the vineyard, the middle and the lower slope, a combination that he feels represents a perfect cross-section of the "real" Vougeot.
2014 Charmes-Chambertin Grand Cru 'Aux Charmes'
A special selection of very old vines (some over 100 years old) from the 'Aux Charmes' lieu-dit (bordering Chambertin) gives a Pinot Noir of impressive concentration yet woven from pure silk.
2014 Bonnes Mares Grand Cru
Structured and supple, a grand cru for the ages. Magnien's vines sit on the Morey side of the vineyard, bordering Clos de Tart, on iron-rich soils, which gives the wine its mineral complexity.
2014 Chambertin-Clos de Bèze Grand Cru
A royal purple robe in aroma and flavor drapes this grand cru. Magnien's vines sit upslope where the soil is thinner and chalky "mother rock" more pronounced; fine tannins and a suave profile.