Winemaker Raffaele Troisi is waving madly, encouraging us to join him as he stands in a field of Fiano grape vines. Every time he moves, he sinks deeper into the damp, clay-rich dirt, smiles sheepishly, yet keeps waving. It's not enough to look at his vines from the sidelines; Raffaele wants us in, knee-deep, to feel the layers of time on each old vine, to inhale the ashy perfume of these ancient volcanic soils.
We are in northern Campania, Italy's volcanic heart and home to some of the more refined, expressive white wines you will ever put your lips to. Know this: Fiano at its best rivals white Burgundy for complexity and Mosel Riesling for mineral expression—and the master of southern Italian whites is Vadiaperti.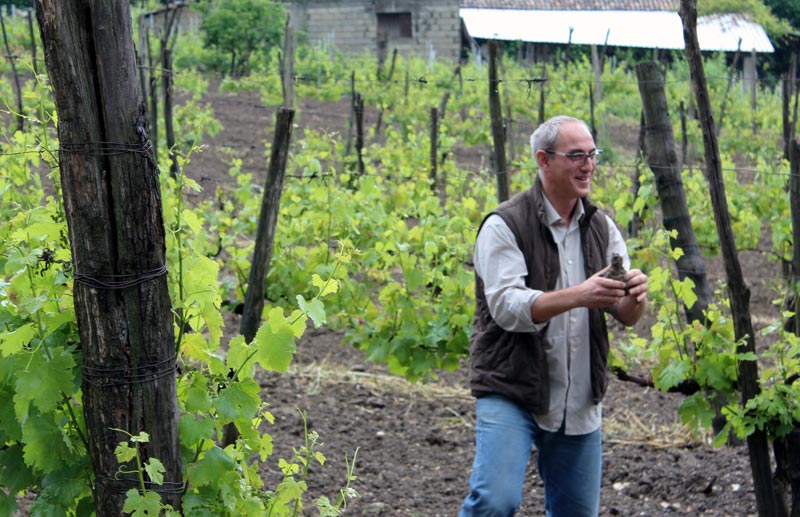 Our new partner, Vadiaperti is a generations-old family estate that has both the first and last word on the true character of southern Italian white wines. Our selections from the 2014 vintage will be arriving this week—here's why you need to make space in your cellar for these gorgeous gems.
The landscape of this northern corner of Campania, called Irpina, looks like the Land of the Lost: deeply green valleys dotted with orange and lemon trees, steep mountains wreathed in swirling fog. We're in the heart of southern Italy but at altitude, some 2,000 feet above sea level, it's cool enough to need a jacket.
This is extraordinary white wine country—solid limestone (like Burgundy) and moisture-retaining volcanic clay, so even in the sweltering Italian summer, vines are never stressed. Ancient Romans for good reason chose Irpina as the source of their most prized Fiano wines; a grape vine never had it so good.
Raffaele is a vine grower in a long line of wine fanatics—the Troisi family has always been Irpina boosters, working hard to show the world why this corner of southern Italy is a treasure trove for mineral-rich white wines. Importantly, the family has only ever made single-variety wines—blending would be an affront to the grapes' true character!
Much like Roberto Conterno, Manni Nossing or Gunther Kershbaumer (the winermaker/owner of Kofererhof), Vadiaperti's Raffaele Troisi is one of those extremely talented individuals who can't seem to make a bad wine. Look to Vadiaperti for some of Campania's best Fiano di Avellino wines (especially the cru Aipierti) and, more importantly, for both of its Coda di Volpe wines, the entry-level bottling and the cru Torama. Simply put, nobody makes a better Coda di Volpe wine in Italy. A white wine specialist, Troisi offers steely, minerally, precise interpretations of Fiano, Greco and Coda di Volpe.  Another plus is that all of his wines age extremely well.
Vadiaperti's Coda di Volpe is the ultimate thirst-quencher, a tangy, honeyed white for appetizers and fresh seafood or shellfish (oysters and Coda di Volpe, a knock-out combination). The name means "tail of the fox," as grape bunches are thick, like a fox's tail. Raffaele harvests his Coda di Volpe early, to retain its natural acidity; what's more, his vineyards sit at 2,100 feet in altitude, some of the highest, and coolest, vineyards in the region.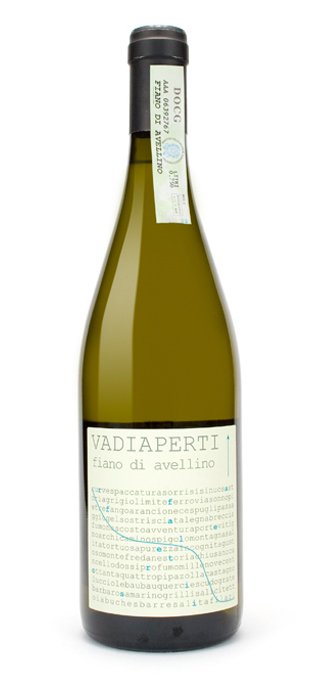 Raffaele makes two Fiano di Avellino wines: one, a pure Fiano grown at altitude, and two, a special selection from his oldest vines, called 'Aipierti'—both of which need to be tasted to be believed.
His Fiano floored us when we first sampled it from tank—soulful, refined, cut from crystal—there is so much definition, so much lift to this wine that it's very, very hard to believe it hails from a land where summer temps make molten lava look icy. Crisp apple and pear on the nose; chopped limes and lemons and quince; a hint of hazelnut on the finish—Fiano is just drop-dead delicious.
If Meursault speaks to you, if Puligny premier crus are your thing, you are going to go head-over-heels for the wines of Vadiaperti.
And these wines are age-worthy, too! During a long lunch at the farm this May, Raffaele generously opened a series of older vintages for us. A 2007 was still amazingly young, with notes of white peach and preserved lemon. A 2003—a painfully hot vintage—was, thanks to the regional clay and altitude, balanced and refined, with apricot notes and light smoke. And then, Raffaele pulled out a magnum of his 1998 Fiano di Avellino, and we fell off our chairs. Blood orange, lemon rind, minerals; it probably could have gone another decade.
Again, these wines dock this week and we couldn't be more excited; we hope you are, too. Interested? Contact our portfolio specialists in Berkeley today.